The words 'Olympic champion' are heard a lot, especially in the sports world, of course, but also outside. The publicity around each Olympic Games lasts for as long as that cycle and even longer, perhaps including the whole of the previous cycle too. There will be mentions of each Games made throughout the years that follow and names of sports stars are inscribed in the records forever. Olympic champions form a demographic that is unique, one which cannot be imitated. An Olympic gold medal is exceptional in any sport, at any Olympic Games and from any athlete. It is an achievement which cannot be overstated and must never be under-valued.
Winning an Olympic title in any sport is something rare, almost impossible statistically. In judo the numbers are very clear and if asked, without warning, to estimate how many Olympic gold medals have ever been awarded in judo, I would think you couldn't answer and if you did hazard a guess, you would be unlikely to be anywhere near the right number.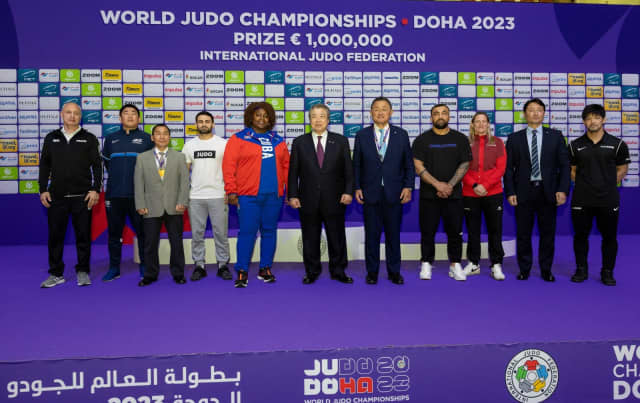 In 1964 judo was included at the Summer Olympics for the first time, in Tokyo, helpfully for the purposes of artistic presentation, as the last Olympics was in Tokyo too. So from Tokyo to Tokyo, 1964 to 2021, there have been just 151 Olympic gold medals presented. That is a very small number in any case, but when we consider men and women, now up to 7 categories each, it is almost inconceivable that the number could be so low. Let us also add here that in France there are approximately 1 million people practising judo. In Brazil it maybe close to twice that number. The IJF has more than two hundred member federations and now we take ourselves back to that tiny number: 151. Across the world, from all countries, among the millions and millions of people whom have ever stepped on the tatami, just 151 moments have been rewarded with that prize.
The number of recipients is even smaller than that medal total, as we consider the achievements of those whom have done the impossible twice or perhaps more. Harrison (USA), Ono (JPN), Riner (FRA), Krpalek (CZE), Tani (JPN), Ruska (NED) and 8 more have won the Olympic Games twice. Nomura (JPN) did it 3 times, the only judoka ever to have done so. Those 15 people account for 31 golds, leaving 120 judoka with a title each. So our final number of Olympic champions is 135, that's it, no more and no less.
In 1964 four golds were presented, for the only categories in play: -68kg Nakatani (JPN), -80kg Kano (JPN), +80kg Inokumo (JPN) and the legendary gold for Anton Geesink (NED) in the open weight category. In 2021 there were 14, plus the medals for the inaugural Olympic Mixed Team Event, which for the purposes of this article and its statistics, we will not analyse, continuing to look only at the individual discipline.
With these sport-specific statistics now digested, what else can we learn? In the coming months we will ask many of judo's Olympic champions a question, just one but one with a necessary preamble and a potentially discursive answer. It is too big a topic for which to define an exact answer or even provide broad parameters for such.
It could be said that to be in the company of an Olympic judo champion is to be presented with someone whom has reached an absolute pinnacle, a ceiling which cannot be surpassed; there is nowhere further to ascend. We often find Olympic champions speaking with freedom and certainty, unafraid to share an opinion, speaking of their lives and paths with confidence. For many we feel there is peace, and that can be magnetic and inspiring.
So the question is, did they become Olympic champion because of that character or did they become that person having won the Olympic gold medal?
The champions will answer in their own time…