The Ekaterinburg Grand Slam 2017, the third Grand Slam of the season following Paris and Baku, is the most significant event between now and August's 2017 Suzuki World Judo Championships in Budapest.
The highest profile names in the sport are stepping up their activity on the IJF World Judo Tour with the annual blue ribbon event of judo in mind.
Seven champions in particular will return to the IJF circuit this weekend for the first time since the Rio 2016 Olympic Games.
1. Khasan Khalmurzaev (RUS)
Rio 2016 Olympic champion
Khalmurzaev stepped back into action last weekend at the Sarajevo European Cup with a routine win. The 23-year-old, who is undefeated on the international stage since November 2015 – a winning-streak of 24 consecutive contests – has not appeared on the IJF circuit since January 2016 when he won the Havana Grand Prix. The former European champion will wear his gold backpatch in Russia for the first time in a perfectly timed return to IJF action ahead of a tilt at winning his first World Championships in August.

2. Antoine Valois-Fortier (CAN)
London 2012 Olympic bronze medallist
Two-time world medallist Valois-Fortier, from Quebec City, has finished third and seventh at the Olympics and second and third at the World Championships. The 27-year-old took time out after the Olympics to have surgery on his left hip and returned to training in April.
"My time out allowed me to get a lot healthier and to rest my head after the last Olympic cycle so I could be hungrier this time around," said Valois-Fortier.
"My short-term goal is the Worlds. Russia is a good opportunity to get back in shape and to train and compete with top athletes."
3. Kim Polling (NED)
3x World Judo Masters champion
Three-time European champion Polling last graced the competition tatami at the Rio 2016 Olympics where she lost out in the second round to eventual winner Tachimoto Haruka (JPN). As one of the stars of the -70kg category in recent years and a long-time world number one, POLLING has made a bold decision to move down to -63kg. After a long and largely successful four-year Olympic cycle that included European titles, Grand Slam titles, Masters titles (3 of each) and world bronze the Dutch star missed out on a medal in Rio and that has prompted her to try something new in the form of the -63kg category. Therefore POLLING, who is still ranked 10th in the world at -70kg, has no ranking at -63kg and will be unseeded. If this weekend works out favourably for the judoka from Zevenhuizen then it will surely become a permanent move but there is no pressure on POLLING this weekend and she can go out and enjoy wearing a judogi in front of the cameras again on the Grand Slam stage.
UPDATE (19 May): POLLING was officially withdrawn from the competition on Friday afternoon at the draw having decided not do delay surgery any longer and will be out of action for several months after knee surgery.
4. Loic Pietri (FRA)
Rio 2013 world champion
Pietri, 26, has ensured a turbulent 12 months having been out of medal in five events in a row until he rediscovered his form with gold at the Sarajevo European Cup in April. The Nice judoka, who was coached by his dad and 1985 European Silver medallist Marcel Pietri in Sarajevo, medalled at the Worlds in 2013 (gold), 2014 (bronze) and 2015 (silver) and from then on found wins hard to come by. Pietri went to Tokyo, Almaty, Guadalajara, Rio and Rome and was eliminated in his first contest at each event. After a right knee injury in 2016 and some punditry work for L'Équipe 21 at the Paris Grand Slam the Frenchman returned to full fitness and prepared for a comeback but up at the heavier weight of -90kg. Pietri will be unseeded this weekend but is arguably the most accomplished judoka present in the category in Ekaterinburg and there will surely be signs of that when he makes his eager-awaited return to the IJF World Judo Tour on Sunday.
5. Miryam Roper (PAN)
2013 world bronze medallist
Roper, who received her first call-up for the German national team aged 25, finished fifth at the Baku Grand Slam last year and lost out to eventual Olympic champion Rafaela Silva (BRA) at Rio 2016 for the second Games in a row. With the German team keen to move forward with a new generation of young talent, ROPER, 34, was surplus to requirements and at that time it was clear in her mind what to do next.
"Before the Games, I already planned to fight at least until the World Championships 2017," said Roper.
"After the Games I took a break from everything, no judo, no sports, just me enjoying free time. But after six weeks I was missing judo so much that I went to a judo training during my vacations in France and I enjoyed it."
Roper's father is from Panama and the veteran -57kg judoka immediately pursued the chance of competing for the country on the isthmus linking Central and South America.
"I have a big family in Panama and in Germany. So I am blessed. The first time I went to Panama, I felt in love with the nature, the beautiful beaches, the million different shades of green and the breathtaking butterflies. But it was a little bit difficult because I didn't speak Spanish at that time."
Roper wears a Panama flag for the second time this weekend after finishing fifth on her debut at the Pan American Championships this year which were ironically held in Panama.
After a fifth-place on her return, Roper, who last graced the IJF World Judo Tour at last year's Masters, will finally be back on IJF duty on Saturday and is being supported to compete in Ekaterinburg by the IJF.
Read the full story on Roper's New Beginning on the IJF website on Thursday.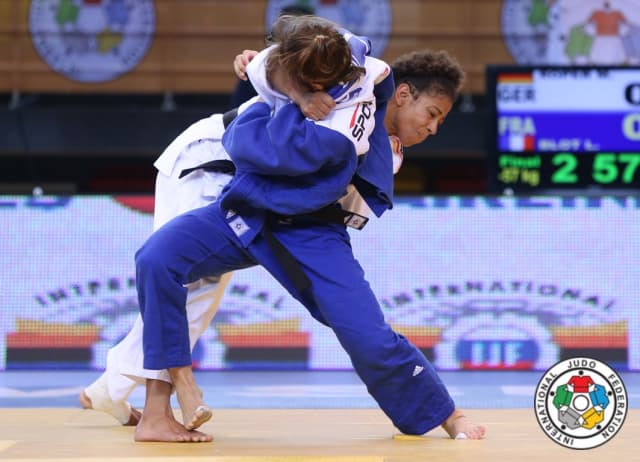 6. Toth Krisztian (HUN)
2014 world silver medallist
The 23-year-old Hungarian medalled at the senior World Championships and the Junior World Championships in the same year in 2014 and has been engaged in the some of the most memorable battles in the last Olympic cycle. Toth, who took silver at the European Championships a year, was plagued by shoulder problems in the latter stages of the Rio 2016 Olympic cycle and delayed surgery until after the Olympics.
Toth has now returned to full fitness and in true Toth style has picked Russia to make his return to the IJF circuit which he has been absent from since winning the Budapest Grand Prix in 2016. The mature Hungarian, who is one of the best speakers in front the of the cameras, has a tough category and roster of stars to contend with on Sunday but that is exactly what he wants and is motivated by.
A positive result in Ekaterinburg will see Toth pencilled in as one of the favourites for -90kg glory at the 2017 Suzuki World Judo Championships in Budapest.
7. Linda Bolder (ISR)
Paris and Tokyo Grand Slam winner
Former European Championships silver medallist Bolder, who switched from representing the Netherlands to Israel in 2015, is a -70kg stalwart who has been there and beaten the world's best at her weight.
Bolder, 28, who won the Havana Grand Prix last year, finished seventh at the Rio 2016 Olympics after a quarter-final defeat to eventual bronze medallist Sally Conway (GBR) and a repechage defeat to Maria Bernabeu (ESP). Bolder has dropped to 29th place on the World Ranking List having not donned her judogi in IJF competition since the Tbilisi Grand Prix in March 2016.
Despite being unseeded this weekend and her inactivity the Israeli judoka has Grand Slam pedigree and will be closely watched by her rivals during the preliminaries.
Click here to Get Involved With Grand Slam Week
Watch #JudoRussia2017 live and free from Saturday 20 – Sunday 21 May at www.ippon.tv