Austrian star Sabrina FILZMOSER made history on day one of the Budapest Grand Prix as the veteran won -57kg bronze to edge closer to Tokyo 2020 qualification.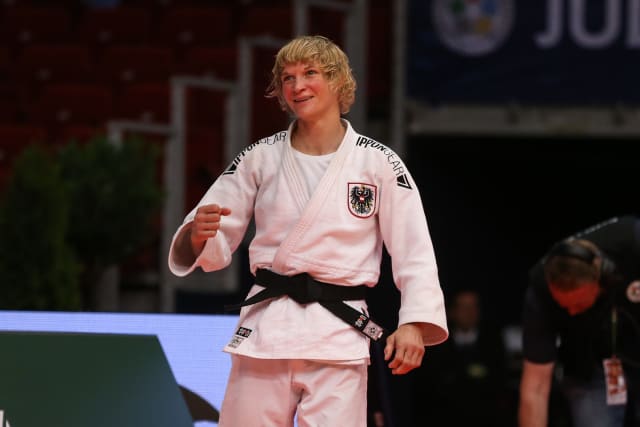 The 2005 and 2010 world bronze medallist, who turns 40 next year, replaced Belgium's Ilse HEYLEN (38) as the oldest medallist in IJF World Judo Tour history.
A thrilled FILZMOSER spoke to the IJF Media Team as she left the field of play.
"I'm just ecstatic to medal today and be on the podium," said the much-admired -57kg fighter as sweat dripped from her forehead but was offset by a beaming smile.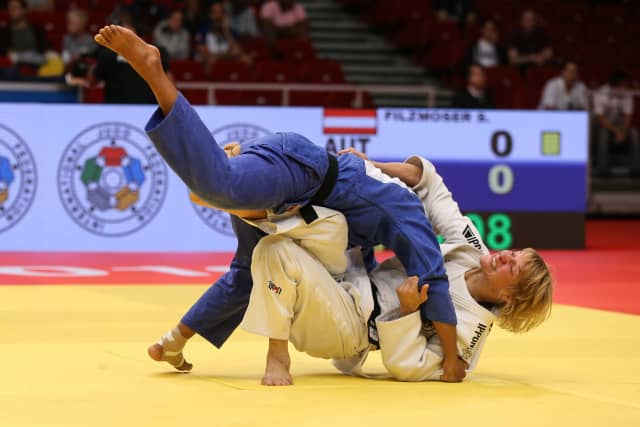 "I didn't know that I've set a record today, as the oldest judoka to medal on the IJF circuit, but I'm very proud and feel it's a special achievement.
"For me age is just a number.
"When I'm down or I don't feel motivated I think about the children around the world in difficult situations who love to practice this sport and it gives me energy.
"I love to be active in social projects such as in Nepal and I draw inspiration from these children. Being outdoors and trying new things is part of my character and my personality and whether I'm flying planes, as a qualified commercial pilot now, or climbing mountains, I'm really an adrenaline junkie.
"I don't think about my age, I feel the same as I did 10 years ago. Nothing has changed for me.
"Today was really important because I need the points towards Tokyo 2020 qualification. I will go to the Worlds and I'm fully confident and focused that I can compete at the Olympics at 40 years of age."
FILZMOSER, who is contemplating an outing at the Zagreb Grand Prix in a fortnight, is craving judo's homecoming this summer in Japan.
"Japan is special for every judoka in the world. I love every second I am there and I often feel more comfortable there than in Austria (laughs).
"I still feel strong at this level and I believe that I can compete and compete well against the best in the world and this is my chance to show it at what may be my last World Championships.
FILZMOSER will not spend long celebrating today's success but rather has her next goal in sight and will return to training on Monday.
"I'm privileged to be able to practice this sport and to do so for my country. Judo has given me so much and I'm going to give me all in the coming weeks and months to achieve something special in my sport's homeland of Japan."