The IJF Judo Stories Tour continued last week in California, with two-time judo world champion and Olympic medallist Daria Bilodid. Daria's tour began with an assembly and judo clinic at Samuel Gompers Middle School in Los Angeles, and concluded with a visit to the Campbell School of Innovation in Campbell, California. Between these opportunities to introduce judo to hundreds of children, Daria taught her unique brand of judo to mats filled with eager judoka at Shimeru Judo & Jiu Jitsu Club in Lake Elsinore and CJ Judo in San Jose.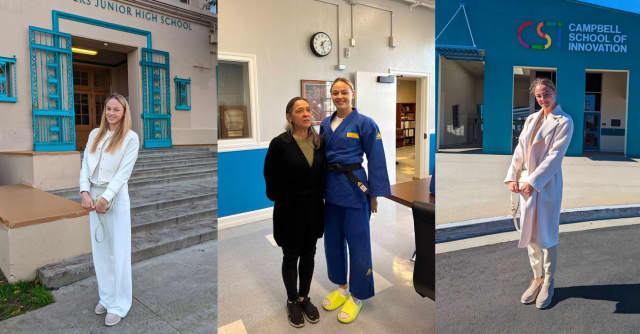 Daria inspired children by sharing her story and champion's mindset in Q&A sessions led by Chuck Jefferson. At Gompers, they were joined on stage by Dr. AnnMaria De Mars, the first United States judo world champion. De Mars is also a founder and director of Gompers' judo programme and in the training session that followed the assembly, Daria's story led five new students to join the team!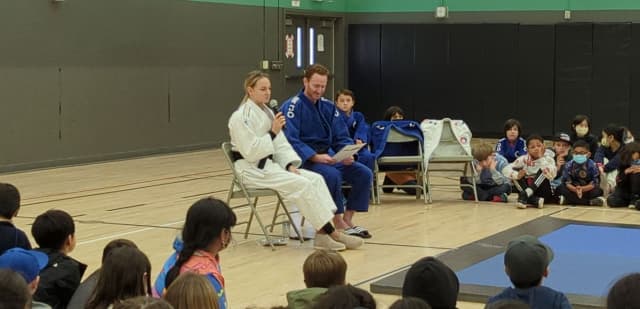 "I am super happy that my success story can motivate someone to be a champion," said the star of the tour, Daria Bilodid. "Judo is a great sport, which demonstrates big values such as friendship, unity and solidarity. Thanks to the IJF and Judo Stories team for organising the IJF Judo Stories Tour. It is a great opportunity to develop judo in the world."
"This has been an amazing experience for the children in our community," said Chuck Jefferson, owner of CJ Judo, the Northern California partner of the IJF Judo Stories Tour. "Daria's message of overcoming adversity on so many levels, has left our children inspired and motivated for the future."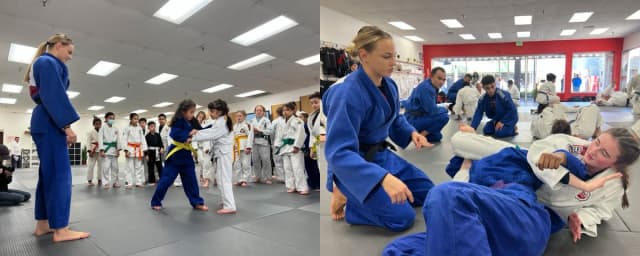 Jefferson's comments were echoed by Campbell School of Innovation teacher Sandi Boehm who stated, "What a treat! Thank you for the amazing assembly and wonderful message to students. They were all thrilled!"
"We had an absolute blast with Daria, introducing a whole new generation to judo and its life-enriching values," said Patrick Dooley, owner of Shimeru Judo & Jiu Jitsu Club, the Southern California partner in the IJF Judo Stories Tour. "As the youngest world champion in judo history, Daria has a lot to share with children about achievement and determination and I saw enthusiastic listeners throughout her talks."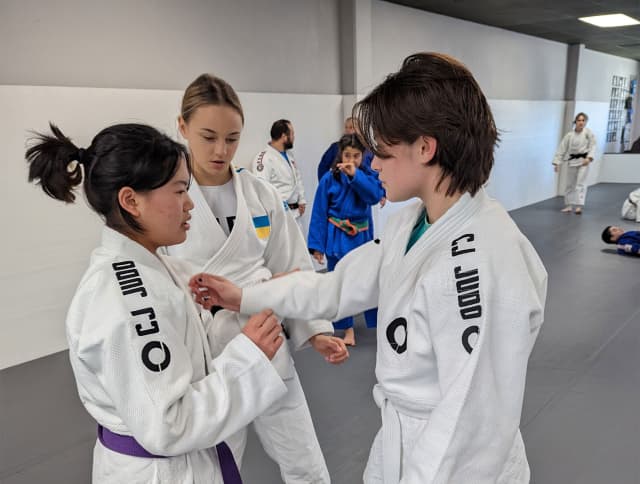 When not spreading the judo values of friendship, unity and solidarity to schoolchildren or sharing her story and techniques on the mats, Daria experienced some of what Los Angeles, as the host city for the 2028 Summer Olympics, has to offer. She attended an NBA game between the Los Angeles Lakers and Sacramento Kings, seated just a few rows behind the visiting team's bench. The Kings also escorted her to the floor of the Crypto Arena prior to the start of the game.
Daria also toured Universal Studios, one of the most popular attractions in Southern California, shopped on Rodeo Drive in Beverly Hills, visited the iconic Hollywood sign and watched the sunset over Venice Beach. She shared some photos of these moments on her Instagram page.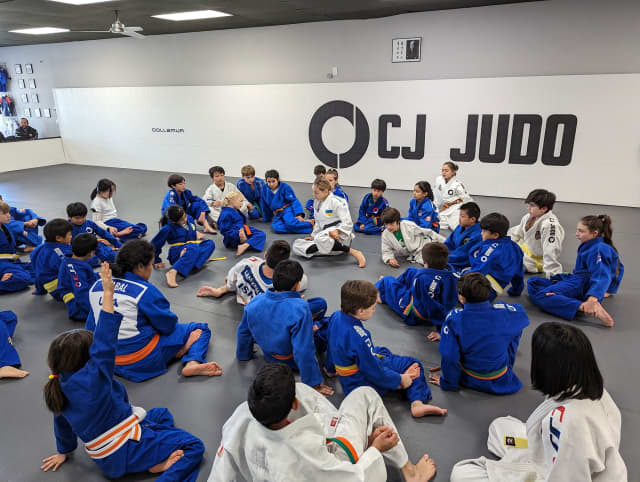 "Patrick and I are extremely pleased with the momentum, as interest in this project builds in the judo community and within California school systems," Jefferson added. "We thank the IJF for their continued partnership and look forward to announcing more events in the near future."