I wanted to take this opportunity to share with you the remarkable experiences and encounters I've had during my recent travels through Southeast Asia. It has been an incredible journey filled with invaluable connections, unforgettable moments, and a deeper appreciation for the power of judo. After bidding farewell to the captivating landscapes of Cambodia, I ventured into the southern region of Thailand, where I found myself in the vibrant region of Phuket.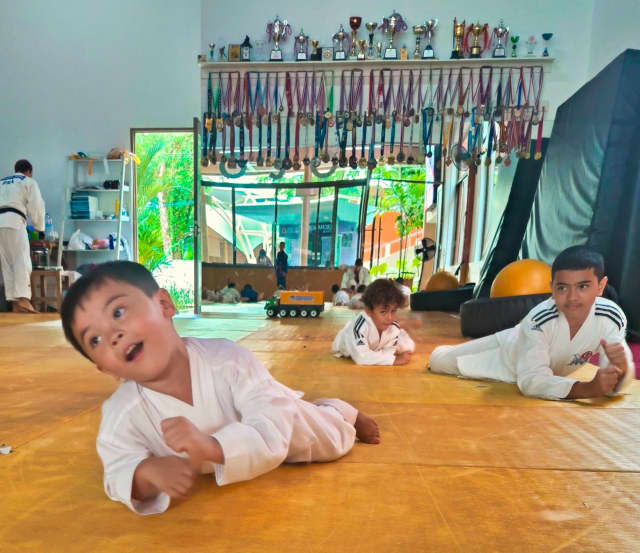 It was there that I had the pleasure of meeting Alexis, a remarkable judo enthusiast who has established the unique Blue Tree Phuket dojo. This dojo, unlike any other I've encountered, caters specifically for the children of expats living in the area. It's quite extraordinary to witness the diverse group of young judoka training together, sharing their passion for the sport despite their diverse backgrounds.
Alexis has taken it upon himself to foster a spirit of excellence within his students, with the ambitious goal of nurturing future Olympic champions. His dedication to their development is inspiring, as he invests three hours each day into their training regime and accompanies them to competitions around the world. Through the support of parents and local companies, he has transformed Blue Tree Phuket into a judo powerhouse. I am grateful for the opportunity to witness the impact he's making and the future he's shaping for these young athletes.
He's also competing both in Seniors and Veterans himself and is actually in really good shape, way better than I am currently. He wants to be an example for his students so he trains as well as he can even though he doesn't have many partners. When he brings the children to competitions, he often also competes after them, at the same events.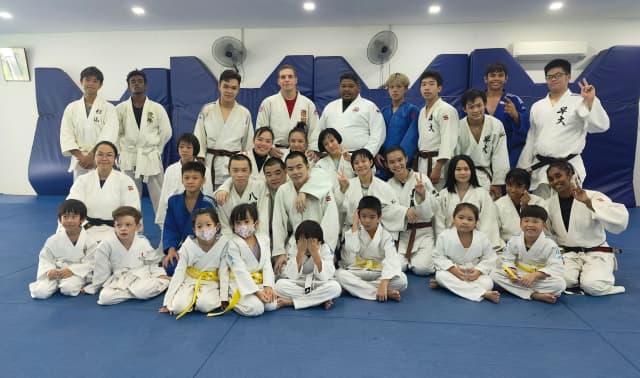 From the sun-kissed shores of Thailand, I made my way to the captivating island of Penang in Malaysia. This place is an historical place and you can see the touch of the British in the architecture of a country that used to be part of the British Empire.
The secretary of the federation, Justin Khoo, organised everything for me to stay in his country in the most pleasant conditions. I spent more than a week there and became good friends with the staff and also the athletes, who were so dedicated and respectful.
I met some judoka with great potential such as Amir Daniel who recently became a Commonwealth medallist. What these people are missing, like in many countries, is good opposition, so the federation tries to build projects around some of their best members, to send them to Japan and eventually to Europe in the future. Penang judo players have great motivation and ambition for the future and I hope they will be successful. Maybe I can come back to work with them eventually!
After that, I decided to stay a few days in Kuala Lumpur, the capital! It was there that I had the privilege of training with the dedicated members of the Bangsar Judo Club. Led by coach Adil, a Phd student from abroad, the club is committed to revitalising and modernising judo in the area. I was thrilled to witness their progress first hand and engage in spirited exchanges on the tatami. It was during these training sessions that I had the opportunity to interact with members of the Malaysian national team, exchanging techniques and insights. I am grateful for the warmth and camaraderie they extended during my time with them.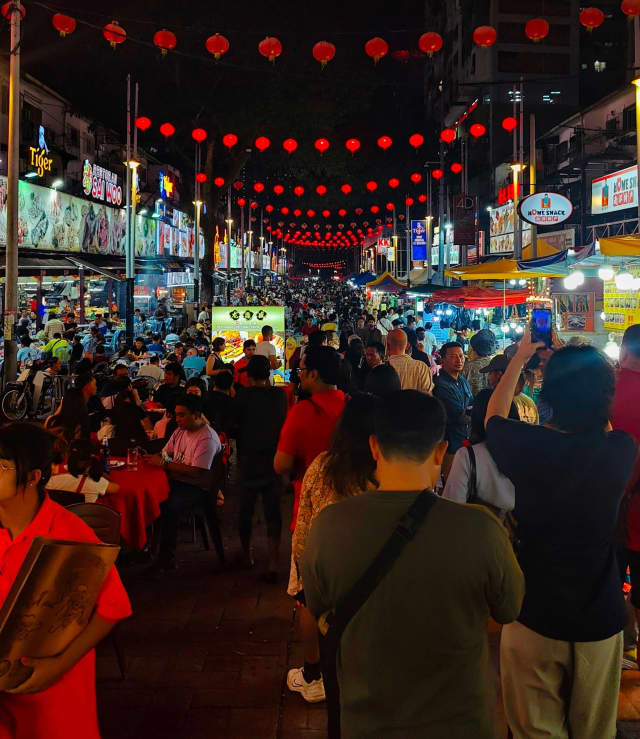 Justin, the secretary of the federation, helped me to prepare for my next country, Singapore. He gave me the contact of the president of the Singapore Judo Federation; they are good friends. His name is Yeo Chin Seng and he did exactly the same as Justin to make sure that everything would be taken care of for my project.
Singapore, a city-state synonymous with excellence and innovation, proved to be an extraordinary chapter in my journey. Despite the high cost of living, the Singapore Judo Federation, under the leadership of their President, generously provided me with support and accommodation during my stay. Their unwavering commitment to the development of judo and their willingness to embrace my project exemplify the true spirit of this sport. I can promise you that we made a great link and I will be back there to work together with them again.
First I went to the national training and that was followed a day later by the national championship which you can see on my Singapore video on my youtube channel. As a token of appreciation, I had the distinct honour of presenting awards to the judoka, recognising their achievements and hard work.
During the next days I went to visit SA Judo Club and two very prestigious universities, NSU and NTU, one being ranked 8th in the world in 2023.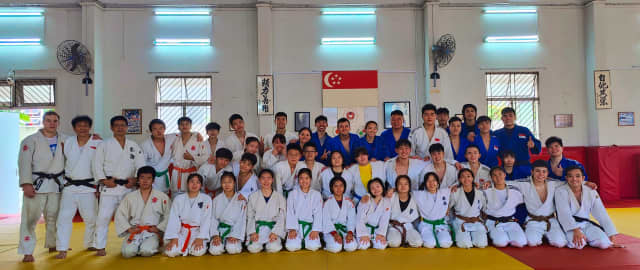 The common thread between all the athletes in Singapore was the respect, just as in Malaysia, they were all so respectful that I had to tell them to relax a bit more with me. In fact I don't like to be called Sensei or Master; I'm only 30 years old and consider that I still have a lot to learn before being a proper sensei! So, Julien is just fine!
I spent a lot of time with Yeo and took time to know him. I even became close to his family. He's a dedicated person, giving most of his time for judo even though he is doing it all for free. It's also impressive to see that at his age of 70 years old he has very good mobility when practising judo. We talked about lots of future projects we could do together and I hope it'll happen one day. Singapore was so challenging because of the budget but it became an easy country thanks to President Yeo and all the athletes.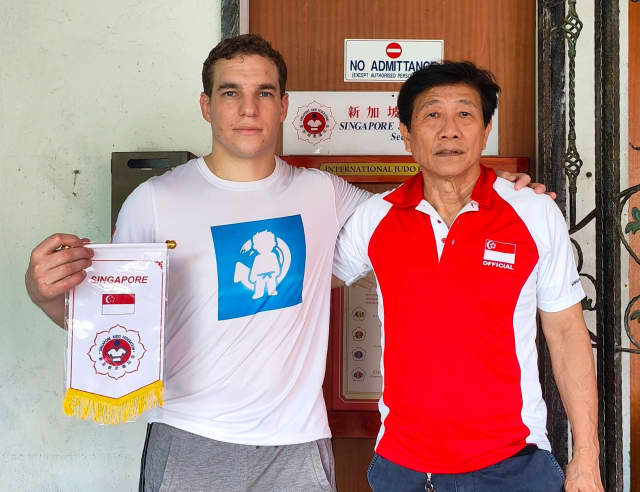 It's the first time that I received financial support from athletes so fast after leaving a country. The next day I already had two people supporting the 'Buy Me a Coffee' strategy.
Now I am heading to Indonesia by boat and I'll take quite a long time there also, to develop the project before entering what might be the most complicated part and year of my project with Oceania and Japan. I am very excited for what is about to happen in the judo nomad project.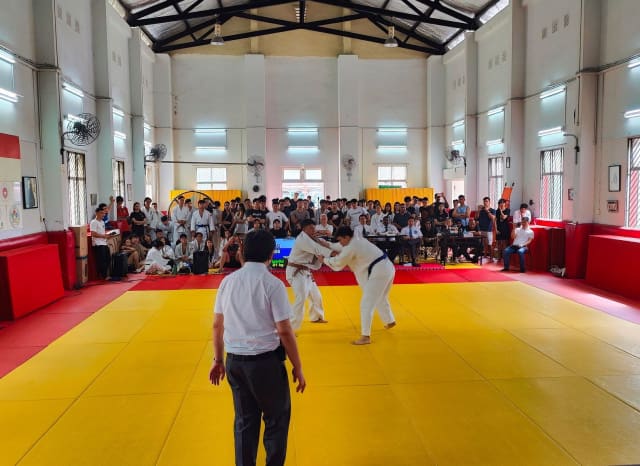 Until next time, readers! Thanks for all the support!