Kanchha Sherpa is 90 years old and lives in the mountain village in which he was born, Namche Bazar, at 3400m above sea level. One of 5 siblings, he lived as any Sherpa did at that time, with no schooling, a life ruled by the mountains but at 20 years old, his place in history changed dramatically and he lived an historic experience, as part of a team which became world famous in an instant.
On 29th May 1953 New Zealander Edmund Hillary and Tenzing Norgay Sherpa, with the support of a 33-strong support team including 8 Sherpas, scaled Everest for the very first time. No-one had done it before, with many expeditions getting stuck very close to the top at what is now known as the Hillary Step.
We fast forward to the present day and Judo's Sabrina Filzmoser, as we know, has recently summited Everest. On a previous visit to Nepal she had met Kanchha Sherpa's son at the Green Tara hotel in Namche and he made her a promise that if she reached the summit she would meet his father.
Our delegation, led by Sabrina, was honoured to meet Kanchha Sherpa today, as promised, 69 years and one day after that first successful summit expedition. Fighting Films cameraman Robin Willingham sprinted to collect his set-up and Sabrina, Nico Messner, myself and our guide Ganesh walked through Namche to the Nirvana Lodge where he lives.
Kanchha Sherpa was happy to meet the group, especially as his lodge has been closed for several days, meaning there have been no tourists to speak with.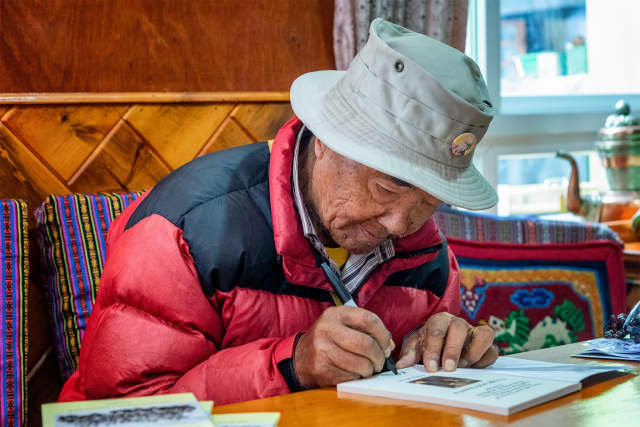 I expected a large man to match his enormous place in history. This doesn't make sense, of course, as Sherpa's are known for being small and extraordinarily strong for their stature.
With hat and prayer beads he came into the room, the main dining space of the lodge and sat to greet each of us individually. A chorus of 'namaste' later and we were all sat ready for Robin to record the interview with Sabrina. He congratulated her and held her hand briefly, before making us all laugh, "then very difficult, now much easier."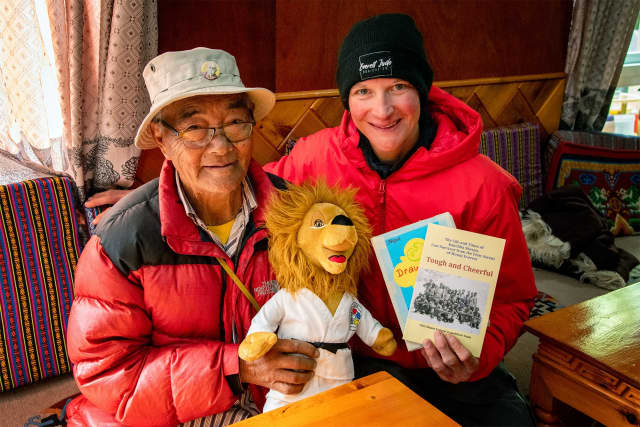 The terrain on Everest is not normal. It is not just a long, rocky hike. Extremes of cold and wind, crevasses, the huge Khumbu Icefall, unadvertised weather changes and in 1953 it was largely unmapped. The climb was hard and dangerous and was real exploration.
"I was born in Namche and I didn't know about any of the previous expeditions. My papa told me about Chomolungma (the Sherpa name for Everest) but even though I was born here I never saw it.
When I was included in the expedition and first saw Everest, I just thought it's only a mountain like the others but it was very difficult and very dangerous. My brother and I both went."
Climbing then was not what it is now. The advancements in technology and in clothing and equipment for this kind of expedition have improved beyond anything Hillary and Tenzing could have imagined. There was still oxygen in cyclinders. There were still crampons and ice-picks but not how they are now. Sabrina noted, "Now we can make one solid kick with our crampons and we have a secure hold in the ice. In the 1950s maybe they needed 100 kicks to create a safe next step in the climb. I can't imagine the energy needed for that and to do it with limited oxygen, at altitude, is asking something very different of the human body."
Kanchha Sherpa told us about the bridging of the crevasses. They had no ladders in the expedition, unlike today. Today the Sherpas fix ladders throughout the route, to cut down the time needed to climb and to increase safety for all who attempt the summit. Scaling Khumbu from 5400m up to 6300m is no joke, with an unstable landscape and many crevasses and other danger points.
"We spent a lot of time trying to find the way around the crevasses and in all it took us one week to climb the icefall." Now this part takes many hours but not days. "We had to go back, all the way to Namche (3400m). Ten of us went to cut trees and carry back to the icefall. One Sherpa, one tree. We would bind 3 together with rope and lay them across so that we could pass. Hillary and Tenzing waited in the icefall for us," saving energy.
Kanchha Sherpa told us some incredible details about that 1953 expedition. Hillary and Tenzing stayed overnight on the South Summit before making the final short but difficult ascent. They had a small tent and oxygen, just for the two of them. The rest of the party waited below. "We brought them the tent, sleeping bags and oxygen and then left them there. They made it to the summit and we only knew they had done it once they came back down to us. There was a big celebration."
Sitting openly with a big smile, Kanchha Sherpa feels like he could be everyone's grandfather, telling stories, giggling at modern times and enjoying visitors. He answered the big questions and the little ones and made us laugh many times, "Now it is the same height, the same route and the same problems but now the climbing is not important." He laughs again. "Now they go in lines, 50-60 people, like yak!"
We all understand that Everest still claims lives and continues to hold attraction, even addiction, for mountaineers and thrill-seekers the world over but we must accept that it is different now. Knowledge, time and repetition change the challenge.
Kanchha Sherpa is in no way dismissive of today's expeditions and in some ways is happy that they continue, "It's very good that Sherpas can make a living this way, as guides and porters for the expeditions. I'm also very lucky. People from all countries come and talk with me and share stories."
Humble but open, comfortable of spirit, this old man of the mountains is someone I will never forget meeting. I thank the Himalayas for my very special experience today.