Tamerlan Bashaev of Russia is building himself a substantial record, step by step, ticking off one major medal at a time. At just 25, he stands toe to toe against the biggest men of our sport, competing in the +100kg category. He's fought them all, from Teddy to Krpalek and recently, in Antalya, he threw the Japanese nomination for the 2021 Olympic Games for ippon. Three minutes into the final, Harasawa (JPN) was down and Bashaev had a second grand slam gold medal around his neck.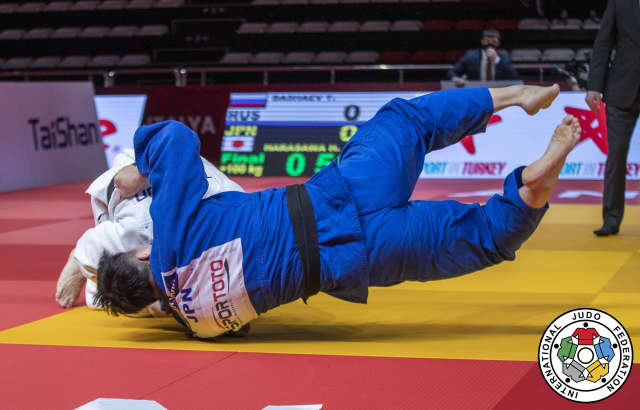 Bashaev was European Champion in 2020, European u23 champion in 2017 and junior world champion in 2015 and his roll of honour reads like an instruction manual on how to develop a judo career.
However, despite this obvious upward curve of excellence, he is being led on the Olympic ranking list by his team mate, Tasoev. Inal Tasoev, at only 23 years old, stands tall in the heavyweight category and is currently 3rd in the world, with Tamerlan sitting in what should be a safe 6th place, but as we know, only one from each nation can make the Olympic team.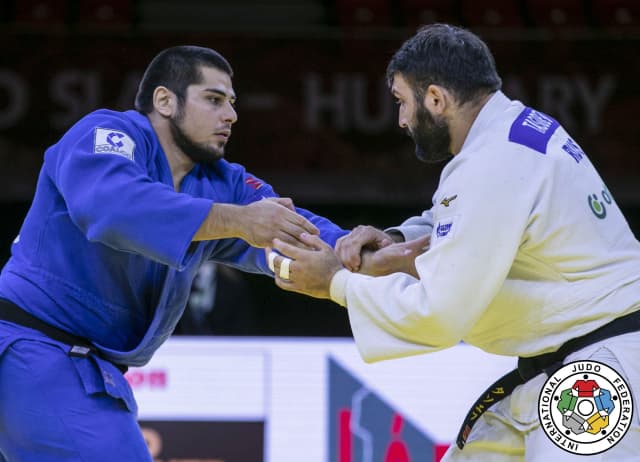 Tasoev and Bashaev are two key figures in the generation of young judoka who are knocking the old guard out of play, systematically and internationally. Our 5 year Olympic cycle has highlighted a phenomenon that is usually hidden from view, happening amid the shake-up of post-Olympic hustling. In France we see Dicko and Boukli. In Serbia this is Stojadinov and others. We have been amazed by them but actually they would have come no matter when the Olympics took place; they always do. It is the Games that has moved, not the appearance of these judoka.
So, with none of the previous generation of heavyweight Russian men still fighting for an Olympic place, it is Bashaev and Tasoev and their impressive alternating podium finishes, who have earned the opportunity to squeeze an extra Olympics into their resumé.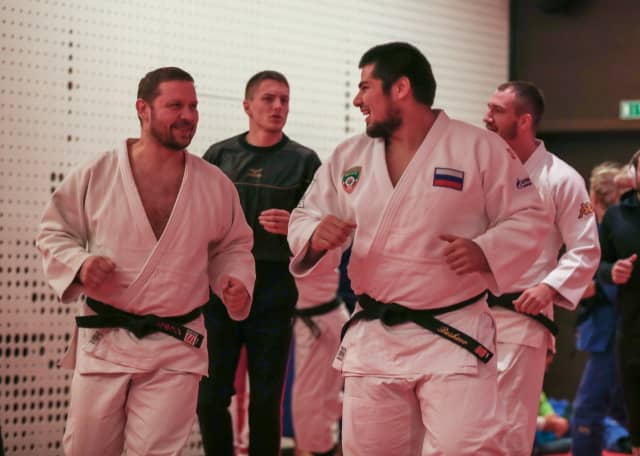 Tamerlan Bashaev is full of smiles, most of the time. Despite being the underdog of the pair, if you can call a European champion sitting at 6th in the world ranking an underdog, he is very happy to sit and chat with us about judo. He approaches everything with a relaxed and natural charm, clearly loving what he does, enjoying all that judo has to offer.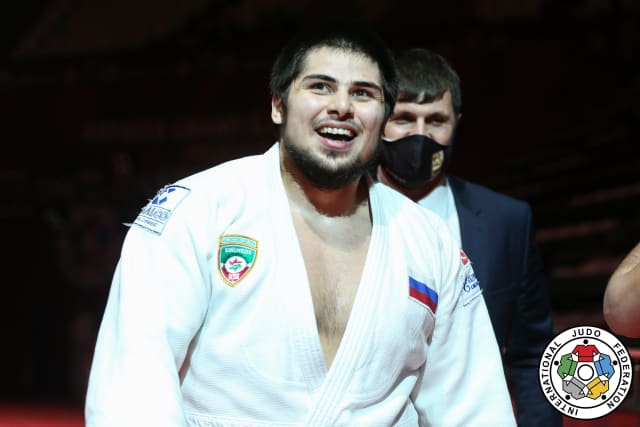 "Yes, I'm small for the category. I know that I have training partners who are much bigger than me but my opponents don't have partners like me, so it feels like I have good training that matches my competition performances; it's an advantage. I'm usually around 125kg and with many opponents weighing 140kg or more, my training partners give me what I need to be ready for competition."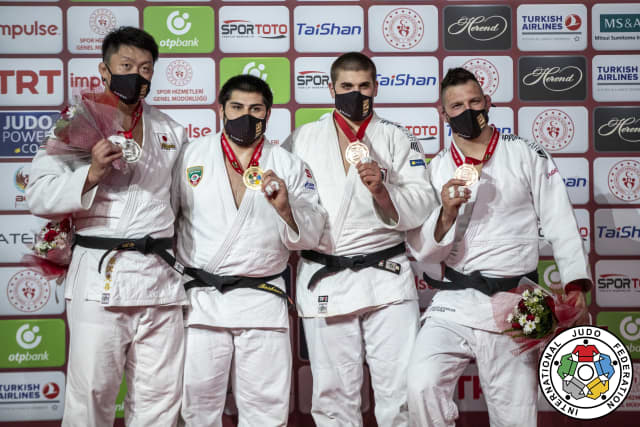 "I think judo is the best sport in the world. It's healthy and beautiful and helps you in your life outside of sport. We even have real skills for self defence, not like footballers." He laughs. "I wear sliders from Manchester United but not because I support the team, just to have slippers that were available at the time I needed some. People think I'm a football fan because of them, but I'm not. It's all about judo!"
When we speak about goals, Tamerlan doesn't mention his domestic rival, focussing only on what he can control and what his ideal achievements would be, "Tokyo, Paris and LA! I want to win everything. Mr Gamba gives us paper to write down our goals for our time in the national team. I wrote that I want to win 3 Olympic gold medals and ten world championship titles. It is not impossible.
It's not work for me, none of it, even when it's really hard. Training and working out is fun for me. I love judo, of course, but weight lifting too. I don't like running, but sometimes I have to. I do it very badly with my short legs." We have to stop for a moment because we are both giggling like children. "I have to do 3 steps for every single stride of my team mates so it feels hard for me." He shrugs.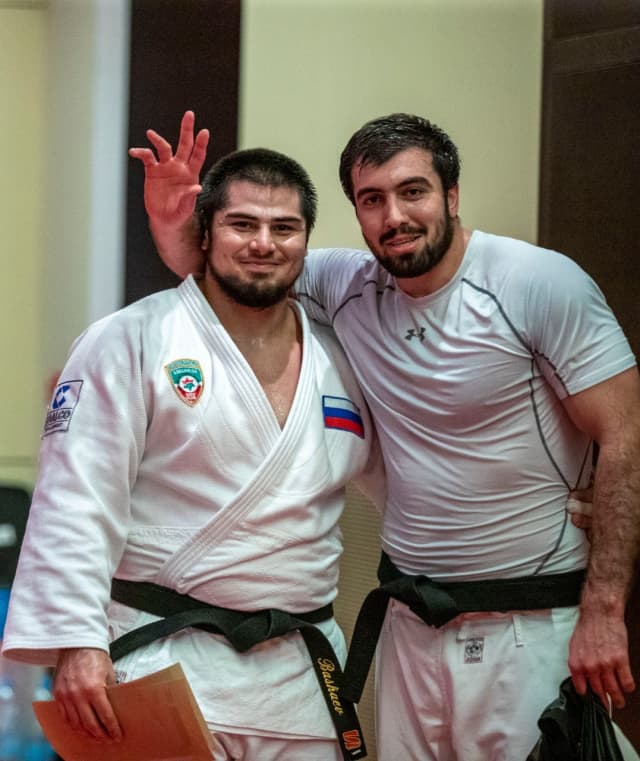 We continue to just chat about judo and the heroes he watches as he develops. "Muneta (JPN) is a big inspiration for me. He had such great movement and could bring immense power to the most delicate ashi-waza. Suzuki (JPN), also, as he was not so big, like me, but he had amazing skills and could still be in control even with the biggest opponents at +100kg."
Having fought all the big names in the category, who is left? "I still have some wins to chalk up, against people I have already fought, but there is no-one left in the group whom I haven't fought at the top level. So I think it would be fun, a good experience, to compete one day against the 2018 world champion from -100kg, Cho (KOR).
Aside from my own fights, I also like to follow all the Russian athletes who are from the Chechen Republic, as that is where my family is from, although I live in Moscow. I'm always interested in seeing their progress."
As we close our interview, which was far more like a meeting with an old friend than something more formal, I wish him a successful end to the season. He smiles, as always and graciously offers his hand, indicating that I should go first. He caught the door.
Tamerlan is seeded number one in Kazan and is proud to compete on home soil. He will be eager to reach the podium of the final grand slam in this unique qualification period, but what is certain is that he will have fun! He will enjoy the environment, the arena, the buzz and will use it as fuel! On day 3, in Russia, we will see how far that fuel can take Bashaev.