How many times have I seen Eli's 'active now' notification on at 2am, 3am, as she squeezes every last minute out of her working day to ensure ranking lists are completed, with precision, before the seeding for the next IJF Tour event can be confirmed? Contest orders checked and double checked. How many contests for each mat in the preliminary rounds, to keep the running times aligned?
Accreditation, nationality checks, entry lists, never ending administration behind the scenes of Olympic qualification. And above all, we all feel how important it is to Eli to create the best competition day for all athletes and coaches and for all her colleagues. Whatever it takes, Eli is always there. Last thing at night, the day before a world championships, when most are energy-depleted, if you need a smile, Eli will have one for you and undoubtedly a massive hug. Everyone knows this side of Elisabetta Fratini, but there is a deeper story: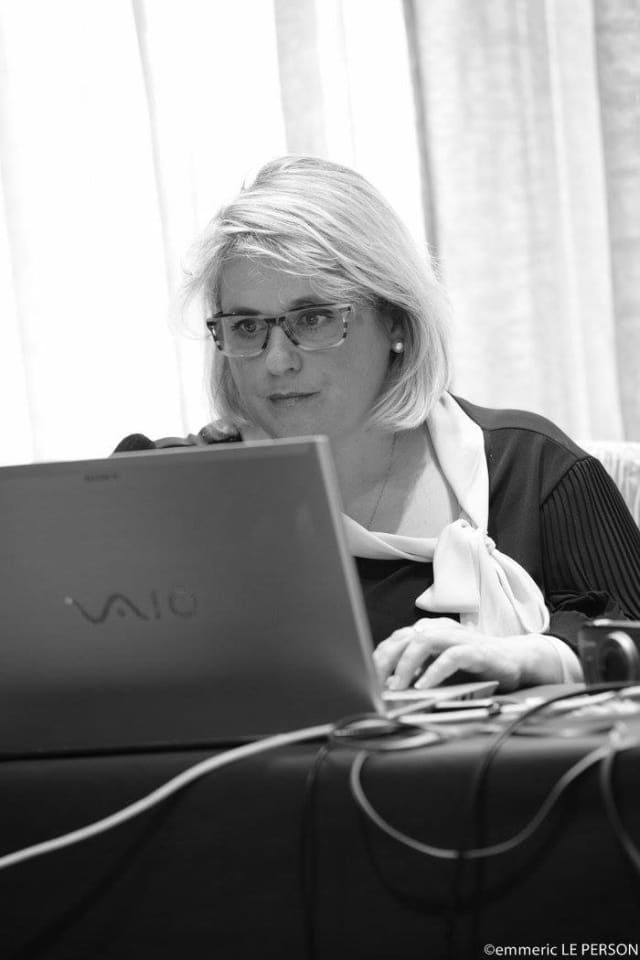 Hajime!
1)
Eli lives in the family apartment above an ice-cream parlour in Spilimbergo, Italy. Initially it was a printing company, established by her father and uncle. When they retired, instead of selling the business they closed it and put the space up for rent and it was snapped up by a gentleman who loved to make gelato. "So now I live above a gelato shop. Can you imagine?" Eli's favourite flavours are Malaga (cream with raisins) and stracciatella.
As an aside, I took my children to visit Eli a couple of years ago and she met us in the gelato shop and treated the children to all manner of ice-creams, sorbets, syrups and toppings. It is a place that sparkles for children and adults alike!
2)
Elisabetta is fluent in Italian, French, English and Spanish and can also just about get by in German and Japanese. She says in Japan it always feels like home. "I first visited Japan in 1985 as part of a non-judo youth exchange programme and I was hooked!" Eli graduated from the University of Venice in Oriental Languages and Religious Studies.
"I started to learn Russian with a friend who was very strict, an elementary school teacher. I was also a member of the language school and translation agency in Udine so I had great contacts for progressing in Spanish and other languages"
We can see Eli floating through the warm-up area of any event, speaking happily with anyone from anywhere, seamlessly jumping from one language to the next, translating for others without being asked. She's like glue, holding everyone together.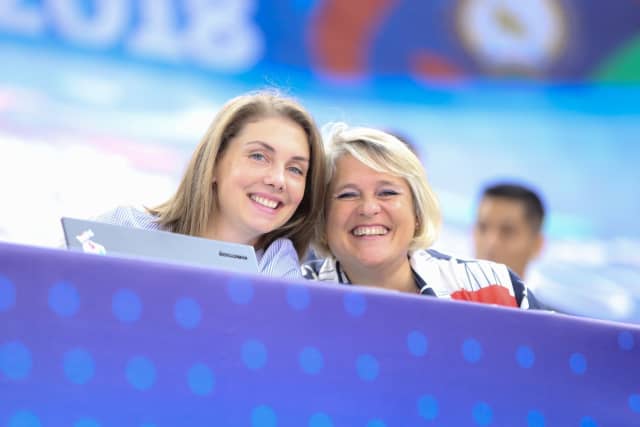 3)
Ignition with judo: at the end of the 1960s when judo was in its infancy in Europe and Eli's father was doing some judo with a group of friends, their coach was having to move away to find work. So the judoka found him a role as a caretaker, just to keep him in the village, so they could continue to do judo together.
"My younger siblings started judo first but I was a lazy girl who loved to read. Eventually I started at 9 and then I stayed forever! There was an earthquake shortly after I began and all activities stopped while the village was repaired, so I re-started at 12. My daddy was president of the club. I was the eldest of our generation of cousins and so I was always taking care of everyone else. I had the family duty. And so I continue like this today, at home and on the Tour."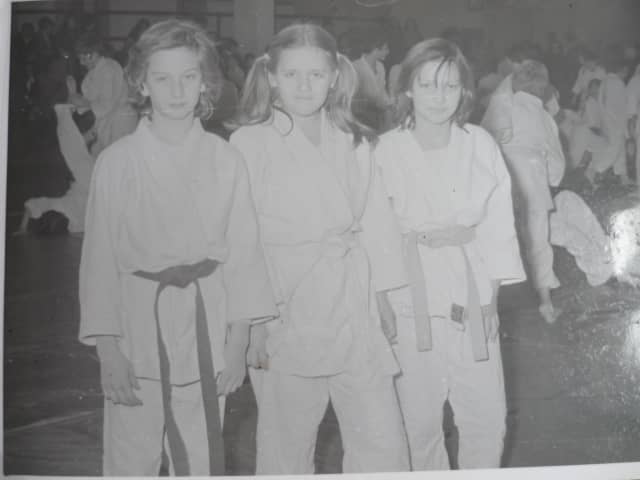 4)
"Spilimbergo's dojo is called 'Palestra Elio Fratini' after my daddy, because in 2002 while it was being extended and updated, he had a car accident and passed away. It was such a shock to lose him. He was the lover of the ice-cream more than me. He passed the week before the opening of the gelato shop and so never got to taste it. I'm so sad about that."
5)
Eli has no plans to retire! "I was talking about retiring after Rio 2016, but with the Games coming to Tokyo, how could I? And then it goes to Paris.... How can I not be in Paris? So I have no plans to retire!"
Eli's love for the sport and it's people keeps her with us. Her passion and athlete-centred approach make it impossible to imagine an IJF Tour without her.
"Meeting people is the best! Seeing athletes fulfilling their dreams. It's all people based. The biggest emotion is to see them with the Olympic medal, which was such a big dream. The field of play is a mixed environment of coaches, organisers, athletes, referees and we have to work together and we always have the immediate feeling of success, at each event, even though for us each is a long term project. Progress is made every weekend. You can see if you have been successful."
6)
"Through a contract our village mosaic school had, I was taken to Japan to work for a building company on a project building a hotel in Shirahama. The mosaic school's work was integral to the design. I was supposed to stay two months but stayed one year."
7)
"I wanted to be a doctor, but I ended up studying languages. My dad always pushed for languages. I studied with my father to learn how to organise competition admin. He suggested me and my friend Mari buying a van with computers to run competitions for the others, but we never did. I have helped run most of the big competitions in Italy and surrounding areas though, but now I can't do this so much, due to my work with the IJF."
8)
Everyone on the Tour knows how hard it can be, constantly living from suitcase to suitcase, missing family occasions and having to jigsaw into new cultures week in and week out. It's an education and an honour but also a logistical and social minefield. It's the normal things that are craved and missed.
"What I miss most when I am travelling is having my morning coffee and biscuits in my pyjamas at home on Terrazza Fratini! And then to my ironing, my Zen exercise. I miss my family, sitting on the sofa just talking together."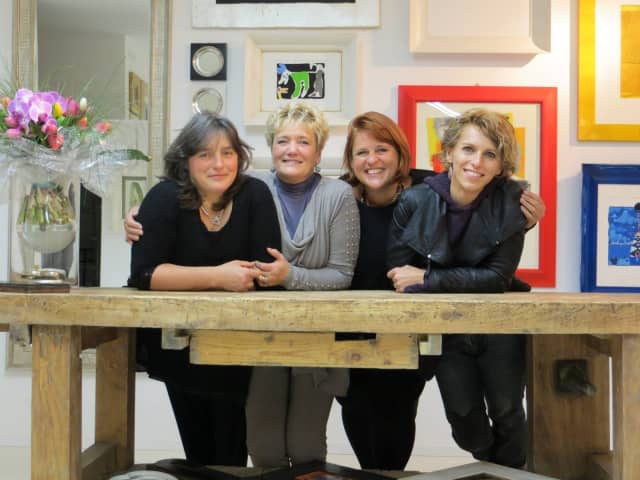 9)
When asked for simple, fun facts, even those kept coming back to the same threads of 'family and people'. What is Eli's favourite food? "My mum's food is the best! I love to eat anything as long as she made it. I try to think of what I can't eat but it's just not true. I can try anything. No objections. Actually, maybe I don't like tripe, but if my mum made it, I would love it!"
10)
So, what does Eli like to do when she is not travelling for judo? Any guesses? She likes to travel! Eli's favourite hobby is to travel to beautiful places to visit museums and art galleries and to see first hand the beautiful architecture all countries have to offer.
"Every place has something special. You need to open your eyes and really see. I love the markets and to see people getting on with their normal lives. I am most attracted by cities and construction and architecture."
Cambodia and India are still target destinations, places steeped in mysticism. She loves temples and jungles but prefers not to be stuck on small islands. Eli says, "after the beach there is nowhere to move and nothing to see!"
At the end of our interview Eli was very clear and also emotional about her key drivers. As a child she was always taken care of by parents, family, the dojo. That continues today and so she always wants to take care of others:
"Somebody always did for me so I do for others. It's natural. I try to be everyone's temporary mum if they need it. This is from Jigoro Kano, to leave the world better, to do the best you can all the time."
Eli will next be at the helm on the Tour in China, for the IJF Masters, the final Olympic qualifier of 2019. If you are there and you need a hug, you know what to do.