The hands of the clock show 09.38. A man goes to his office, it's time to work. Like everyone else, you will say. But Gregg Varey is not like the others. He has two occupations, related but different. He is perhaps the person with the coolest job in the world.
At first glance, Gregg is not one of those guys who impress. He is not especially tall or wide. He is polite, calm and silent. In a suit and tie, he looks like the perfect subject of her majesty the queen.
However, under the suit, he has the sculpted body of a high-level athlete. Fibre and muscle, the body of a professional.
Gregg is a judoka, representing Great Britain and is in Israel to compete in the -66kg category at the Tel Aviv Grand Prix. It won't be easy because he is about to face a Japanese competitor in the first round, Hashiguchi Yuuki. It is a hard contest, a tight fight, and they are heading towards Golden Score. A second, just a breath before the gong, Gregg makes a fatal mistake. His opponent executes and earns waza-ari. Gregg leaves from where he came, as he always does, with a lot of class.
"It is perhaps the lesson I have learned best," he says. "Judo teaches you many things but, above all, I have learned that there are very complicated days, days of defeats, which force you to persevere.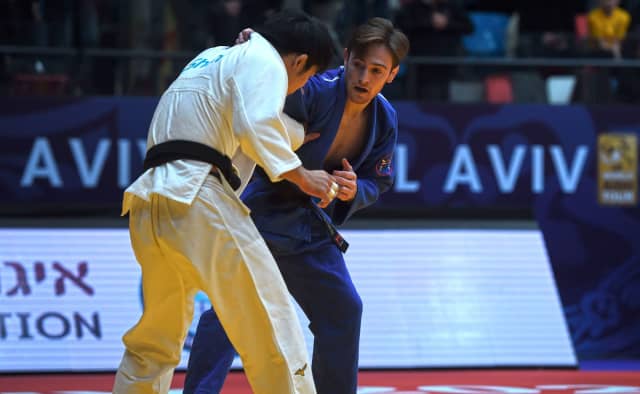 Gregg is 31 years old, he is a second dan and plans to end his career at the Commonwealth Games, in 2022.
Right now, he has other things to do. In two weeks, at the Paris Grand Slam, Gregg will change the judogi for the suit to devote himself to his other passion. The Welshman works for Fighting Films, the production company that covers the World Judo Tour.
"I am editor and director, it depends on the tournament." When he is first seen, surrounded by computers and cameras, no-one could guess that they are talking to the old British number one and several times a medalist in continental competitions.
"If I had to choose between the two activities, I would choose judo." Nothing is eternal and Gregg is in full conversion mode, since it combines passion and profession. To know the professional circuit inside and out, to know and be able to describe the emotions that invade a judoka when there is a win and also when there is a defeat, that is his strongest skill.
Some lessons that he applies in his role as editor and director: "Judo makes you stronger, physically and mentally. It is more difficult to compete but, when I work, judo is always present. I have learned to keep calm and work well under pressure".
This is how Gregg's days pass, between sweat and ties, from neatly pressed suit lapels, to battle-scarred judogi lapels. He feels in his element, he does what he loves and he shows it. Talking with him is learning. A modest guy with a lot to teach. A judo product with the best job in the world.