1. Majlinda KELMENDI (KOS) -52kg Rio 2016 Olympic champion For me the Paris Grand Slam is the most beautiful competition in judo. I really like to fight there because the crowd is amazing and also there comes a lot of Olympic and World champions which makes this competition even more interesting. For me personally it is really important because since 2017 Paris is my first competition of the year and the last three years I won it so it means a lot to me.
2. Rustam ORUJOV (AZE) -73kg
Rio 2016 Olympic silver medallist
In Paris at the Grand Slam there has always been a very good level of organisation and I like the arena with there being so many people! I would like this year to win gold in this tournament.
3. Rafaela SILVA (BRA) – 57kg
Rio 2016 Olympic champion
I think that fighting in Paris is like playing in a huge soccer stadium full of fans and athletes. This kind of thing excites me a lot. For me it is a special competition because I enjoy fighting for a crowd and they are good hosts. I am always well received by the French girls, (Audrey) Tcheuméo, Clarisse (Agbegnenou), Fanny (Estelle-Posvite), Madeleine (Malonga), (Priscilla) Gneto.
4. TAKATO Naohisa (JPN) -60kg
Rio 2016 Olympic bronze medallist
Just as strong as the World Judo Championships, the Paris Grand Slam will be attended by extremely high level judoka from across the world.
The Paris Grand Slam is the most important tournament for me to be selected as a member of the National Team for the 2017 World Judo Championships. Not to mention that I should win, but the content of the match also matters.
5. YOSHIDA Tsukasa (JPN) -57kg
Five-time Grand Slam winner
Since I have never stood on the podium of the Paris Grand Slam, I am highly motivated to win this time.
I take the Paris Grand Slam as an important competition, for getting qualified to the World Judo Championships 2017, and also to boost my confidence.
6. ABE Hifumi (JPN) -66kg
YOG 2014 winner and Tokyo Grand Slam 2016 winner
The Paris Grand Slam is special because it's a competition where a number of top judoka around the world gather which makes the level almost equivalent to the World Championships.
I think it's very important as it is one of the most important events for the selection of the World Championships for the Japanese team.
7. Erika MIRANDA (BRA) -52kg
Three-time world medallist
Competing is possible everywhere, but Paris is a special event, where the stadium is always full and the spectators are competent in judo and love it. This is my first competition after Rio. I really miss the adrenaline of a competition and finally I can do what I love most.
8. Toma NIKIFOROV (BEL) -100kg
2015 world bronze medallist
At the Paris Grand Slam there is always a lot of people and with a good ambiance. It's kind of interesting for me and people around me because it's close to Belgium so I can bring my own crowd.
9. Louis KRIEBER GAGNON (CAN) -90kg
2013 Cadet world champion
What makes the Grand slam of Paris so special is the crowd! In Paris, there is a really good atmosphere that we cannot find anywhere else. We really feel the love that the French people have for judo!
For me Paris is an important event in the journey of my goals. With the tournament and the training camp, I have the opportunity to face the world's elite judoka.
10. Kelita ZUPANCIC (CAN) -70kg
Four-time Pan American champion
What makes the Paris GS so special is the atmosphere and energy of the competition venue.
The Paris Grand Slam is special to me because it has given me great judo memories of competing against the best in one of the most prestigious judo competitions in the world.
11. Varlam LIPARTELIANI (GEO) - above
Rio 2016 Olympic silver medallist
The best judoka participate in the Paris Grand Slam, it is always a very strong competitions and also it's very remarkable with the people who attend. The hall is always full and the French people love judo and they are cheering very much.
12. Nick DELPOPOLO (USA) -81kg
Former Pan American champion
What makes the Paris Grand Slam special is the atmosphere and knowledge of the crowd. It's electrifying and with so many thousands of fans and TV cameras everywhere it is an awesome experience.
For me it was the first Grand Slam I ever competed in (I placed 5th) and also the first time I signed autographs for fans so it is a special memory. #JudoParis2017 will now be the first Grand Slam I compete in at my new category of -81kg so it is very important for me to try and make a good result to start the 2020 Olympic cycle off on a good note.
13. Distria KRASNIQI (KOS) -52kg
Junior world champion
For me the Paris Grand Slam is special because of a big crowd that understands judo and because it's a very strong competition, the strongest from all other Grand Slams or Grand Prix.
14. Marti MALLOY (USA) -57kg
Former world silver medallist & Olympic bronze medallist
What I find so special about the Paris Grand Slam is the ambiance in the venue. It feels electric with the huge venue buzzing with people from floor to ceiling. Those people love judo so much and become a part of the competition. Coming from the US where we have never had a judo specific event that large is exhilarating.
15. Taciana LIMA-BALDE (GBS) -48kg
Five-time continental champion
The Paris Grand Slam is special because of the venue and there is so many people come to see the competition and they understand judo.
The stadium is amazing and it is one of the most traditional competitions in the judo world. For me Paris gives a projection in the athlete's career. A medal in Paris makes the world of judo not forget us.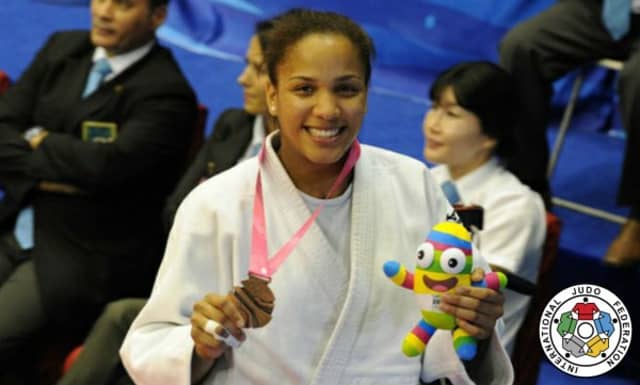 16. Elvismar RODRIGUEZ (VEN) - above
YOG 2014 bronze medallist and Budapest Grand Prix winner
I feel good, I just want to give my best and do a good job and have a good result. I am very excited for Paris.
17. Natalie POWELL (GBR)
European bronze medallist and 14-time Grand Prix medallist
Paris is always one of the hardest competitions of the year, attracting all the world's top fighters. I think the Paris Grand Slam has the best atmosphere of all the competitions on the IJF tour making it extra special to most of the athletes.
Paris 2017 will be really important to me as every competition is. It will be my first time competing internationally since the Olympic Games so I'm excited to get back on the mat and see where I'm at. I'll be looking to put in my best performance and hopefully end up on the podium.
18. Clarisse AGBEGNENOU (FRA)
Rio 2016 Olympic silver medallist
For me Paris is so special because is at home and it's easy for my family to come support me and my friends.
Paris is a really big tournament with a lot of emotion. It's important for me to show to my fans that I am also here for them. I feel good, I just want to give my best and do a good job and have a good result.
19. Frank de WIT (NED) -81kg
Junior world champion
For me the Paris Grand Slam is special because at the 2015 Grand Slam I got my first big senior medal on the IJF World Judo Tour. Also the atmosphere makes it special to do judo there.
It's an important tournament for me because I want to see where I stand after a long period of no tournaments after the Olympic Games.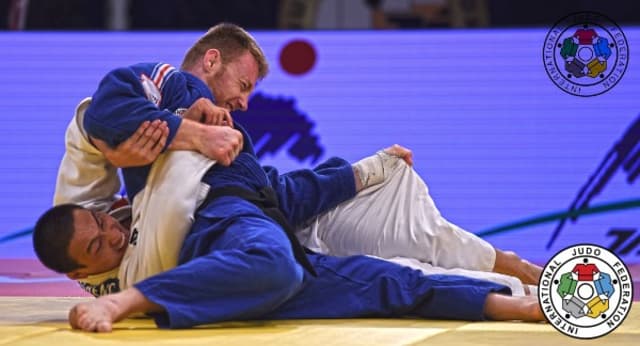 20. Axel CLERGET (FRA) - above (blue)
Almaty Grand Prix winner
The Paris Grand Slam is really memorable and important for me because it is at home of course, and moreover because I have gone to see this competition since I was 10 years old. I remember that with my club friends, all the judoka made us dream. We were taking action to finance this journey months before. The French and foreign champions made us dream. So it is always a pleasure to fight at this tournament and I know that there are children who come from far away and dream by seeing us. After that there is of course this incredible public with more than 15,000 people who pushes us and gives us the power to surpass our opponents.
This year in particular is important to me because I decide to restart to Tokyo 2020 but at 29 years old, I want to enjoy every tournament and take medals in this event.
For French judoka, we need a good performance in Paris to be selected for the European championship so I want to be strong to get my qualification and moreover to win for the first time this amazing tournament.
21. Monica UNGUREANU (ROU) -48kg
Baku Grand Slam winner and Tbilisi Grand Prix winner
I think the public makes the Paris Grand Slam a special competition. For me this competition means the start of the next Olympic cycle and that is exciting to think of.
22. Daniel NATEA (ROU) +100kg
World Judo Masters winner
I think the Paris Grand Slam was one of the first competitions that I heard about when I was little. Everyone said that there comes the elite all over the judo world. I was very curious to get there and to see how it is.
Paris Grand Slam 2017 is important for me, because it is the first competition of this year where I participate and I hope I will win a medal there.
23. Astride GNETO (FRA) -52kg
Abu Dhabi Grand Slam winner
Any athlete would dream of fighting in the Paris arena, because we have an extraordinary public, I think every athlete feels unique, and simply because Paris is magical.
The Paris Grand Slam is one of the biggest competitions, it will happen at home, it's awesome! It will be a good opportunity to score World Ranking Points and after that it can project me on the next competitions.
24. Max STEWART (GBR) -90kg
Qingdao Grand Prix winner
I am very excited for Paris and with it being my debut, I am looking forward to seeing and feeling the atmosphere as I have not yet competed at a tournament of this calibre.
Paris is important to me as it is the next level up in terms of competition and will give me a grasp of where I am and weather I am ready to compete with the best in the world.
25. Francisco GARRIGOS (ESP) -60kg
Abu Dhabi Grand Slam winner
I think that the atmosphere of stands, the people, the organisation make this competition to be so wonderful. For me it is quite important because it is a Grand Slam, one of competitions that have more points, but the atmosphere of Paris makes it an incredibly special weekend.