Being a seeded player at a World Judo Tour event is both a blessing and a curse; it often provides fewer matches in the earlier rounds against lower-ranked opposition but it also puts a target on your back, a goal to aim at for those looking to upset the established order. In the -57kg category at the Zagreb Grand Prix 2023, many targets were missed, as 6 of the top 8 seeds proved they were worthy of the description and made their way to the quarter-final stages with relative ease.
Marica Perisic's gold medal-winning performance at the 2023 Tbilisi Grand Slam helped Serbia to a phenomenal 2nd place finish in the medal table, behind the hosts, exhibiting immense grit and determination. Today she proved this was not just a one-off, battling her way through to the final. Though the judo was far from spectacular, she showcased the kind of instinct and hunger that are essential to succeed at the highest level of this sport.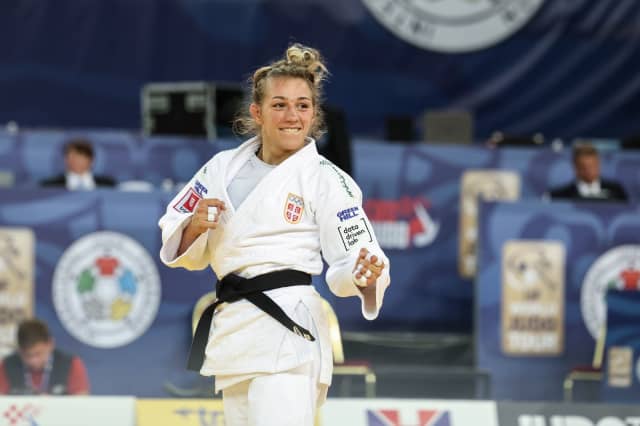 Perisic faced off with Bozkurt (TUR) in round 2, whom she brushed aside with two kata-guruma attacks, each scoring waza-ari. She threw a kneeling Samardzic (BIH) in the second minute of their third-round match with hikikomi-gaeshi for waza-ari and held on for the win, despite picking up two shidos along the way. This same technique served her well against Lima (BRA) in her quarter-final match, where she scored waza-ari with only 30 seconds remaining, to take the win.
This set up a semi-final clash with the number 1 seed Pauline Starke (GER), who had made light work of her earlier opponents. Both players struggled to find an opening, until the final minute, when Perisic countered an attempt by Starke, with sumi-otoshi, to score waza-ari and then held on despite each having two penalties on the board.
In the other half of the draw, 20-year-old Veronica Toniolo (ITA) emerged as the leader of the pack. The Italian youngster already has two World Tour medals to her name, with bronzes in Tbilisi and Dushanbe earlier this year, so her status as a rising star was already confirmed ahead of Zagreb. A tactical win over Mourya (IND) in round 2 was followed by a series of endurance tests, which saw her get the better of several more experienced opponents.
Toniolo met Kosovo's Loxha in round 3. Both players picked up shidos and it looked as though a third might decide the contest but after more than 6 minutes of fighting, the Italian combined o-uchi-gari and sumi-otoshi to take Loxha backwards and earn the deciding waza-ari score.
Seija Ballhaus (GER) took Toniolo to golden score yet again, after levelling the scores with a hugging ko-soto-gari, following Toniolo's o-uchi- to ko-uchi-gari combination earlier in the bout. Both players attacked relentlessly in tachi-waza and ne-waza until finally, after nearly 10 minutes of contest time, the German picked up a third and final shido to send Toniolo through.
Kaja Kajzer (SLO) was the penultimate hurdle for the Italian. Clearly wanting to conserve as much energy as possible, Toniolo scored waza-ari early on in the contest. She cleverly countered a drop shoulder throw attempt from Kajzer with uchi-mata and successfully fended off the Slovenian to book a final showdown with Perisic.
The first bronze medal match in the category was between Jessica Lima (BRA), who won out against Batsukh (UAE) in their repechage contest, and Kajzer. The 23-year-old Slovenian secured osae-komi on her opponent inside the first minute with hara-zutsumi but Lima quickly escaped. Both fighters had trouble making good connections with their attacks in tachi-waza until Kajzer found an opening for a ko-uchi-gari, scoring waza-ari. Lima tried to retaliate with several low o-uchi-gari attacks but Kajzer easily evaded them and ran down the clock to earn her first grand prix medal since her bronze at this event in 2021.
The final bronze medal of the day would be decided between the top two seeds: Daria Bilodid (UKR) and Starke. Bilodid's day looked to be going very smoothly until the aforementioned Kajzer put a stop to her in their quarter-final. However, the Ukrainian star's will and enthusiasm didn't dwindle as she took a tactical victory over Ballhaus in their repechage contest. In the medal match, she used her long legs to throw Starke twice in two minutes with her typical off-the-grip o-uchi-gari to confidently bring home bronze. Her -57kg resumé continues to expand at a rapid rate.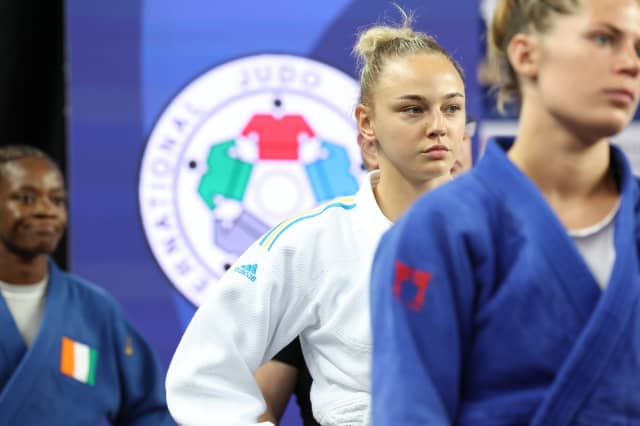 That final was an intriguing affair. Toniolo tried many times to control Perisic, gripping behind the collar with her right hand, but the Serbian countered every time by reaching over with her own right hand to grip the Italian's belt, coming close to throwing with hikikomi-gaeshi. In the final minute, Toniolo tried again, this time cross-gripping Perisic's left sleeve and Perisic countered again, getting better leverage and rolling her opponent over for waza-ari. The Serbian followed up in ne-waza and held the Italian with yoko-shiho-gatame to secure a brilliant gold medal, her first in a grand prix after eight attempts.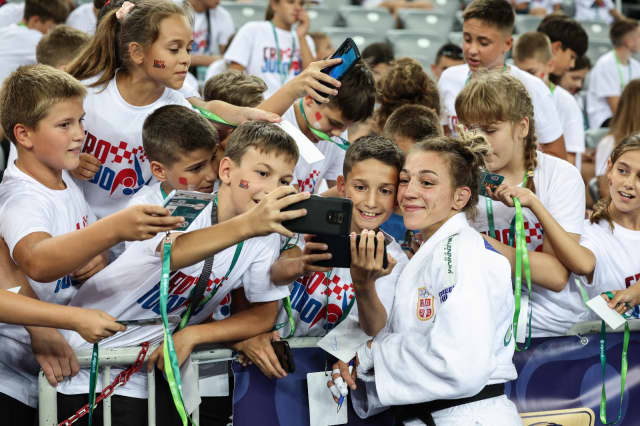 Bronze Medal Fights (-57 kg)