The first two days of the Heydar Aliyev Baku Grand Slam 2023 were of exceptional quality. This was the case for the third day of competition as well, a day which offered a first-class spectacle to the spectators present in the arena and to all those who followed the tournament online.
The 2023 edition of the grand slam will go down in history as an excellent vintage. The places obtained and the points won in Baku will play a major role in the weeks and months to come. Time is speeding up, the sand seems to be flowing faster already in the hourglass which counts down time between now and the Paris 2024 Olympic Games. We are not there yet but we feel that the event is already looming. All delegations are preparing for the Paris rendezvous.
Being seeded today was a serious indication of how the day would go. If among the women, it was not good to be at the top of the world ranking, Hershko and Lanir being quickly eliminated (Raz Hershko went on in repechage to win the bronze medal), among the men things were more consistent. While Krisztian Toth did not reach the final, but remained in contention for a medal and won it, the other two top seeds, Sulamanidze and Tasoev, advanced to eventually win gold. These two are already making their mark and we will have to continue to count on them in the future.
We saw titanic fights, oppositions between judoka from different countries, as well as between judoka from the same nation. There will only be one place to take per country for Paris. This is the law of sport and high-level competition and this is beautiful.
Mr Vlad Marinescu, IJF Director General, concluded the event, "As we get closer to the Olympic Games and as the Olympic qualification is in full swing, we must first thank Azerbaijan and the national federation for hosting the judo family with the highest quality event possible, which commemorated Heydar Aliyev, the father of the nation of Azerbaijan.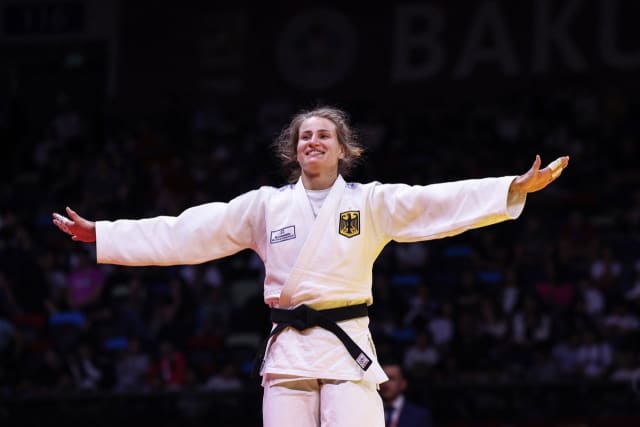 The athletes performed spectacular judo throughout the weekend. Spectators created a dynamic, wonderful atmosphere. We created a show to be watched on judoTV throughout the world and reached a record number of spectators.
This event is a gem of the World Judo Tour. We have made history with an amazing of display of judo values and sportsmanship throughout the competition, not only on the tatami, but also through powerful social projects.
Thank you all and congratulations!