Previously, we introduced Rusty Kanokogi through the words of her daughter, Jean. In order to complete the portrait of this exceptional woman, without whom women's judo would not be what it is today, we asked one of her students, Devin P. Cohen, to explain why Rusty Kanokogi was such an extraordinary personality.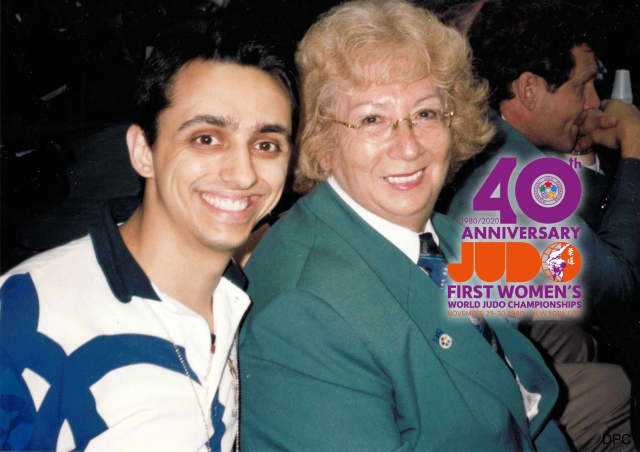 A judge at the Supreme Court of the State of New York, Devin is a board member of USA Judo. He's an international referee (IJF A licence), a 5th dan black belt and is coach of a college judo programme. These details are important because they shed light on the image that this judo-lifer holds of Mrs. K, as he affectionately calls her.
"I've been thinking about Mrs. K. a lot lately. Obviously because we are about to celebrate the 40th birthday of the Women's World Championships, but also because, in some way, she reminds me of the Associate Justice of the Supreme Court, Ruth Bader Ginsburg, who passed away a few weeks ago. Those two ladies shared a lot. They were of the same generation of women who fought for equity and who left an impressive legacy to the world. They had a similar personality, I believe. They were Jewish women born in Brooklyn, which is an important first thing in common. Beyond that, I have the feeling that, even if they fought for women's rights, what they both were absolutely against was unfairness and inequity. They wanted justice for everyone and equal opportunities for men and women. That was their fight."
To illustrate his point, Devin explains how Mrs. K had a life totally in line with the women of her time, "She was married, had taken her husband's name and she attached great importance to the education of her children. It was a top priority for her. She was the product of women of her generation and she was very attached to traditions. What made her a truly special person was her ability to mobilise and to mobilise those around her in the face of all forms of injustice. In this context, she was a committed feminist, but it was an enlightened feminism that also respected the traditions of the society of the time. She would just fight until the end for things she considered wrong and the way women were treated often looked wrong to her."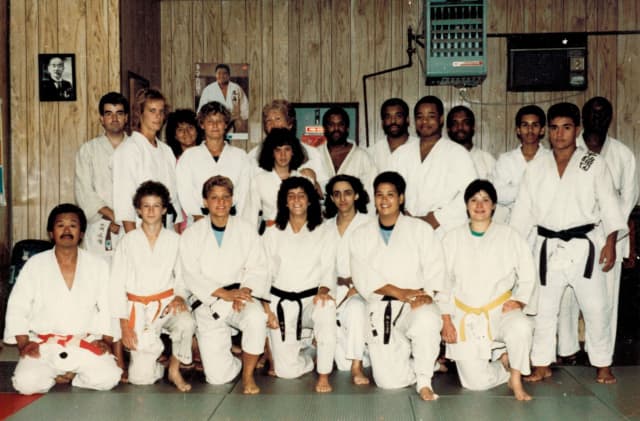 7th dan at the end of her life, Mrs. K. rarely wore the red and white belt. Devin thinks he knows that here again lies a character trait of this woman he admired so much, "She used to wear the red and white belt during a particular ceremony or to take pictures, but I don't really remember seeing her wearing it. In any case, never in the presence of her husband, with whom she fought so many fights. She was above all a black belt and did not want to consider herself superior. What she did not allow is that doors would be closed to women, like at the beginning at the YMCA, or at the Kodokan. She could not tolerate that injustice. For me Mrs. K showed a funny dichotomy: she would stand for women without hesitation, but she was also very traditional in her own way. She was very parental and had a strong opinion of what should be allowed or not. She was a tough mum and she was involved in the education of all her students."
Another aspect that Devin underlines is the fact that Mrs. K. was superstitious, "It was really funny sometimes. She would dream of something and would be totally convinced that this dream would happen. I remember her phone calls. Once I was at work and she called me. She didn't even say hi. She just told me that she had a dream and since the morning she was thinking about it and that I needed to take the afternoon off, to deal with what she had dreamed of. It was difficult to say no." He laughs. "All of us would be given tasks. I was in the middle of getting my refereeing licence at that time. One morning, I went to my office and I saw Mrs. K's phone number. She was calling and I was wondering why she would do so, so early. She told me that she had dreamed that I would become a Panam referee. I was laughing. She then said that I shouldn't find that funny, because she had that vision and that it was to happen. She just wanted to tell me that. In 2009, when I finally passed my continental licence, she was really weak and she couldn't travel but I called her and said that I had succeeded. She replied that of course I had succeeded; she knew it."
Mrs. K. had her own way of doing things that seemed impossible, like competing against men, training at the Kodokan with men and organising the first women's worlds, "Her visions were so strong that you couldn't dare to tell her that it was impossible. This word didn't exist in her vocabulary. You couldn't mention that there would be resistance. She would say that no matter what, what she believed in would happen. When I passed my refereeing A licence, she had already passed away, but I had in the back of my mind that she was right. I would have loved to call her but that was not possible anymore."
Devin started judo when he was young, in 1977, first with Mr. K, when a judo programme was launched next to his school. A little later, when he first met Mrs. K, he went to introduce himself, almost sure that he didn't meet her before, "I was a ten year old boy. Quickly she told me that she knew who I was because she had seen me at a judo tournament. She explained to me that she had given me a penalty because I was not fast enough. She promised me that she would fix my judo and she was my sensei until she passed away. I was in charge of the judo session on that sad day. We did the session, when at the end, we learned that she was no longer with us. I will always remain faithful to her memory. Today I still consider myself her student and that of her husband."
Years have passed and Devin is now an expert in judo and he owes it to Mrs. K, "You know, she was a tough teacher. She believed in training hard and she herself was training very hard. She did not believe in excuses and 'but' was never ever an excuse. She was so dedicated. Even when she was traveling a lot, she would always be in contact with us. Its funny, because, in a way she was very American, but also very attached to the Japanese tradition. She would show us some techniques and we had no other choice than to train hard to succeed. She didn't want us to find excuses but she would never find any for herself either. She was an amazing example. Once I had to go through surgery. Afterwards I had to come to the judo training and even if I was not allowed to practise, there was no way I could miss a judo class. Even with a cast on, I had to be there and do some other exercises."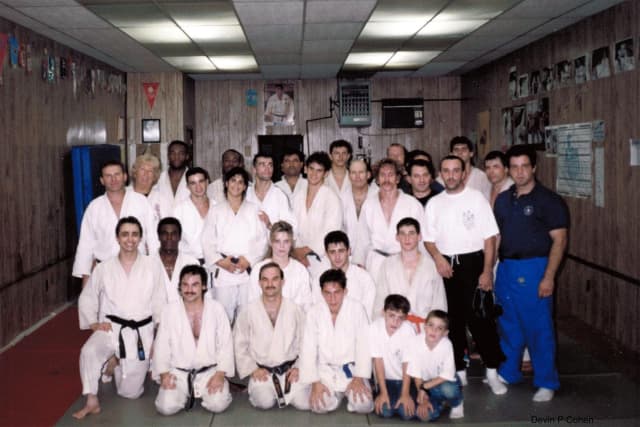 Maybe the most important aspect of all those years, was the atmosphere that Mrs and Mr. K had created, "She was a real product of Brooklyn and was very much homegrown, but the club was open to everyone. It was like the 'United Nations.' Our dojo was every color, every nationality, every gender. We had black Americans, Caribbeans, people from the Middle East, all religions. She was training the same with everyone and she was caring of everyone the same."
Over the years, Mrs. K. became a well known figure of Brooklyn, "The general public loved her. You know if you are not authentic, people will see through you immediately. She was herself and honest all the time. You couldn't wonder whether she was authentic or not. She was. She took everybody as they were, as long as they accepted to sweat on the tatami."
As the celebration of the NY worlds approaches, Devin believes that she would be really proud of what women's judo has become, "The idea that athletes such as Kayla (Harrison) or Marti (Malloy) grew up at a time when judo was already at the Olympic Games would be something amazing for Mrs. K. I think that she was proud of what she achieved and even though she had done a lot, she was always very cautious, protective, mindful of the potential for things to turn bad again. She would never say, 'oh that's done now!' She fought until the last day and was always looking for injustice. As long as she was able to call you, you would receive phone calls to fix something. I never heard her saying, I don't care."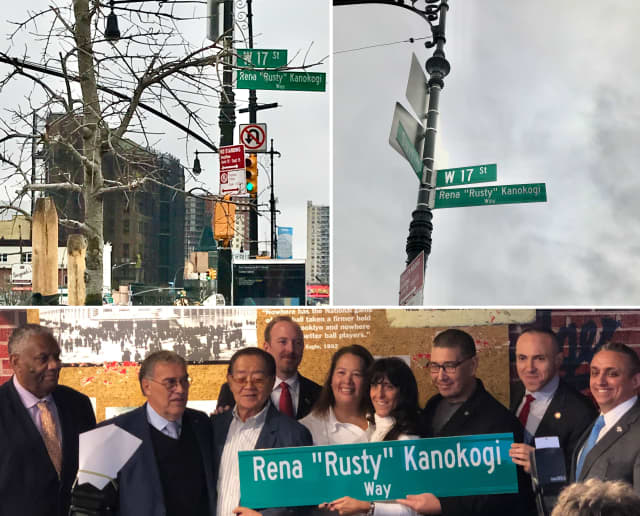 It is obvious that a lady like Mrs. K left an impressive legacy to the world of judo and generally speaking to the world, "I believe that her legacy can be illustrated by the fact that every time a girl or a woman goes on the tatami, she owes it to Mrs. K's fights, but it goes further than that. I would also say that every time a boy gets on the mat and he realises and accepts that his coach can be a man or a woman, that he too can lose against a girl and that there is no shame in losing, he owes it to her. There is nothing to hide from. The very idea that not just women were empowered by Rusty Kanokogi, but our whole society, is crucial. It's the idea that the liberation that put women forward in judo has also transformed men. It shows that even if you are in a difficult situation or you are the victime of discrimination, there is nothing inescapable and that everything is possible. The fight is one thing, the legacy is another and Mrs. K. left us with this incredible heritage."
Today some people don't remember her name and Devin feels always a bit sad about that, but he underlines, "I'd prefer people to remember who she was and how inspiring she was, but what I also see is that even without remembering her, they benefit from her legacy. Please, never forget Mrs. Rusty Kanokogi."