Judo for Peace South Africa has been active in the country for several years under the leadership of Roberto Orlando, IJF Academy alumni. Funded by the International Judo Federation, in collaboration with UNHCR, the focus of the programme is to use judo as a platform for communities to meet, collaborate and contribute to the social cohesion, youth and gender empowerment and child protection of both local and refugee communities.
The main partners of JFP South Africa are Nike, Three2six, Future Families, Grassroots Soccer and Judo South Africa. As for today, the activities take place in Johannesburg with 7 clubs and 5 schools; additionally there are satellite clubs in Durban and Cape Town. As stated by Roberto, "Our Vision is to fulfill the dreams of Jigoro Kano Shihan to see a brighter future through the application of the teaching of judo. This is based on mutual help for a better society."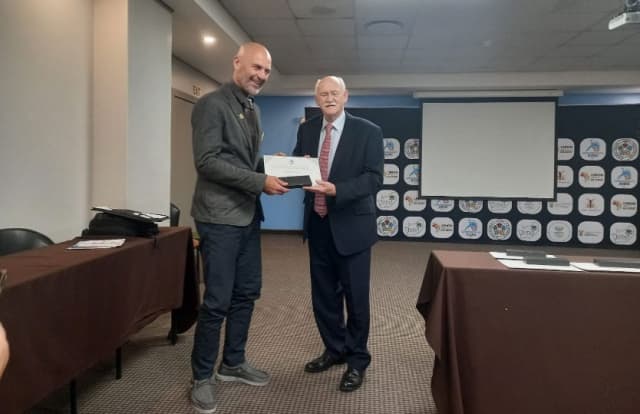 Before and during the summer, several events took place. At the beginning of August, Roberto Orlando attended a Commonwealth judo event in Port Elizabeth (PE), to give a presentation on behalf of JFP South Africa. On this occasion he received a certificate of participation from Richard Kenney, 8th dan and Commonwealth Judo President.
In April, JFP South Africa managed to grow another branch of the Judo for Peace family tree, as on 12th April, the JFP team started the first lesson in Kagiso, at Matlhasedi primary school and has been continuing to work there every Wednesday since then. Very recently, on 26th August, the Matlhasedi team joined the rest of the Judo for Peace teams at Wits University. This gave them an opportunity to be exposed to a judo competition for the first time. All participants enjoyed the day out of school and asked for more events like this. Judo for Peace is looking forward to growing these shining stars into champions in the world of judo someday.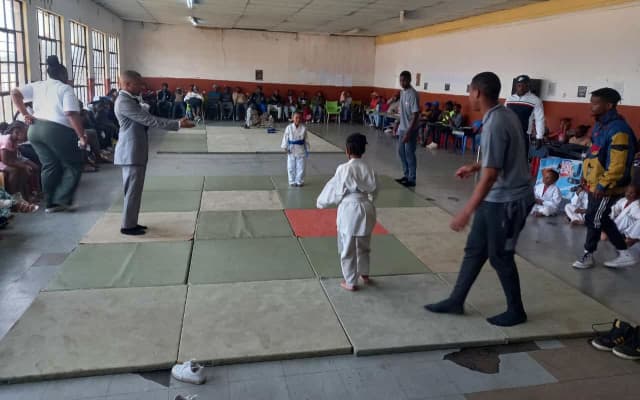 Not far from there, about 30km southeast of Johannesburg, the Judo for Peace team and coaches collaborated to host the first annual Vosloorus Judo Tournament. The group showed great team spirit and leadership skills. The competition was well organised and showed great talent among the whole team, from organisers to assistants and athletes.
Speaking about Matlhasedi, Denzel is a judoka who was under the spotlight during the summer as he was coaching and organising judo sessions there. He started judo in 2017 and today he is a brown belt, practising the sport with all his heart with the same excitement as the first day he discovered judo. With experience, he is now one of the coaches in Matlhasedi and he is clearly passionate about the children's development.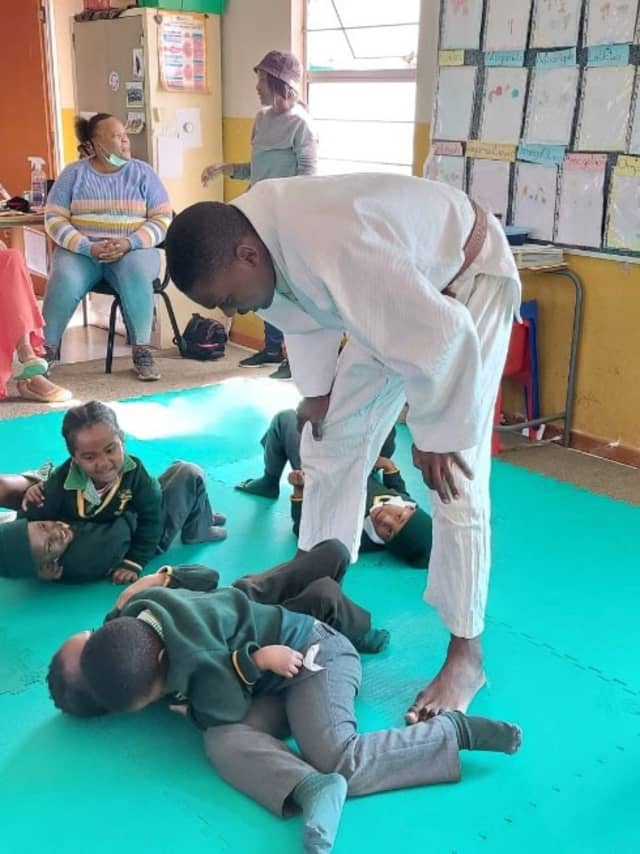 In August, he proved that he is a very good coach, along with his colleague Enock Miguel. It was a job well done by the two of them, producing positive outcomes in the school.
Roberto and his team have many dreams. Among them are the renovation the dojo/hall in Vosloorus, to build a small slab dojo-like structure at the Matlhasedi School and to organise a South African judo tour across The Karoo. It is possible to support them by joining the team as a judoka or coach with certification and expertise, if you are living in South Africa, by advocating for the programme or by donating judogi or any form of donations.
Judo for Peace South African is present online: • Tik Tok @judoforpeacersa • Instagram @judo4peace.sa • Facebook Judo for peace South Africa