True. Judo as a competitive sport at the highest level is all about winning medals, grabs and throws, sweat and hard work … In short, the quest of each athlete to reach the highest podium and shine at the end of the competition day with a radiant smile and the blinding glow of that gold medal. Especially at the Worlds. Because the IJF Worlds are that annual moment supreme where the stakes are very high!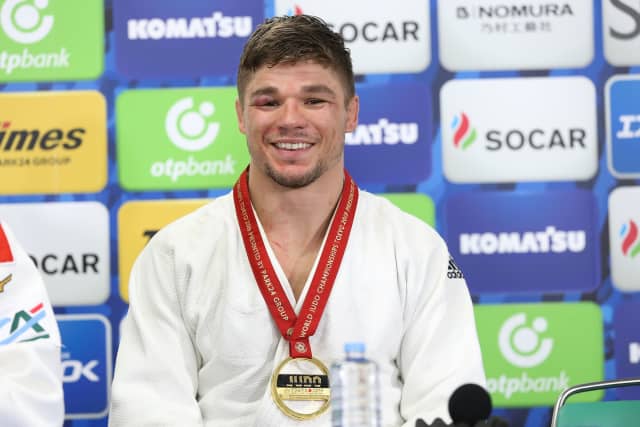 True also, every judo fan knows all the accomplishments of his/her idol on the tatami. How many times he or she medaled on the World Judo Tour, the ranking, the number of head-to-head fights, the victories, the losses …
Hence, … the lighter side of judo. At the Worlds in Tokyo, IJF Media wants to scratch away a bit of judo layer and find out what our judokas like, away from the tatami, so we can share this inside intel with all judo fans.
In the Nippon Budokan, we invited Noël Van T End, the new World Champion -90kg to the tatami-side pop-up TV-studio for a chat about everything but judo. However, judo stayed closeby.
The newly crowned champ started to realize the historical feat he accomplished, pocketing his World title 55 years after Geesink's Olympic title in the same venue and exactly 10 years after fellow Dutch judoka Marhinde Verkerk was the Netherlands' last World champion. "I started to realize it when a got a phone call from the Dutch King," he proudly says. "It's just so unreal! The last year I've entered in such a flow, my first Grand Slam gold, and now my first World gold. I'm on the right track for the Olympics next year."
Noël is your typical series binchwatcher. "Il prefer series and if I start watching one, I want to get to the end of the story fast, so I often binchwatch. The recent series I watched was 'Vikings', which I found pretty entertaining." However, the champ does not favor any actor or actress.
Music-wise, Noël likes all kinds of genres. "I prefer a bit of up-beat music when I practice, the kind that gives you a boost, also Dutch pop. I dare sing along with the typical Dutch carnivals songs, not too long though," he laughs. "In Olympic training center Papendal we have a dedicated gym for judo. It's equipped with some excellent speakers, so I just connect my smartphone and my favorite music pops out. Everybody in the gym can then enjoy my favorite tunes," he jokes. "However, I don't have a preferred performer. There is this one song we always play. It's kind of our team song. It's called 'Great Spirit' from Armin Van Buuren, a famous Dutch DJ, record producer and remixer."
What about food? Always a dodgy topic for judokas. "My vice is candy," Noël admits. "Sometimes that's cumbersome. I have to refrain not to exaggerate." His preference for food are the typical Dutch dishes. "I love kale with sausage." When necessary, Noël is not afraid to cook himself. As an athlete, water remains the main drink, but the Dutch champ likes to drink a cold beer once in a while. "I also like a good cup of coffee," he says.
"My favorite color recently changed to gold", he jokes. "I would like to live in Haarlem. I lived there for a while and I really liked it there. Close to the beach, excellent for relaxing, also a very cozy city. I returned to Rio as a tourist. A city that left an impression," he says. "Furthermore, Tokyo is also on my list as one of my favorite cities. I always advise people to travel to Tokyo to have a look and experience a culture completely different than mine. It triggers me to learn about other cultures."
No pets for Noël, due to his hectic travel and judo schedule. "I would love to have a dog but currently I have not time to take care of a pet."
He cites a number of Dutch judokas as his role models, i.e. Mark Huizinga, Dex Elmond. "They inspired me and had an influence on me, and they still advise me with tactical stuff. I appreciate that."
His dream bout? "What happened at me here in Tokyo was in fact my best dream scenario. I dared not to dream about it, really. It still is so unreal. However, next year I will be back on a quest for a new dream."
When Noël was on his road to the gold, you could hear someone cheer above the crowd 'Goed zo jongen, goed zo!' (Atta boy, well done son!). "My dad follows me most of the time," smiles Noël. "He travels to most of my competitions. So he was here too. He's kind of a guardian angel to me. As I first saw my dad after the final, we hugged, and both cried of joy. You couldn't fathom the emotions." Sport can be beautiful …