Just prior to the final block of day 2 of the World Judo Masters, Hungary 2023, the opening ceremony took place in the presence of Mr Gergely Gulyás, Minister of the Prime Minister's Office of Hungary, Mr Marius Vizer, the IJF President, and Dr Laszlo Toth, IJF Vice-President, EJU President and President of the Hungarian Judo Association.
Mr Marius Vizer, IJF President declared, "Your Imperial Highness, distinguished Minister Gulyás, dear guests, dear judo family members, dear sponsors, partners and media representatives, dear guests, it's a great pleasure to be again in Hungary for one of the most prestigious judo events, the Masters. We have most of the Olympic and world champions in this prestigious event that already began yesterday and that continues today for the finals and tomorrow for the last categories.
It is a great pleasure to follow the co-ordination of our sport in this difficult period of the world, with confrontation between nations, between ideologies, mentalities and political positions. Sports have to be neutral, sports have to be the bridge to join nations and people, to build friendship, solidarity and unity throughout the world. That is our sport, those are our values.
I wish you a successful championship. We thank the Hungarian government so much for their support for our sport and for sport in general, making Hungary one of the biggest sport organisers in the world today. Thank you very much and have a great event."
Mr Gergely Gulyás, Minister of the Prime Minister's Office of Hungary, declared, "To Her Imperial Highness, President Vizer, President Toth, guests, ladies and gentlemen, welcome to the opening ceremony. We have embarked on a special sport journey through the judo family. Welcome to Hungary and to Budapest.
I extend my gratitude to the President of the IJF and the President of Hungarian Judo Association for the tremendous effort that has gone into organising this event. Thanks to the committed work of President Toth and his team, we have over 400 of the world's best athletes at this prestigious event. This city can become the sport capital of the world as we are hosting many events in different sports, at the highest level.
Hungary believes in sport and the connecting power of sports to unite people. Today we are in a period of wars and unrest where people are divided from one another and sports can be a bridge towards times of peace. Each competition is a performance and what matters is sports performance above all differences. There is no argument for victory or destination for failure. I wish you all to enjoy participating in the 2023 World Judo Masters."
Dr Laszlo Toth, declared, "Dear President Vizer, Minister Mr Gergely Gulyás, IJF family, distinguished guests, I would like to use this opportunity to extend our heart-felt welcome to Her Imperial Highness Princess Tomohita of Mikasa and also our executive board members. I would like to welcome athletes of 59 countries, the best in the sport and also to the masters of judo who are here, including 14 Olympic champions and 33 world champions among the participants.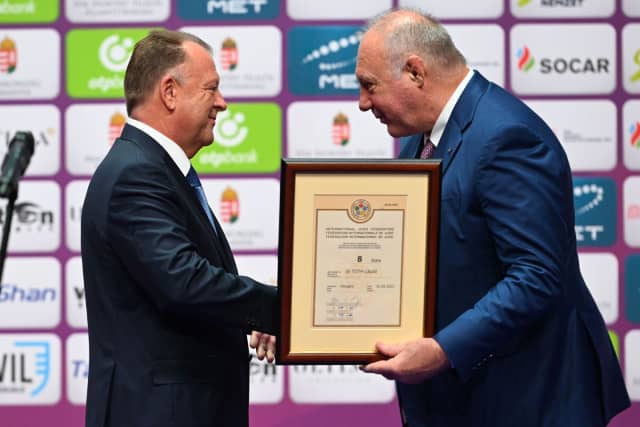 It's a great honour for us to organise this outstanding competition. I extend the warmest gratitude to everyone who contributed to organising this event. I especially thank the government of Hungary for their support. I'm positive and hopeful that the 2023 Masters will further enhance the reputation of judo in the world."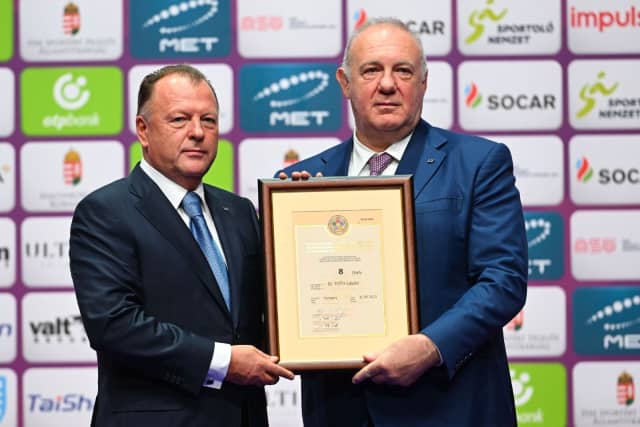 Immediately after the opening of the event, Mr Vizer awarded Dr Laszlo Toth the 8th dan and said, "It gives me great pleasure on behalf of the IJF to award the grade of 8th dan to Dr Laszlo Toth, President of the Hungarian Judo Association, Predsient of the EJU, Vice-President of the IJF and my friend for a long time. I want to congratulate him and thank him and the federation for all their support in organising the best judo events. I wish you great health and prosperity and all the best for the federation."