On Wednesday 29th March the IJF Gender Equality Commission organised its second round table on gender equality in judo. After the first successful edition, held on the occasion of International Women's Day on 8th March this year, this second online meeting offered new opportunities for an exchange on this important topic, with representatives present from national federations.
After the welcome words of Dr Sanda Corak, Chair of the Gender Equality Commission, Carlos Zegarra Presser, IJF Vice-President and PJC President, said, "First of all, congratulations for creating this space for women, as well for men, to discuss this important topic. We are all part of a community. I'd like to congratulate our President, Sanda and the commission for the work done. I can assure you that at the Pan-American Judo Confederation (PJC) we are working hard to promote female judo. It is important for us, we are totally involved and we want and need to work all together. You can consider our continent as your home and a big partner to promote women in judo."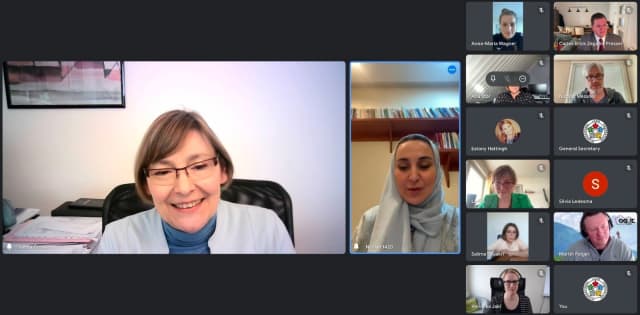 Larisa Kiss, IJF International Relations, then took the floor, "This is one of my preferred subjects to work on, gender equality is a major focus. If it has taken off in many places around the world, we still need to work as there are still places were the process is slower. We have to keep promoting gender equity and equality. In judo, we have had good results already and in not such a long period of time.
For that, we identified what can keep women away from the sport. There are two main barriers. One is linked to social boundaries and the other to the fact that often sport can provide male-dominated environments. We can already be proud that in judo we have equal conditions for men and women, when it comes to top level sport.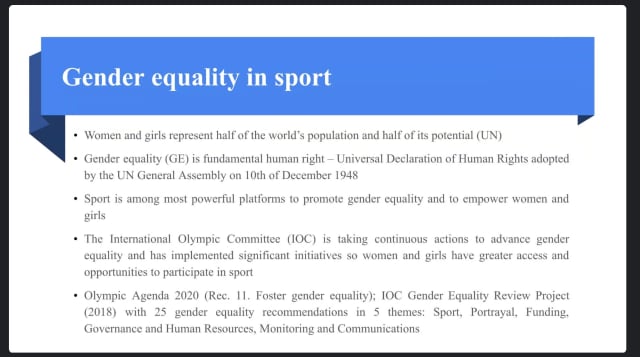 What I wanted to share with you is that we have to promote ourselves. We don't need to be modest or shy because in judo we have strong women, judo is definitely made for women. The recent example set by Saudi Arabia is significant, since London 2012 and the first appearance of a female KSA athlete at the Olympic Games. From then to what we see the federation is doing to promote women's judo now is fantastic and can be set as an example. The sector that we have to focus on is women in leadership positions. I truly believe that when people want to make a change, they can do it."
Dr Sanda Corak reminded the audience of some important points that should never be forgotten, "Women and girls represent half of the world's population and therefore half of its potential, while gender equality is a fundamental human right.
In order to empower girls and women in judo and to bring the first solutions, the IJF 'Recommends that the gender representation in the governing bodies of member national federations and continental unions should be at least 25% for the least represented gender'," explained Dr Corak, before adding, "The IJF strategy can help national federations to develop their own strategy."
The important phase after each federation establishes a Gender Equality Commission is to follow some basic steps including research, planning, implementation and monitoring.
It was then time for important testimonies to show what national federations are already doing. Veronika Jakl from the Austrian Judo Federation explained, "We produced a first Austrian diversity report in 2020 which showed that 28% of judoka in the country are female, 27% of referees are women and 25% of the executive board are women. We will conduct such kinds of studies again but I can already tell you that in 2023 we have already improved to have 36% women on the executive board.
We took some radical decisions like using gender sensible language in our official documents. In 2020 we reached gender parity for our recurring committee and through a totally transparent process we recruited Yvonne Snir-Bönisch as our head coach for men and women. In 2021 we conducted a survey for our judo clubs including gender equity and respect questions. It showed that female judoka in Austria felt 4.4/5 respected. Since 2022 we have a specific budget dedicated to the subject. Last but not least, we have what we call 6 'persons of trust' (4 female/2 male) for all questions and demands around respect and security.
In 2023, we are planning to start an Austrian Human Rights Commission and as part of the standardised regulations for the education of basic level coaches, we have included 90 minutes on gender equality, prevention of sexual violence and inclusion. We have a risk analysis in place and a proper understanding of the concept of children and athlete safeguarding. In the new licensing system for coaches, we will have the possibility to exclude poorly behaved coaches without criminal conviction or public statement.
To conclude, I also want to say that we do want to underline the role of men throughout this process." To confirm Veronika Jakl's assertion, Martin Poiger, President of the Austrian Judo Federation said, "When I was elected, it was very clear that I wanted to have a mixed team to lead the federation. We really tried to find the best people at the right place. It was not only about being a woman but having the competences to fulfill the job and we found women who really had something to bring to our organisation. The main issue is that men are always confident to take leadership roles, when the women often lack that same confidence. They often believe that they can not do the job. They often also say that they don't have time. For me it's about giving the same opportunities to everyone.
You know, for so many years, women were excluded from the sport because they were taking care of homes. While they were at home, us men would decide for everything. We need to change our mindset. I used to be totally against quota, but I have started to believe that we need some to break the system and include everyone. We need to have women in sport, we need to have women in judo and we, the men, need to understand that now."
While those testimonies were made in front of the representatives of national federations, including Saudi Arabia, as well as in front of athletes such as Anna-Maria Wager (GER), they had a great impact on everyone. Judo is definitely a leader when it comes to gender equity and equality. The progress already made is impressive. Listening to the speakers and participants opens new ways of thinking and new ways of acting. So, let's do it!