Azercell Telekom, in collaboration with the Azerbaijan Judo Federation, has launched a new project, 'White Suits Girls!' The social campaign aims to encourage girls to participate in sports and foster their development.
Azercell Telekom LLC has announced the next phase of its extensive social project, which is being implemented in co-operation with the Azerbaijan Judo Federation.
The social campaign aims to promote sport, combat skills and self-confidence within society in Azerbaijan, with a particular focus on teenage girls. Additionally, it calls upon society to support the development of young people in this endeavor.
The 'White Suits Girls!' campaign is a social project that aims to encourage girls to prioritise their physical and mental wellbeing, move forward confidently into the future, engage in judo and represent the country in international sporting arenas. This social project also addresses the pertinent issue of early marriage, which is relevant both nationally and globally.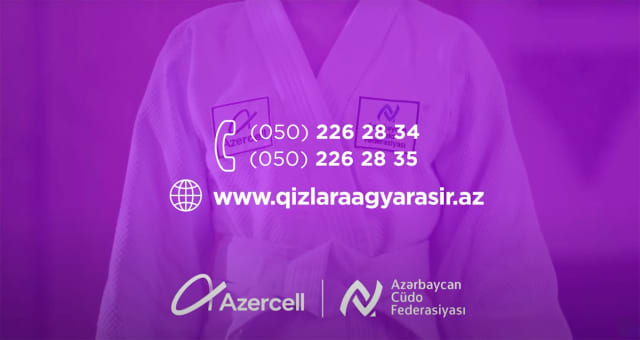 Rashad Rasullu, the General Secretary of the federation said, "One of the main goals of the Azerbaijan Judo Federation is to further popularise and develop the sport of judo in the country. We also aim to contribute to solving social issues in our society, including supporting and contributing to the education of citizens. In this regard, we believe that the campaign we started with our partner Azercell Telecom aligns with these goals. Through this project, we will increase interest in sport and boost the self-confidence of teenage girls.
The development of women's judo in Azerbaijan is a priority for us as a federation and we will continue to carry out our activities consistently. Our aim is for women in our society to be physically and mentally healthy. In the future we will continue to support women in sport, to move forward confidently, engaging in judo and representing our country in international arenas."
As part of the campaign, the first 1,000 female students between the ages of 7 and 14, who desire to and register to become judoka, will receive a judogi as a gift. The Azerbaijan Judo Federation has taken additional steps to promote inclusiveness and will undertake various initiatives in this regard. To enrol girls in judo you can contact (+994 50) 226 28 34, (+994 50) 226 28 35, or visit https://qizlaraagyarasir.az.
We aspire for our girls to wear the judogi proudly and become 'White Suits Girls!'