The 'Breaking Barriers In Sports' photo exhibition was inaugurated on 18th July 2023 at the United Nations Office in Geneva (UNOG). The exhibition includes images of female role models who are tackling gender inequality in sport on a daily basis, on and off the field of play.
One of the pictures features Yvonne Snir-Bönisch, head coach of the Austrian Judo Team and Olympic champion in her own right, a picture that was taken by one of our IJF Photographers, Emmanuele Di Feliciantonio.
The exhibition is a spin-off of the 'Not a Woman's Job?' exhibition, launched by UNOG in 2022, the main focus of which was women who have contributed to breaking down barriers and stereotypes in professions traditionally reserved for men.
The exhibition that represents women from 26 countries, all five continents and 18 sports, aims to inspire new generations to challenge negative stereotypes.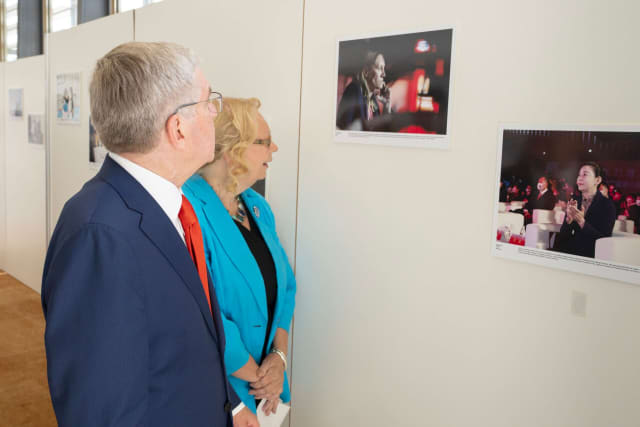 At the inauguration of the exhibition, held at the Palais des Nations in Geneva on 18th July, IOC President Thomas Bach highlighted the important role sport can play in promoting positive social change, "Sport and especially the Olympic Games, are an incredible platform to showcase women as inspirational role models. In sport, everyone is equal. The Olympic Games bring all people together in peaceful competition without discrimination regardless of gender, sexual orientation, social status, religion or political belief. This gives sport the capacity to challenge social norms and pave the way for a more equal and inclusive society. The women and their personal stories in this exhibition are perfect examples of this potential becoming a reality."
The 'Not a Woman's Job? / Breaking Barriers In Sport' exhibition is open to the public at the Palais des Nations in Geneva and is also accessible online via the UN Office at Geneva website (https://sites.ungeneva.org/not-a-womans-job-2023/en/). The exhibition is open until 1st September 2023 at UNOG.