Esa Niemi has been walking the avenues of judo for a long time. President of the Finnish Judo Federation for several years, he is now an active member of the Judo for Peace commission with the International Judo Federation.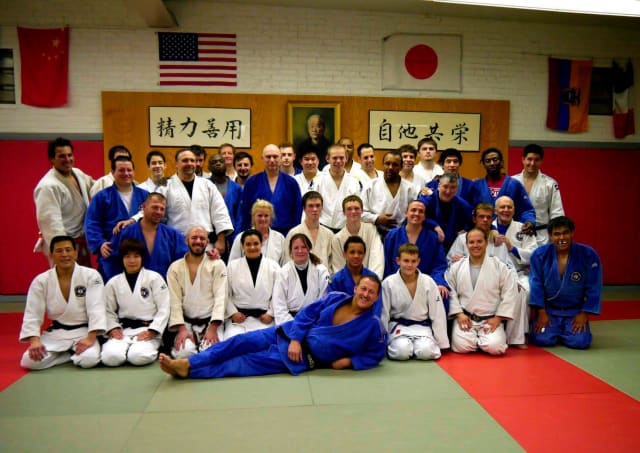 He is behind the online store project 'Judo for Peace' (https://judoforpeace.net). Because of his work, he travels a lot and as he explains "whenever it's possible I try to visit the local judo club". During a recent mission to Chicago in the United States, he found a club to visit and to promote the Judo for Peace philosophy.
"I was looking for local clubs during my trip and Tohkon seemed like a good and active club. They responded to my emails very quickly. Tohkon's dojo was about 20 minutes drive from my hotel so it was easy to go there. Nowadays with GPS you can easily find the best routes almost anywhere in the world. Tohkon's tatami is about 200 square metres. For a short while I watched their training and met with people from the club, then went to the office next to the hall to discuss the situation in Chicago and in the US in general."
Mr Tono, Sensei of the club explained, "Practising Judo in a traditional dojo like Tohkon Judo Academy offers many benefits. In addition to all the exercise and physical benefits, students learn to respect their fellow judoka, senseis, dojo, parents and most importantly themselves. It teaches them how to dedicate themselves to hard work, positive ethics and good sportsmanship. Students also learn self-discipline and how to control their body, their emotions and their actions in difficult situations, both on and off the tatami. Sensei Kano's philosophy of 'Mutual Welfare and Benefit for All' is a valuable lesson that all young people should learn, understand and practise, to help make them better citizens in the community."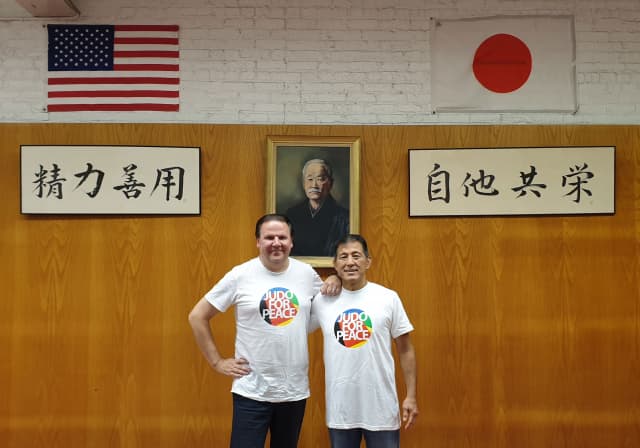 This visit provided Esa with an opportunity to explain what Judo for Peace was: "It was great to have a meeting because they hadn't heard of Judo for Peace before, except one young Judoka whom had seen the Judo for the World series and was inspired by its global engagement. We went through what the Judo for Peace programme has done over the last 10 years, what kind of web shop has been opened and what kind of promotions have been initiated, for example in Tokyo, Paris, Glasgow and Dusseldorf."
Even if Chicago is a big city in a developed country, the situation is not always easy. Most of the Chicago public schools where Sensei Tono established judo programmes were in inner city schools, with a majority of low income households. These programmes included visually impaired students and high risk teens and many could not afford to pay for judo classes or judo uniforms. With private donations and support from local organisations Tono was able to provide high quality judo programmes and judogi, but unfortunately, due to budget cuts the financial support for these much needed programes ended and he was unable to continue.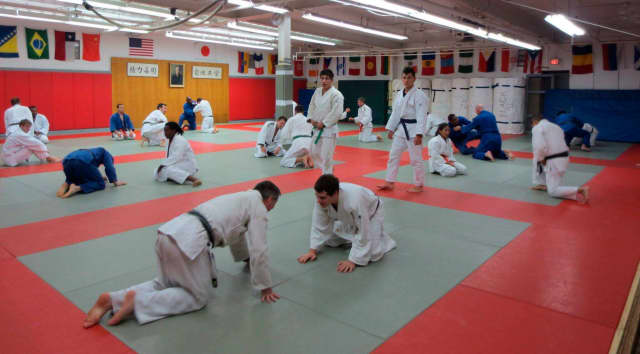 "If we could get help with this work through the Judo for Peace programme it would be most welcome", said Sensei Tono, before adding, "At Tohkon Judo Academy we are dedicated to growing judo for all ages and nationalities. After all, Judo is an international sport."
Many such initiatives exist around the world. You can support them by purchasing Judo for Peace products from the online store https://judoforpeace.net
The profits are donated to the field programmes for building a better world.