Roberto Orlando, a second level International Judo Federation Academy teacher, is leading the IJF Judo for the World program in South Africa, which takes care of refugees. Through him we were able to meet with Bagenda Lutula CARMI, a young Congolese refugee, who told us about his story and how judo changed his life.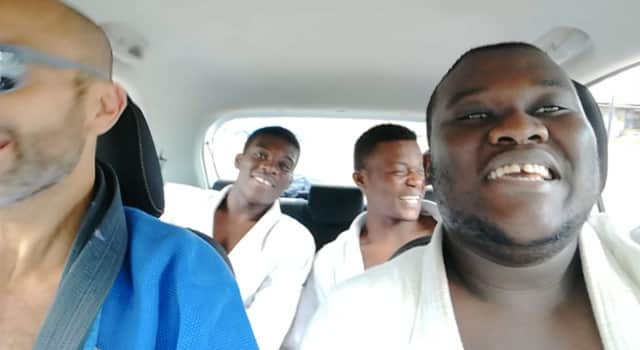 Is name is Bagenda Lutula CARMI. Born on December 28, 1997 in Congo, the 19 years old young man is a blue belt judoka, training now in South Africa and living in Berea, which is a neighborhood of central Johannesburg, where many immigrants, mostly from DRC, Nigeria and Zimbabwe live. Carmi is student.
Carmi's father first left Democratic Republic of Congo for South Aafrica in 2003 as the war had destroyed the farm where he was working as a vegetable trader. The rest of the family also came to South Africa in 2006 because the remittances from the father were not enough to support the family back in Congo and the young man remembers the days without food and medicines.
2006 was a really difficult year in Kinshasa as the situation was very unstable. Carmi left with his twin sister and his mother searching and hoping for a new life in Johannesburg. SA was the only accessible place from Kinshasa and they had to do a long journey throughout DRC and then from Zambia to SA.
Carmi started judo when he was five in a small dojo in Kinshasa. It was his uncle who took him on the tatami, made of a plastic sheet and sawdust. He does remember his uncle teaching him morote and ippon-seoi-nage technics, although he has now developed a thunder Harai-Goshi that very few people can avoid in Johannesburg.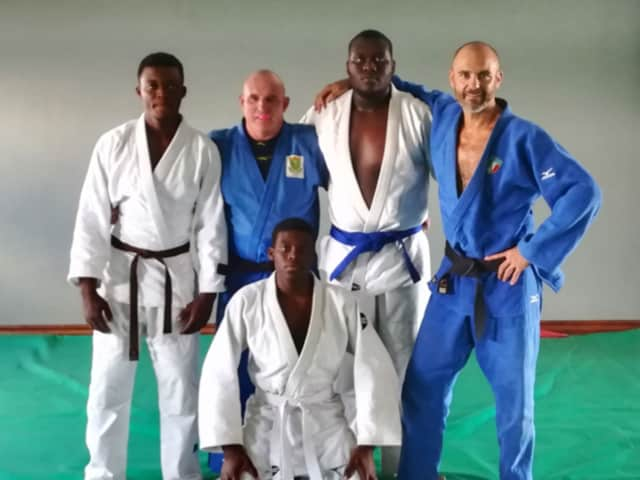 He started again practicing judo in South Africa when he arrived in 2006; unfortunately there was no dojo near his house and he had to walk several kilometers to reach the sports venue in Wits University. The distance, the lack of transportation and violence in the street made his attendance to the dojo irregular.
The young passionate loves to recall that judo taught him a lot: first of all he now feels more self-confident and knows that he can defend himself knowing that living in Johannesburg is not easy, but moreover judo helped him to communicate with people and to live in a moral way.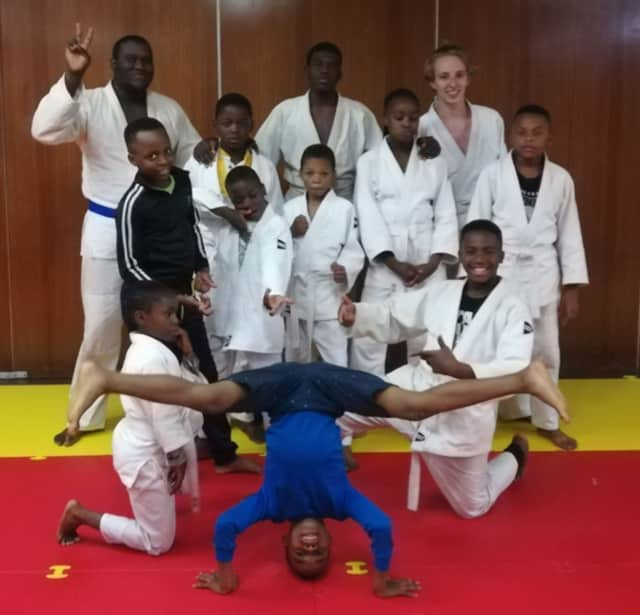 He does love the fact that being a judoka makes you part of a worldwide family: even if you don't know the language you have judo in common with people and even without sharing a common language you can learn from each others.
Roberto Orlando remembers when he first met Carmi: "We met at a judo training session at the Wits University in Johannesburg. Seeing him for the first time, you would think that he is the younger brother of Teddy Riner -- over 190cm, very robust and vigorous and with a great passion for Harai-goshi and newaza!"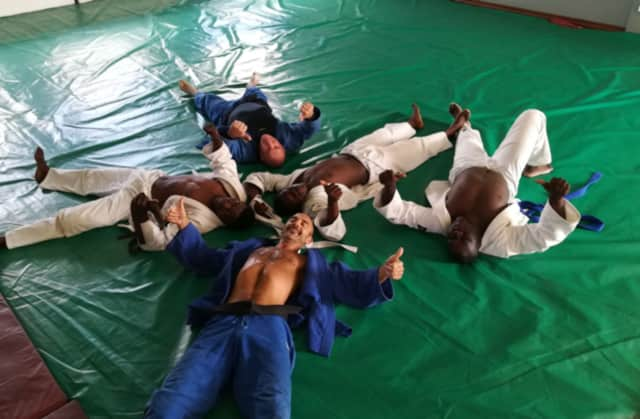 "In spite of his intimidating aspect, Carmi is the most humble person I ever met", said Roberto, before adding: "Carmi and I soon became friends, sharing together the passion for judo and for old Congolese music. We would travel from dojo to dojo listening to old Congolese classics and talking about our favorites judo heroes!"
Carmi is genuinely interested in judo and has offered to help the coach since the very beginning. Very good with kids, he has also brought to the Dojo his younger brother, Jonathan, and some of his best friends. He is passionate about sharing his knowledge with new judoka and at the same time very keen to learn more about judo.
Thanks to the judo for the world project Carmi managed to take part to his first competition, not surprising winning a stunning gold medal!
"
My dream in judo is to meet Teddy Riner and become world champion. In life, I'd love to become an electric engineer or a politician, because I want to help people and to fight corruption.
Bagenda Lutula CARMI
"Judo can help the community by prevent criminality, take children away from the street and finally unite society", said the young man, and with a big smile added: "Judo is important because it makes me feel like a father, it gives me responsibilities toward the younger people and helps me to contribute to a better society."
Carmi remember that when he could not practice judo he was never in a good mood, he was nervous and always angry. Living in a place were street fight often happen is not easy and he was several times involved in street fights, but judo helped him to manage his anger and to learn discipline.
It must be said that it was difficult to get integrated in South Africa. First of all he did not know the language and had no friends to talk with. Carmi was attacked by gangs in the street and risked his life many times.
Suffering from depression and because to all these problems, his concentration went down and he had to drop out of school, but thanks to judo he feel today being a better person, who can control his anger, have friends and who ultimately can avoid street fights. Carmi is now motivated to start studying again.
"
With judo I want to help people and my dream is to teach to disabled people and help children in the street.
Bagenda Lutula CARMI