The men's heavyweights were the first of the day to determine the framework of the final block. Quite quickly we could see a trend taking shape. The number one seed of the tournament, Jur Spijkers (NED), held his rank by qualifying quietly for the semi-finals. Among the other favourites, at the other end of the draw, Rafael Silva (BRA), world and Olympic medallist, also let himself be seen. Aged 35, the Brazilian colossus, who has already climbed all the podia on this planet, obviously still wants to perform at the highest level and that alone is remarkable.
Minjong Kim (KOR) was not one of the favourites of the day but he could have been. The double world medallist is indeed far from unknown and it was therefore not surprising to find him at such a level. In the semi-final he was opposed by Spijkers, who he actually defeated, while Silva faced Saba Inaneishvili (GEO), for a victory that went to the Georgian competitor.
We must underline here the work done by Georgia. This country has been involved in judo for decades. Today the Georgian competitors are in the process of drawing the contours of an increasingly complete squad. It seems obvious to say it, as Georgian judoka have always performed but you only have to look at the draw sheets and the results on the world circuit to realise that there is not only one athlete in each age and weight category but several. More remarkably, they are all capable of great performances. We know women's judo in Georgia is in a full development phase. In a few years, Georgian competitors, men and women, could well become scarecrows for many.
Thus the last final of the day and of the competition opposed Minjong Kim and Saba Inaneishvili. After the first phase of the final, which looked more or less like an observation from both sides of the forces present, it was Kim who scored with a kata-guruma that surprised Inaneishvili: waza-ari. It was enough to win the last gold medal of the weekend.
In the first bronze medal contest, we saw the two Brazilian judoka compete for one place on the podium, the victory being awarded to Silva after Cesarino picked up his third penalty.
The second bronze medal contest saw Tsetsentsengel Odkhuu (MGL) and Jur Spijkers (NED) competing for the remaining spot on the podium. Tsetsentsengel scored with a beautiful piece of ashi-waza for ippon to conclude his competition day with a bronze medal.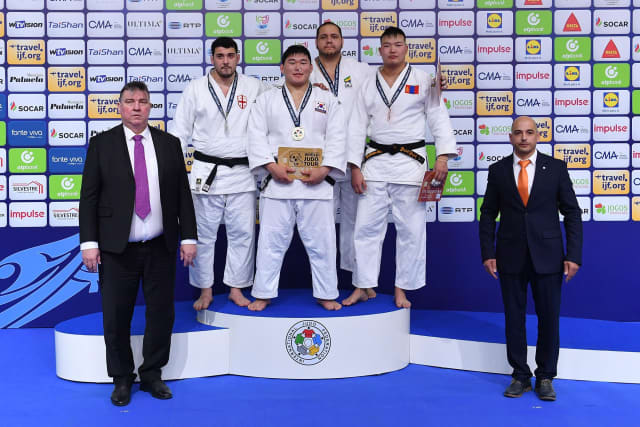 Bronze Medal Fights (+100 kg)