We can say that the -100kg category was perhaps one of the most anticipated of the weekend. There is a simple reason for this: the presence of Lukas Krpalek (CZE). What is there to say about this exceptional judoka? Double Olympic champion, in -100kg in Rio and in +100kg five years later in Tokyo, double world champion, four times world medallist, three times World Judo Masters medallist, thirteen grand slam medals, 11 grand prix medals, three continental titles; just presenting his record takes several minutes.
In Portugal, Krpalek decided to launch a new challenge, that of returning to his favourite category, at -100kg, to start all over again, to redo slimming diets, after gaining weight to compete at +100kg, and to take over the world. If the challenge seems a little crazy, we know the man capable of taking it up. Who could have believed in his success among the heavyweights when he started out?
From the morning of the competition, we saw a slimmed down and sharpened Krpalek, like never before. Honestly, we almost had a hard time recognising him. If the first rounds brought some indications on his current form, we also found that he himself was looking for answers. Did he find them? Not all, since he had to bow out against Ilia Sulamanidze (GEO) in the semi-final. It's not bad for a comeback, all the same, especially when you know the value of the Georgian, who remains happy with a brilliant victory in Jerusalem last December. In short, Lukas Krpalek is not yet super-dominant, as he was in the past at -100kg, but he has some good reminders and remakes coming through.
It was therefore the young Ilia Sulamanidze who qualified for the final against the even younger Dota Arai (JPN), 18 years old today in fact, who discreetly made his way towards the top of the podium, but Sulamanidze represented a step a little too high for Arai, who was easily thrown twice for waza-ari. It was a gold medal for Ilia Sulamanidze. This sounds like a confirmation of his new rank. Arai had to settle for silver and a big slice of birthday cake!
The first bronze medal was disputed between Santo Avytskiy (UKR) and Zsombor Veg (HUN), who was definitely the more active of the two competitors. Santo Avytskiy was therefore penalised twice for passivity. When he actually attacked for the very first time, he was immediately countered with a massive ura-nage for waza-ari, combined with a shime-waza for a submission and ippon. This is the first medal for Zsombor at this level.
Bojan Dosen (SRB) faced Lukas Krpalek (CZE) to complete the podium. The last time Krpalek competed for a medal at -100kg, it was in the final of the Rio Olympic Games in 2016, when he won gold. Today, winning with an immobilisation in his last medal match, was definitely not what he came for but let's say it, at 32 years old, with such a prize list to his name, coming back in Portugal, in a grand prix, and winning a medal, even if it's a bronze medal, for Krpalek is an amazing performance. Congratulations Lukas!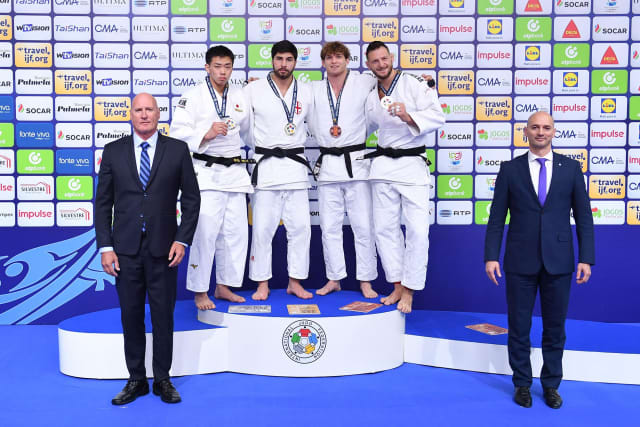 Bronze Medal Fights (-100 kg)