5 reasons to get excited about the 2019 season
1. New locations
The IJF World Judo Tour 2019 will launch in just over three weeks with a brand new event.
The new season will open in Israel with the inaugural Tel Aviv Grand Prix from Thursday 24 to Saturday 26 January.
Over 400 judoka from 51 countries will compete at the Shlomo Arena which is expected to be sold out on all three days.
Newly-crowned World Judo Masters winner and Rio 2016 Olympic silver medallist Rustam ORUJOV (AZE) will be among the leading names in action.
European heavyweight champion Romane DICKO (FRA) will make her long-awaited return to and her first appearance on the IJF circuit since March 2018 after a lengthy spell on the sidelines through injury.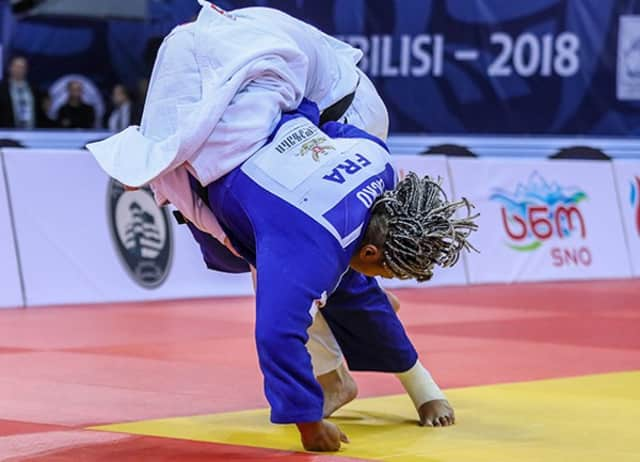 World Judo Masters silver medallist TOTH Krisztian (HUN) will be in the hunt for a sixth Grand Prix title while three-time World Judo Masters winner Kim POLLING (NED), who has been a long-term absentee, will make her timely return to the tour.
Home star and European champion Sagi MUKI (ISR) will be one of the best supported judoka in Israel and will be an early favourite for gold.
Morocco is no stranger to hosting major events having staged the World Judo Masters in 2017 where double Olympic champion Teddy RINER (FRA) won his 10th world title.
Marrakesh, a former imperial city in western Morocco, has been awarded a Grand Prix which will take place from 8 to 10 March.
While the country is not a new destination for the world's elite judoka, they will travel to the African country for a new event in 2019.
The IJF World Judo Tour will visit Canada for the first time in 2019 for the first edition of the Montreal Grand Prix.
Pan America's Grand Prix, which has been held in Miami, Havana and Cancun 5 to 7 July, has a new home and expectations are high in terms of the level of the event and the organisation. Fresh off the season-ending World Judo Masters in Guangzhou, China, it's been revealed that the 2019 edition will emanate from the same country but from a different city.
China, which also hosts an annual Grand Prix in Hohhot in the summer, will take their invite-only World Judo Masters showpiece south at the end of the year from Guangzhou to nearby Shenzhen, a modern metropolis that links Hong Kong to China's mainland.
2. New stars close in on Tokyo 2020
The IJF World Judo Tour is well-known for its ability to establish new stars with its ubiquitous and mainstream coverage through IJF partners CNN, Eurosport and EuroNews.
World champion ABE Uta, 18, the third youngest world judo champion of all time (behind only Daria BILODID and compatriot TANI Ryoko) completed her rise to becoming a household name by winning the crown jewel of the IJF World Judo Tour at the first attempt.
ABE, whose victory over Amandine BUCHARD (FRA) was included in Fuji TV's 2018 sports highlight package on New Year's Eye, won gold on the same as her older brother ABE Hifumi retained his title.
Daria BILODID (UKR), the youngest world judo champion of all time, can be considered an exception or a one-off in terms of breathtaking ability at her tender age, but the teenager's six victories on the IJF circuit catapulted her to stardom in 2018.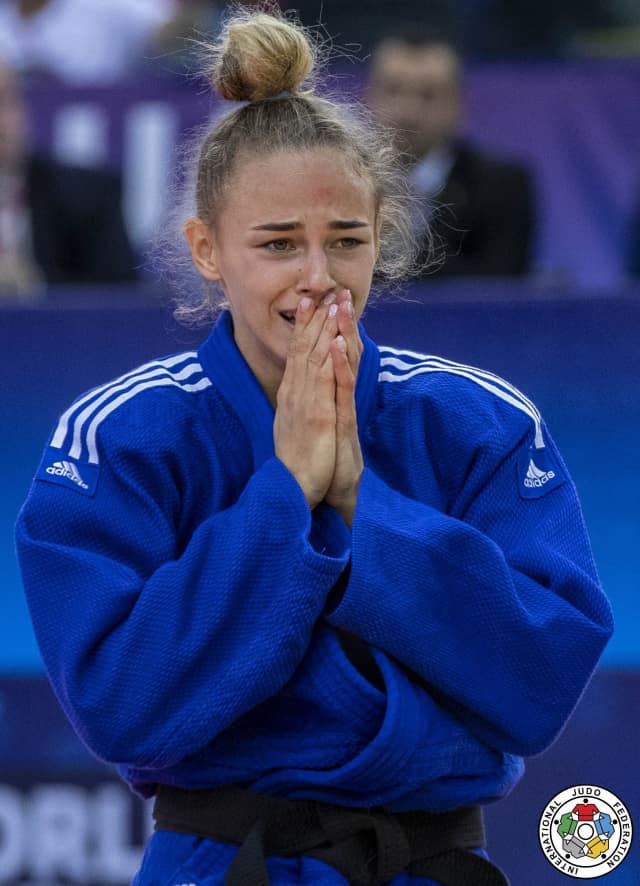 Osaka Grand Slam winner MARUYAMA Joshiro (JPN) is on the verge of breaking out after defeating ABE Hifumi in the final.
MARUYAMA, who trains under 1984 Olympic champion HOSOKAWA Shinji at Tenri University alongside ONO Shohei, then won the World Judo Masters title with four ippons from four contests.
Only one of them can be selected for 2020 and MARUYAMA is seemingly better equipped than anyone else to overcome the Tokyo Olympiad poster boy.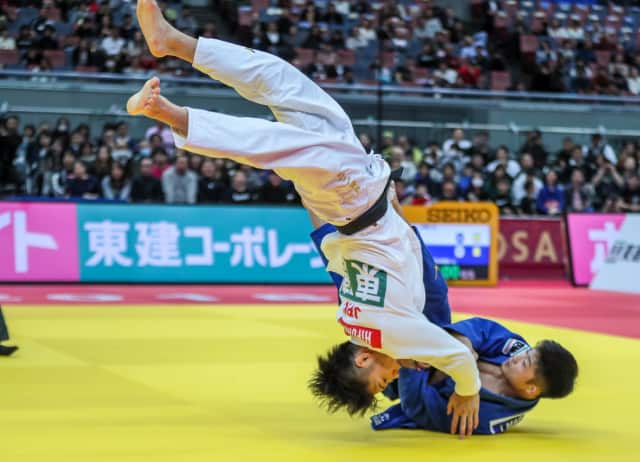 3. Dream matches on the horizon
With the rise of the aforementioned young champions there's more talk of dream matches than ever before with the long-time stars of the IJF World Judo Tour and reigning Olympic champions poised to do battle.
-52kg: Majlinda KELMENDI (KOS) v ABE Uta (JPN)
This dream match up is almost guaranteed to come to fruition in 2019. While KELMENDI was recovering from surgery in 2018, ABE Uta took control of the weight category by beating teammate and defending champion SHISHIME Ai in the final.
The highly-desired Kosovo versus Japan contest could happen as early as February at the Paris Grand Slam or at the Düsseldorf Grand Slam with both judo tipped to feature in at least one of the European events.
-48kg: Daria BILODID (UKR) v KONDO Ami (JPN)
The Ukrainian sensation has never faced two-time world champion and Olympic bronze medallist KONDO Ami (JPN). Former world champion TONAKI Funa (JPN) has been pushed forward by the Japanese team but lost all three of their meetings in 2018.
BILODID, who has beaten all five Japanese judoka who she's opposed in her young career, will likely meet KONDO for the first time in 2019. KONDO is expected to play a larger role for her country on the IJF tour this year after only two outings in 2018 while world number one and red backpatch owner BILODID determined to stay out in front ahead of her nearest rivals and will have another active programme this year.
-73kg: HASHIMOTO Soichi (JPN) v ONO Shohei (JPN)
A match up between Olympic champion ONO and former world champion HASHIMOTO has long been craved by judo fans.
The clash was close to materialising several times on the IJF World Judo Tour but it wasn't to be. The tide has turned in favour of ONO after HASHIMOTO lost his world title in 2018 and suffered an early exit at the Masters while the former was at his majestic best at the Osaka Grand Slam.
It's difficult to predict if and when the -73kg stars will collide but such a bout is worthy of one of the top stages in the sport and could be a possibility for the 2019 World Championships in Tokyo, Japan which would be a blockbuster attraction on Japanese television.
+78kg: ASAHINA Sarah (JPN) v Romane DICKO (FRA)
World champion ASAHINA, 22, and European champion DICKO, 19, are two new forces in heavyweight judo and are already contenders for Olympic glory in 2020.
Five-time Grand Slam winner ASAHINA, who added the world heavyweight title last year to her 2017 Openweight world crown, has already been installed as the favourite for Tokyo 2020 which would be her Olympic debut.
DICKO is in a similar position and both talents will be keen to show their worth in 2019 and to take control of the weight category as the world awaits their first tussle.
4. Last World Championships before the Tokyo 2020 Olympic Games
Judo goes home in August for the World Judo Championships in Tokyo at the Nippon Budokan.
The eight-day competition will also serve as the test event for the Tokyo 2020 Olympic Games judo event which will take place next year in the same iconic venue.
The Nippon Budokan was built to stage the first Olympic judo event at the Tokyo 1964 Games and will host the world's elite in 2020 with judo now established as one of the most successful sports within the Olympic programme.
Judo's homecoming for 2019 will take place from 25 to 31 August and will be the biggest World Championships of all time.

Judoka have one more shot at the Worlds before Tokyo 2020 and to capture the red backpatch a year before the Games would not only put the winner on the verge of Olympic selection but would also see them wear the red backpatch at the Games and potentially start as one of the top seeds.
The medal contests (final block) will be held in the late evening in Tokyo as they will air live on national television with the sport and its finest practitioners beaming into millions of houses across Japan and worldwide.
5. More content, more access than ever before
The IJF is gearing up for its Tokyo 2020 homecoming and the 2019 season is the most important year of the IJF World Judo Tour in history.
Judo is blessed with more stars than ever before and these champions are the driving force behind attracting new fans and growing the sport internationally.
At a time when the martial art enjoys widespread coverage in countries all over the globe, the IJF Media Team will be there bring you closer to the action than ever before for the 2019 season.
Whether it's ippons, pictures, stories, videos, Instagram Takeover's or Q&A sessions with the IJF President, the IJF will have it covered with more content and more access for the new season.
It's our objective to connect champions with their fans and to provide comprehensive event coverage and to propel judo forward into the mainstream.
It all begins at the end of January and we can't wait for you to join us at #JudoTelAviv2019