With the opening ceremony on day one of the 2022 IBSA World Judo Championships in Baku, Azerbaijan, all present were enthralled by a heart-warming display of diversity and inclusion. With music, videos, a live choir and dances, it was a fitting way to introduce the event, which forms the pinnacle of the 2022 IBSA judo calendar.
The MC began, "Today is a double celebration as we are not just here celebrating sport but also today is Victory Day in Azerbaijan and so we congratulate our whole nation on this occasion.
Today, for the first time, our capital is hosting the IBSA World Judo Championships, with ranking points earned towards Paris Paralympic Games qualification. 41 delegations are taking part.
The development of sport in Azerbaijan is a big priority, encouraged by our President, Mr Ilham Aliyev and out of 160 countries at the Tokyo Paralympic Games, Azerbaijan placed in the top ten."
With a rousing version of the Azerbaijan national anthem sung by the Shusha Chamber Choir, the 2022 IBSA World Judo Championships was declared open.
Following the anthem and speeches, there was a special award presented by Mr Janos Tardos, Chairman of IBSA Judo and the Azerbaijan National Paralympic Committee President Mr Ilgar Rahimov, to Mr Elnur Mammadli, 2008 Olympic champion.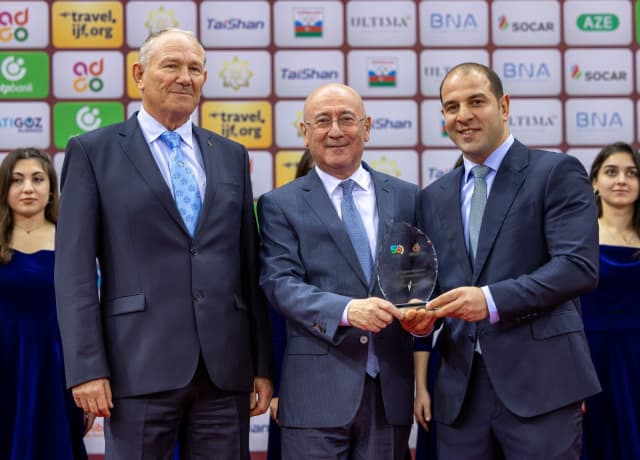 The music and energy then continued into the final block, ready to receive the new world champions.