At 24 Blandine Pont feels good in her head and good in her body and it is visible. A student to become a dentist, a photographer and artist at heart, she is also one of the most well prepared athletes of the moment. Winner for the first time on the international scene in 2021 in Zagreb, she continued to garner some significant results on the world circuit and on that of the continental opens without winning gold, before winning brilliantly at the Paris Grand Slam this year. A one-shot victory? Certainly not.
If Paris was a real performance, repeating it a couple of weeks later in Tel Aviv confirmed that Blandine Pont had real potential that was becoming a reality. Engaged in Antalya for this last competition before the Doha worlds, she had a new chance to shine and show that she was on a golden trajectory. Thus she qualified for the first final of the day after the first rounds were well conducted. It was only in the semi-final that she had to suffer a little. Quickly under pressure with two shido against her from Baasankhuu Bavuudorj (MGL), Blandine then scored a waza-ari with a combination of ashi-waza, an advantage she then kept without problem.
To face the French competitor in the final, we found a regular on the circuit, Shira Rishony (ISR), who won in her half of the draw, while the two Serbian finalists last week in Tbilisi lost in the first rounds, unable to repeat their Georgian feat.
Clearly the two athletes had different profiles, with Rishony looking for a first victory in a grand slam after more than 30 participations and 5 bronze medals, while Pont was looking for the third gold medal in a row. Well, we were fixed rapidly, Blandine Pont showing her fine technique with a superb o-soto-otoshi for ippon. There is no doubt that a few months ago the French woman would have signed for such a dream. Today the dream is coming true and we will have to follow her in the upcoming months, especially because in the -48kg category, the world number one is also French. Shirine Boukli, who was not competing in Antalya, must be worried to see her teammate performing at such a level.
In the first match for a bronze medal, Amanda Lima (BRA) and Baasankhuu Bavuudorj (MGL) met. Amanda Lima had a really good day today, only losing to Rishony in the quarter final, when Baasankhuu Bavuudorj had a really great start to the season last year, but since then was searching to reinstate her fighting spirit. She definitely regained it as in golden score she threw Lima with a massive ura-nage counter-attack for a waza-ari and a comeback culminating in a World Judo Tour podium at the right moment before the world championships.
Narantsetseg Ganbaatar (MGL) offered another medal chance to Mongolia, against Katharina Menz (GER). It was a great start for the Mongolian judoka who scored a first waza-ari with a pick-up that landed her opponent on her side. This score was enough for Ganbaatar to win the contest and join her teammate on the podium.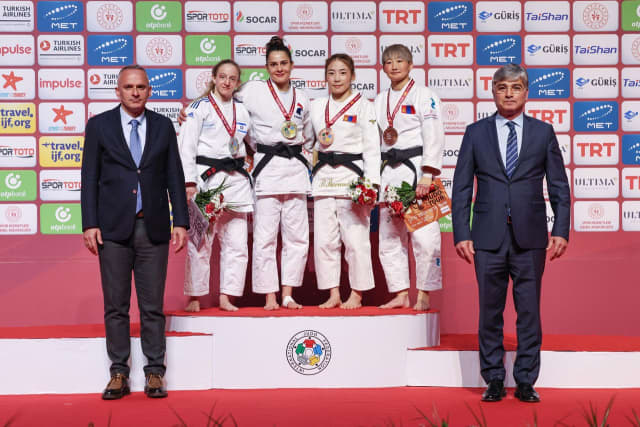 Bronze Medal Fights (-48 kg)