From her first fight of the day, French favourite, Olympic silver medallist Amandine Buchard, fought in front of a wall of sound, chants of 'Amandine, Amandine, Amandine' filling the arena.
Following the Tokyo Olympic Games she was seen very little, with some rest time and some recuperation from injuries. Despite lengthy absences she was ready for the big events and took gold at the Bercy in February 2022, silver at the Europeans in April and then bronze at the world championships in October. A 7th place at the Masters completed her year and Paris became her first outing of this new year, just like the last.
Amandine's popularity in Paris never goes unnoticed but today the support wasn't enough to lift her past Krasniqi, the top seed, the -48kg Olympic champion, despite a masterful and possibly pre-emptive win with a blink-and-you'll-miss-it  kata-guruma against Lemos (BRA), followed by a long 9 minute battle against Primo (ISR).
The loss in the semi-final dropped her into a bronze medal contest against teammate Gneto who had just defeated London 2012 Olympic medallist Van Snick (BEL). It was a guaranteed medal for France but not necessarily for Buchard. 
Elsewhere in the category, Pupp (HUN), as the number 2 seed, brought a sharp and clinical approach which dealt with a young French opponent. The Belgian gave her a rougher ride but she was back to her businesslike judo to dispatch Pimenta (BRA) in the semi-final. Krasniqi and Pupp were supposed to reach the final and they did! 
The first bronze medal was disputed by Primo (ISR) and Pimenta (BRA). There was action and effort, without a doubt but three penalties for Pimenta sent the medal to Primo and Israel. 
The second bronze was an all French affair in which Gneto and Buchard, knowing each other so very well, have all they had to own the French flag that would hang above just one of their heads on the podium. They collected the expected shidos but fought at an incredible pace throughout, until Amandine unleashed her trademark kata-guruma with a circular kuzushi envied by many and put a waza-on the board and her footprints on the rostrum. 
Buchard said, "When someone talks to me about this grand slam, I always feel excitement and shivers because for me it's the best place to fight. I love our public, they give power to each one on the tatami, whether they are French or good international fighters. They give me power and strength when I feel the fight is getting harder. Each year, when I meet the public, I feel a big connection with them and I always want to share this day with them and now my medal too."
Krasniqi (KOS) and Pupp (HUN) fought for gold and in the opening exchange the Kosovan latched onto Pupp's outside leg and drove her to the floor to put a wide space between them. A score up and with the confidence to continue unchanged, Krasniqi led a masterclass in positive defensive gripping, dominating all contact. Pupp's effort was unmistakable but the level of Distria was unmatched.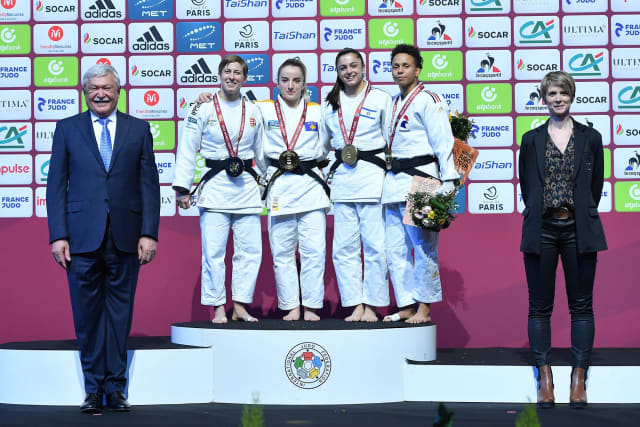 Bronze Medal Fights (-52 kg)