Looking at the draw in the opening hours of the day, a final between No. 1 seed Chelsie Giles (GBR) and fellow world and Olympic medallist Amandine Buchard (FRA) seemed to have a high probability of happening. It remained to be seen what the reality of the competition had to offer.
For her part, Chelsie Giles advanced without trembling against Ariane Soler (ESP) in the first round, before eliminating Gultaj Mammadaliyeva (AZE), then the surprising Sofia Asvesta (CYP) who ended up in 7th place and finally Sita Kadamboeva (UZB) in the semi-final. Imposing her long levers to score in tachi-waza or brilliantly on the ground, Giles seemed untouchable.
On the other side, Amandine Buchard, with her more powerful judo, also chained victories together to get closer to the final. Taking advantage of the dynamics of the French team in Antalya, launched by Pont at -48kg and Mkheidze at -60kg, Buchard also reached the final.
Between Giles and Buchard, it's starting to be a long story, since the two champions have now met 5 times. If the French judoka has the advantage with three wins for two losses, the last two matches have ended in victory for the British player (European Championships 2022 and World Judo Masters 2022).
The first minute of the final showed how Buchard was bothered by Giles and how difficult it is for her to create throwing opportunities but the whole match was a cat and mouse game, both champions switching role all the time. Who would be the cat ready to catch the mouse? We had to wait until the very last second when after countless attacks, Giles took the bait and fell into Buchard's trap, who scored a waza-ari from her now trademark kata-guruma, accompanied by a huge liberation ki-ai and a big smile. Today she was the cat!
The first match for a bronze medal opposed Maria Siderot of Portugal and Reka Pupp (HUN), a three time grand slam winner. If the normal time was quite balanced, leading to a golden score, it didn't take much time for Pupp to bring her opponent to the ground after an attack that didn't score and immediately, before her opponent could even think about reacting, grabbing the arm to apply an armlock for ippon. Bronze for Reka Pupp!
Estrella Lopez Sheriff (ESP) and Sita Kadamboeva (UZB), who never fought each other before, battled for the second bronze medal. More than two minutes in golden score, after Estrella Lopez Sheriff could not take any advantage over Kadamboeva being penalised twice early on, was then pinned down and arm-locked for ippon. This is grand slam medal number two for Sita Kadamboeva (UZB).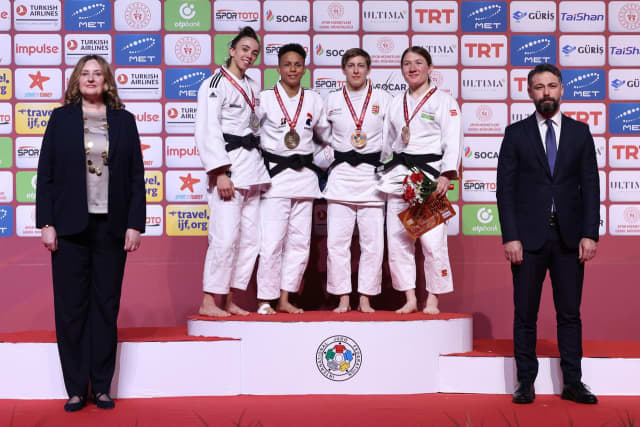 Bronze Medal Fights (-52 kg)