What a category! When you start the day with the early elimination of the 2022 world champion and 2016 Olympic champion, you understand that the level will be high, very high.
After her victory against Rafaela Silva (BRA), Kseniia Galitskaia (AIN) thought she had done the hardest part but in the next round she fell to Hasret Bozkurt (TUR) who rushed to the semi-final. Perhaps she was a little too hasty because facing her was the reigning Olympic champion, Nora Gjakova (KOS). The first act of a play in several acts was closing.
In the second part of the draw and for the second act of the play, we were able to follow with pleasure the journey of Eteri Liparteliani (GEO) whose full talent we understand since she won the title of junior world champion in 2019. If the Georgian judoka is regularly placed, her transition to the seniors did not always prove easy but today, arriving from a very honourable 7th place in the world, she demonstrated all her talent to rise above all and join Gjakova in the final. The poster for that final therefore looked tantalising.
Liparteliani seemed early in the match out powered by Nora Gjakova, who was trying but could not get close to her illustrious opponent. With a little ko-soto-gake, Gjakova took the lead and controlled until the last second to win the title.
The first contest for a bronze medal saw Priscilla Gneto (FRA) and Daria Kurbonmamadova (AIN) face off. Gneto was the first in action with some massive soto-makikomi. After the first attempts, Gneto was able to score a first waza-ari. A little desperate, Daria Kurbonmamadova launched a technique, that she believed was a ippon. It was actually not, since Gneto didn't land largely on her back, but it was enough for the French to not panic and use the momentum of the move to pin down her opponent for ippon and a bronze medal.
Timna Nelson Levy (ISR) and Hasret Bozkurt (TUR) fough the concluding bronze medal match of the day and that was an intense contest, with Bozkurt scoring a first waza-ari and Nelson Levy concluding with a big ippon with a ko-uchi-gari. Bronze for Timna Nelson Levy.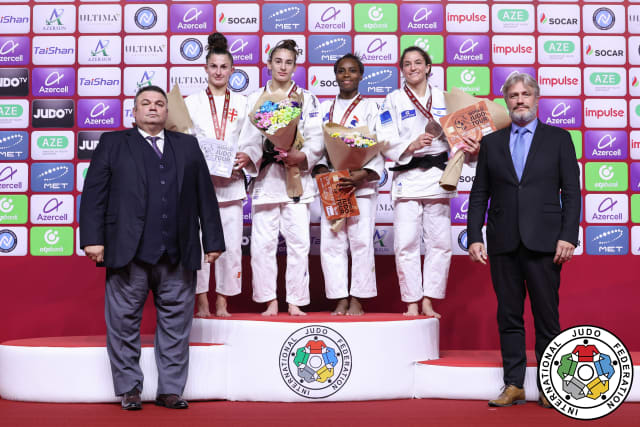 Bronze Medal Fights (-57 kg)