Everything should have been good for Balabay Aghayev and Azerbaijan, in a category where we know that the local judoka have experience. World number 2 and winner of the Paris Grand Slam at the start of the season, Aghayev needed to be able to use the support of his audience to perform. Unfortunately for him, he fell in the first round, opening the door to the semi-finals widely, for Lukhumi Chkhvimiani (GEO).
In the same half of the draw, another favourite, Jorre Verstraeten (BEL) was quickly eliminated, beaten by the local Ahmad Yusifov (AZE), who himself was defeated by Gamzat Zairbekov (AIN), leaving him to slip away to the final.
We were obviously expecting the return of Francisco Garrigos (ESP), world champion in Doha this year. Crowned with his red back patch, the Spanish judoka had not competed on the world circuit since his world-beating performance. Would he be at his best? The first two rounds against Diego Ismael (BRA) and Johan Rojas (COL) suggested he might but Won Jin Kim (KOR) was not afraid to meet the world champion and he blocked his path to the semi-finals. In the repechage, Garrigos fell again, this time to the Frenchman Romain Valadier Picard. It was a great performance for the latter who today surpassed his teammate and Olympic medallist, Luka Mkheidze. The competition promises to be tough in this weight category for the French. There will only be one place in Paris in 2024.
At the end of the preliminaries, it was Gamzat Zairbelov (AIN) and Ramazan Abdulaev (AIN) who secured places in the final, at the expense of all their opponents of the day.
With less than a minute to go in the final, Abdulaev took the lead after a well trained and applied sode-guruma-jime technique, which allowed him to pin down his opponent for a waza-ari. The last seconds were a tactical battle that Ramazan Abdulaev dominated to take gold.
The first match for a bronze medal saw Salih Yildiz (TUR) and Won Jin Kim (KOR) face off. Kim took the lead after a powerful sequence on the floor that was concluded with a pin, but not enough for the ippon; waza-ari was scored, enough to win the bronze medal for Kim.
Romain Valadier Picard and Lukhumi Chkhvimiani (GEO), who was world champion in 2019, faced each other to win the second bronze medal. We can not say that Valadier Picard was impressed, because he was not. On the other side, was Chkhvimiani, who was not impressed either, but despite his experience of the high level, made three major mistakes, which gave the victory to the French judoka. At this level, it is necessary to know the rules and to apply them. Breaking the grip without moving forward and building attacks is not permitted. For sure, Chkhvimiani will remember that next time. Meanwhile, Romain Valadier Picard is stepping up within the senior category.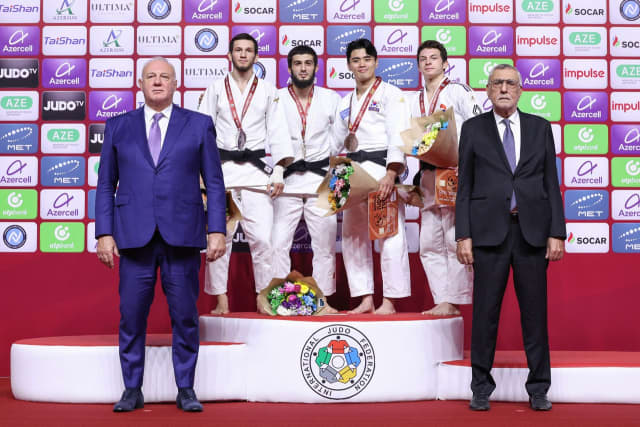 Bronze Medal Fights (-60 kg)