Starting from pole position, the Belgian Jorre Verstraeten could not maintain the pace until the finish line. In the end, it was another seed in his quarter of the table, Dilshot Khalmatov (UKR), who qualified for the final, after a very good performance in the morning session.
Third in Portugal at the start of the season, then winner in Tel Aviv a few weeks later, Luka Mkheidze (FRA), bronze medallist at Tokyo 2020, like his teammate Blandine Pont, is on a good streak in preparation for a great season. Slowly but surely, he chained victories together to appear once again in the final of a grand slam.
The final started at a high pace, both athletes reaching half-time, attacking and trying to build attacks non-stop, with Mkheidze linking attempts to take his opponent down and maybe conclude on the floor. However, it was from a standing position that the Frenchman scored a first waza-ari with a shoulder movement. The pressure was on Khalmatov's shoulders. Despite many last attempts, he was not able to come back. After an ever-active final, Mkheidze won and added one more medal for France already after only two categories.
The first match for a bronze medal was between Jorre Verstraeten (BEL) and Dilshodbek Baratov (UZB). When you come to an event as the top seed, you wish to at least reach the final but when that's not the case, you may still have a chance for the bronze and you definitely don't want it to slip away from you. The match was really well balanced and as the final gong and golden score were approaching, Verstraeten launched a last kata-guruma attempt. The right amount of energy at the right moment always pays off; waza-ari for Verstraeten and the bronze medal.
Ariunbold Enkhtaivan (MGL) and Nurkanat Serikbaev (KAZ) faced each other in the second match for a bronze medal. The match was explosive. Within a minute, Enkhtaivan scored a waza-ari with a seoi-nage variation and Serikbaev answered with a koshi-waza for ippon. Champagne judo is the one we prefer!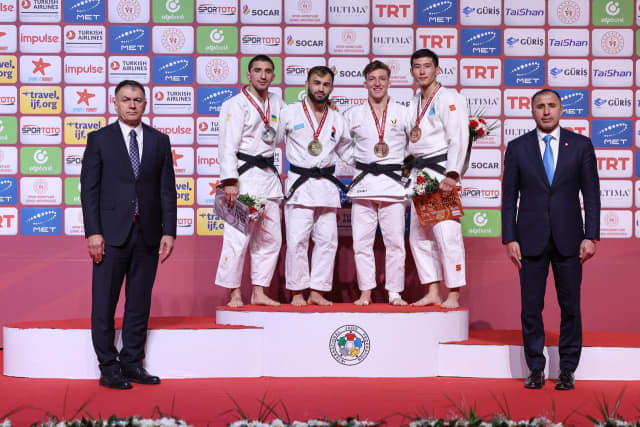 Bronze Medal Fights (-60 kg)