The -63kg women was another category where it was not good to be seeded number one, since Lucy Renshall (GBR), also world number one, stumbled from the start of the competition, when she bumped into Inbal Shemesh (ISR). The latter continued her merry way to later find herself in a position to defend a bronze medal.
With Renshall out, it was the Cuban Maylin Del Toro Carvajal, who showed herself in the best shape, allowing herself to beat on the way Szofi Ozbas (HUN), whom many consider to be a great future champion, Barbara Timo (POR), who arrived after a victory in Portugal no earlier than last week. But in the semi-final, Del Toro Carvajal suffered at the hands of Japanese law, losing to Nami Nabekura, junior world champion in 2015 and winner of the World Judo Masters in 2019. Far from being an unknown, Nabekura still only points at 17th place in the world but today she seemed pretty untouchable.
To finish with gold, Nabekura still had to face Gili Sharir (ISR), who also did not leave many chances to her opponents of the day. Solid against the Korean Chaewon Shin in the first round, she clung to her prize list, defeating Manon Deketer (FRA) and an emphatic win especially against Catherine Beauchemin-Pinard (CAN) in the quarter-finals, before winning ahead of Angelika Szymanska (POL) in her semi-final. The opposition between Nabekura and Sharir promised to be explosive.
In the final no-one could have asked a judoka to work harder for a gold medal than Sharir (ISR) did. In fact she worked inexplicably hard all day, committing her best to each contest. We acknowledge that it was not spectacular but it was honest and with no drop at all in focus. Whether she won on penalties or small scores, her engagement was total and in the end the gold was her reward. She outworked Nabekura with attack after attack. Not all were perfect but they moved her Japanese opponent just enough and Nabekura couldn't match the pace.
A long way into an international career that began in the cadet age band, 23 year old Sharir now has a first gold medal on the World Judo Tour
Israel, hosts of the next event of the World Judo Tour, with Grand Slam Tel Aviv 2023 from 16th to 18th February, was in very good shape today since Inbal Shemesh also had a chance to climb on the podium, competing against Angelika Szymanska (POL) for a bronze. With two waza-ari to her name, Angelika Szymanska gave no chance to Inbal Shemesh to reach the podium though.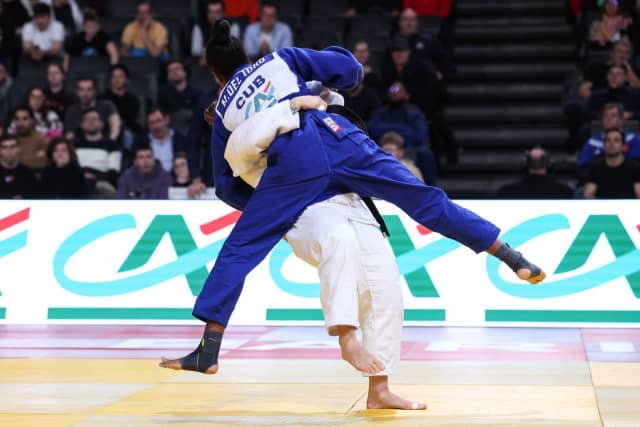 In the second match for a bronze medal, Catherine Beauchemin-Pinard (CAN) had an extra chance to score valuable points while winning a medal in Paris. She faced Maylin Del Toro Carvajal, who wanted to finish a great day of competition in style. Unfortunately there could only be one happy athlete here. The stylish finish was the result of Maylin Del Toro Carvajal who quickly scored a first waza-ari followed immediately after by a second throw which was awarded with ippon this time; neat and flawless!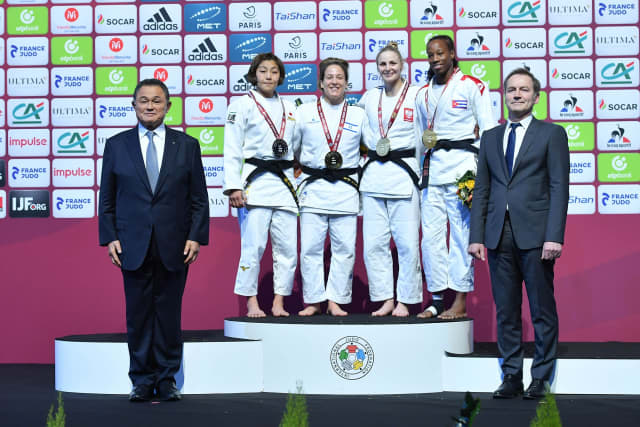 Bronze Medal Fights (-63 kg)