World number two and recent winner of the World Judo Masters Budapest 2023, Laura Fazliu (KOS) had serious arguments to approach the podium again and perhaps conquer it. After a first round bye, she faced Tamires Crude (BRA) against whom she qualified to face the Austrian Lubjana Piovesana, in the next round. The latter with her 28th place in the world ranking, was well within Fazliu's reach. Unfortunately, she was unable to repeat the performance of her teammates from the day before (1 gold medal and one silver medal) and lost to Piovesana, who advanced to the semi-final.
In pool B, the hierarchy was respected: Angelika Szymanska (POL) joined Piovesana in the semi-final and then beat her too.
Pool C had an air of déjà vu, since like the Kosovar, Gili Sharir (ISR), although seeded, did not manage to find the pace, beaten by Szofi Ozbas (HUN), who was in very good shape today. With her momentum, Ozbas also caught on her hunt Katharina Haecker (AUS), coming from pool D. Thus the final opposed Angelika Szymanska and Szofi Ozbas.
In the absence of competitors like the world number one, Lucy Renshall (GBR), the 2022 world champion, Megumi Horikawa (JPN), or the six-time world champion Clarisse Agbegnenou (FRA), the games were quite open, although the category presented a very high level in Baku. When the cat is not there, the mice play and today the mice were very busy playing in a very entertaining competition.
A first waza-ari was scored by Angelika Szymanska with a well driven left ko-uchi-gari that picked Szofi Ozbas up while on her heels. With perfect control over the remaining time, Angelika Szymanska could be seen with the gold medal, her first in a grand slam after one silver and four bronzes.
The first bronze medal contest saw Barbara Timo (POR) and Katharina Haecker (AUS) face each other for a place on the podium. If the four first minutes were quite inactive, neither of the competitors being able to create the conditions of a nice scoring throw, with less than 30 seconds of the golden score time gone, Timo pushed her opponent, probably a little too much and Katharina Haecker caught the elbow, turned and produced a master stroke with a makikomi for ippon. The bronze medal was for Haecker and for Australia.
Gili Sharir (ISR) and Lubjana Piovesana (AUT) had a chance to complete the podium. Halfway through, Sharir had a strong lead after having scored a beautiful waza-ari with a left seoi-nage that surprised her opponent and it was enough to win the medal at the end of the normal time.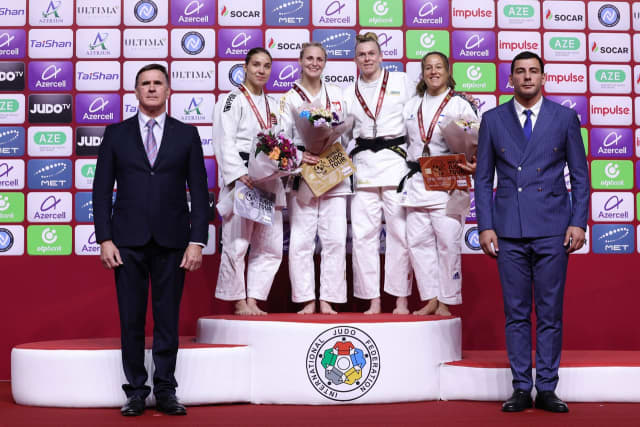 Bronze Medal Fights (-63 kg)