An Baul (KOR) is pretty close to being a sure thing, right? Not here, not today! Battogtokh (MGL) scored a waza-ari with plenty of time left on the clock for An to equalise or overtake but the Mongolian didn't entertain that idea even for a second and held both the score and his nerve until full time.
An has medalled at each of his last 10 events, not missing out on a place on the rostrum since 2019. He has 2 Olympic medals, 3 world medals and no less than 17 World Judo Tour medals. What is truly extraordinary about this first contest of his Paris campaign is that Battogtokh looked unsurprised, unruffled and undeterred. It seemed almost run-of-the-mill, expected. 
He went on to beat Ezzine (ALG) in the round of 16 and then Nurillaev (UZB) in the quarter-final before going head to head with a Frenchman who loves to put on a show for the fans in the Accor Arena. 
Walide Khyar is an entertainer and an athlete, a fan of the unorthodox but also a master of movement. His judo is big and bold and exciting and the crowd absolutely revel in it. However, Battogtokh stayed on course and did as he had done all day, finding the slimmest opportunities to apply intelligent and well-timed attacks and at one minute into golden score he caught Khyar for waza-ari, shocking the Frenchman and stunning the audience into virtual silence. 
Khyar fell to the bronze medal contest to face world number 1 Denis Vieru (MDA) who had fallen to the other Korean fighter of the group, An Jaehong. It was a mistake but a costly one for Vieru. It won't disturb his ranking but it is certainly frustrating and a mistake he will seek to rectify. 
A top 8 seed, Iadov (UKR) exceeded his ranking, moving past Flicker (ISR) in round 2, Poliak (SVK) next and then the 4th seed Gaitero Martin (ESP) to reach a semi-final against An Jaehong and then he passed that round too and walked into a final that no-one could have envisioned at the beginning of the day. 
Vieru vs Khyar is exactly what the judo public want to see. It's the disciplined against the alternative and the world number 1 against the home favourite. They are both spectacular but in such different ways that it was a fascinating bronze medal contest.
Vieru was ready for the Frenchman's signature, the arm all the way through and underneath his chest to try to flick him over. Khyar kept trying for it but but the top seed was too well rehearsed. In golden score, at two shido apiece, Vieru almost secured a hold down with the position being too weak too last bit as Khyar came up to his knees he crawled out of the area and was given his third shido for leaving the contest space intentionally. He didn't like the decision but respected it. Vieru made it to yet another podium. 
The second bronze was won by the unexpected An of the two, Jaehong, also on penalties, leaving Nurillaev in 5th place.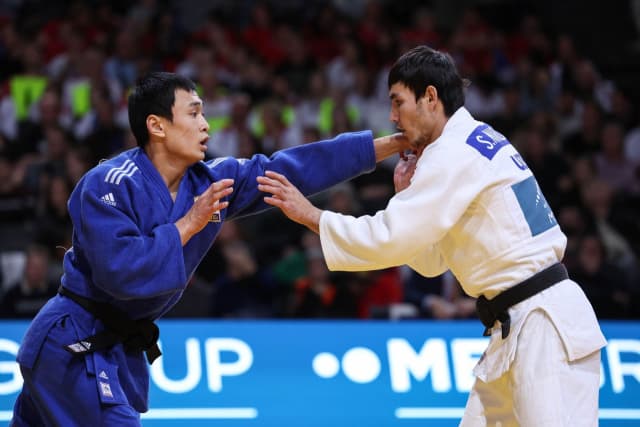 In a final populated by underdogs, in a slower pace than all of their earlier contests, it was uneventful until the Mongolian turned in for a weak attack. Iadov (UKR) punished it by countering with a sumi-gaeshi to earn a waza-ari. Only then did Battogtokh open up and find a new gear. With 35 seconds to go Iadov was really under pressure and was penalised but one shido was not instrumental and the Ukrainian completed the task well, ready to climb to the top of the podium.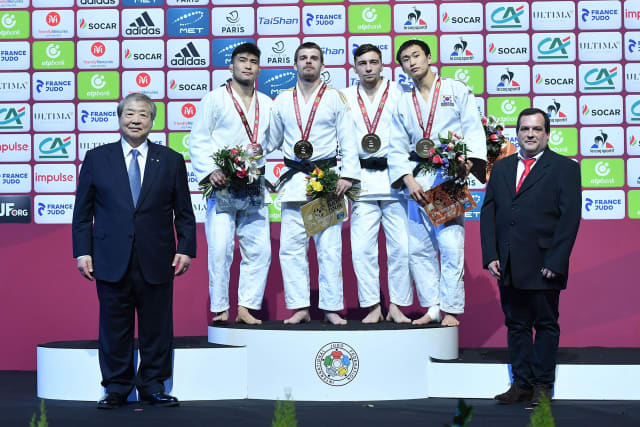 Bronze Medal Fights (-66 kg)