The fifth Grand Slam of the season and latest addition to the IJF tour, the Brasilia Grand Slam 2019, is set to captivate the world from Sunday 6 to Tuesday 8 October. Here's seven things to look out for from #JudoBrasilia
1. IJF circuit returns to Brazil for the first time in six years
Brazil has had to be patient in recent years in order to secure a top-flight IJF event. Following the 2013 World Championships in Rio de Janeiro, the last IJF event in the country, came the Rio 2016 Olympics – a first in South America – and an evitable post-Games period where the purse strings for hosting elite sport were tightened.
The Brazilian Judo Confederation (CBJ) started to have conversations with the IJF at the Baku 2018 World Championships regarding a return to hosting a major event.
Brazil has hosted the World Championships three times (1965, 2007 and 2013), a Grand Slam, in Rio, on four occasions (2009, 2010, 2011 and 2012) and once a standalone World Team Championships in Salvador (2012).
A new era for Brazilian Judo, who are contracted to host the event in 2019 and 2020, will begin this weekend with a 56-strong aiming to cap their new event with a successful showing in their capital city.
2. Riner v Krpalek 2 – Battle for heavyweight supremacy
The epic first time heavyweight showdown between Olympics champions Teddy Riner (FRA) and Lukas Krpalek (CZE) was a nerve-shredding affair and, as expected, proved to be one of the toughest challenges for the all-conquering Frenchman in his near decade long reign at the top of the sport.
Riner, 30, was making his comeback after a two-year self-imposed exile and showed all the hallmarks of a champion as he beat his greatest rivals at the Montreal Grand Prix in July including Krpalek, 28, in the semi-final.
The French king, who harbours realistic ambitions of prolonging his career until the Paris 2020 Olympics, needed six minutes of golden score to defeat a game Krpalek with a harai-goshi for a waza-ari score.
After beating the Czech ace in the first meeting, Riner praised his adversary.
"I fought with the big opponent (Krpalek) in the semi-final and final (Harasawa) and I think for me this is the best win actually.
"It's not my first time against Lukas we have fought in training camps and I like this fight. This is a beautiful judo player. I knew with my coach that this semi-final was the most difficult contest for me but I won and I was happy."
While world number 47 Riner has reverted back to the sidelines, Krpalek, has captured the world heavyweight crown for the first time and in doing so set another first as he celebrated the distinction of becoming the first judoka to win world gold in the -100kg and +100kg categories.
"When I moved to this weight category it was a big motivation of mine to achieve something like this, to reach a goal I've already achieved in the lighter weight category now in the heavier category," said the two-weight world champion.
"I've managed to win everything but I have one more goal in front of me and that's to win the Olympic heavyweight title."
Riner will now have a new gameplan for Krpalek based on their clash in Canada but Krpalek will still be buoyant from the way he tested the fellow gold backpatch owner the first time around and now will oppose him as a reigning Olympic and world champion and a new approach of his own.
The unheard of nine-year unbeaten run from the face of international judo stands at 148-0 but will be under threat in Brazil as he makes his first Grand Slam appearance in six years.
3. Home hero Aguiar targets sixth GS title as France, Russia and Germany double up at -78kg
Brazil's Mayra Aguiar has a track record of delivering on the big occasion for her country.
The Porto Alegre native won the World Championships in 2014 and 2017 and achieved bronze at the London 2012 and Rio 2016 Olympic Games.
Aguiar, 28, who is on the verge of qualifying for her fourth Olympics Games, has been longing for a home event on the IJF World Judo Tour.
"I'm very happy that Brazil will once again hosted a Grand Slam," said the Brazilian hero.
"I always like to fight at home, I like to fight for my home crowd."
For a champion of the Brazilian's ilk, gold is the mandate for every competition.
Aguiar is pleased by the strength of the -78kg field in Brasilia with France, Russia and Germany all electing to dispatch two judoka in the category.
"For me it's very good. The more fights I make, the better. It's almost a training, because I don't have many 78kg athletes here in Brazil to fight. The more I can compete and have strong athletes for me is always great.
"I hope I can make a good competition. I am well prepared, I trained a lot for this competition and I hope I can feel happy knowing that I did my best."
Aguiar has won Grand Slam gold on home soil before as she beat her arch-rival Kayla Harrison (USA) in 2011 having lost to the American in the 2010 Belo Horizonte World Cup final. The world number two picked up bronze in 2010 and won the same colour medal at the Rio Worlds in 2013 and the Rio Olympics in 2016.
4. Japan spring into action after testing home Worlds - Hashimoto, Iida, Nagase, Tsunoda, Kageura all called upon for Brazil
Japan's five-strong team for Brasilia features two former world champions as they shuffle their roster to offer a major opportunity for household names on the IJF Tour to put forward their names for Tokyo 2020 selection.
Hashimoto Soichi, who helped his country to retain their world team title in Tokyo, returns to singles competition for the first time since July on the IJF circuit and will be fighting in Brazil for the first time in his career.
The 2017 world champion, who was overlooked for singles duty in Tokyo, won the Paris Grand Slam in February and the Montreal Grand Prix in July and has to try and keep pace with front-runner Ono Shohei who won his third world title in August.
Tsukuba's Nagase Takanori, who won world gold in 2015, will be aiming for his fifth Grand Slam title while former world silver medallist TSUNODA Natsumi has been handed a rare IJF start as she remains behind ABE Uta and SHISHIME Ai.
Düsseldorf Grand Slam winner Iida Kentaro makes his second appearance of the season on the international stage while Kageura Kokoro, who defeated Cyrille Maret in the world team final, returns to +100kg duty for his country.
The IJF approached the AJJF for a comment from World Team Championships gold medallist Hashimoto on Tuesday but he was unavailable.
5. Brazil-based members of the IJF Refugee team can expect a thunderous ovation in their adopted homeland
Two Brazil-based members of the IJF Refugee Team will grace the Grand Slam in their adopted homeland this week.
Rio 2016 Olympians Popole Misenga (-90kg) and Yolande Mabika Bukasa (-70kg) have been at the forefront of the movement since the IOC initiative was introduce for South America's first Olympics and have benefited from the IJF's new system of introducing a refugee team to the IJF World Judo Tour.
Both judoka are coached by the legendary Geraldo Bernardes at the Instituto Reação in Rio de Janeiro which was founded by Flavio Canto.
Misenga, who fought in both the individual and team event at the 2019 World Championships, and his teammate Bukasa both hail from the Democratic Republic of Congo and were given refugee status by the United Nations High Commissioner for Refugees (UNHCR) in the build-up to Rio 2016.
Bernardes, 76, who cultivated the talents of Olympic champion and former world champion Rafaela Silva, relflected on the latest chapter in his illustrious coaching career.
"I was coach of the Brazilian team for 20 years participating in 4 Olympics," said the world-renowned coach.
"My involvement with the refugee team is a mission and thank god for the opportunities and success I had as a coach in the Brazilian team."
"I do work to improve Physical / Technical participating in international competitions with the support of the International Judo Federation so they can gain more experience."
The most experienced coach in the competition this weekend also revealed how Popole and Yolanda have been preparing for the Brasilia Grand Slam.
"They have done two physical and technical training sessions on a daily basis. In the morning it's physical training and at night technical training.
"In this technical training they do with the Instituto Reação athletes including Brazilian national team judoka who have a lot of experience.
They also participate in some steps of the Brazilian judo domestic calendar and have joined the CBJ training at the Team Brasil dojo."
Luiz Fernando Godinho, spokesman for UNHCR, the United Nations Refugee Agency, said: "Popole and Yolande's stories are a remarkable reminder that being a refugee should not stop anyone from following their dreams. As children, they had to flee violence, lost contact with their families and grew up in a refugee camp. Despite all this, they found their way to judo and became black belts and great competitors.
"First as part of the IOC Refugee Olympic Team at Rio 2016, and now as candidates for Tokyo 2020, they are a symbol of hope for all refugees in the world. It is with great honour and pride that UNHCR, the UN Refugee Agency, supports these athletes and many others to access equal opportunities and thrive, not just survive."
6. USA team head to Brazil in numbers as they look to pay tribute to the late Jack Hatton
USA Judo have picked a team of 16 judoka for the Brasilia Grand Slam, which is now the most valuable Tokyo qualification event in Pan America, and will undoubtedly have the late Jack Hatton on their minds in their hearts.
USA Judo announced the unexpected passing of Hatton, 24, on 26 September which sparked a huge outpouring of tributes from across the sport.
With the judo world still shocked and mourning the passing of the 2019 World Championships competitor, USA Judo have made the brave decision to compete this weekend as planned and will aim to pay tribute to their two-time Grand Prix medallist.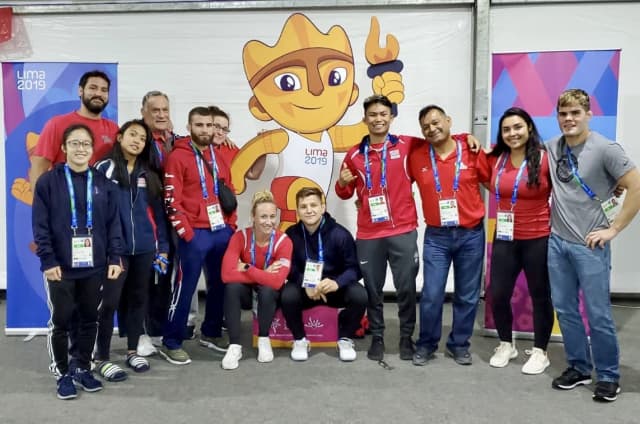 USA international Angelica Delgado (-52kg), who will be in action in Brasilia on Sunday, said: "Jack was always smiling. He would ask me all the time for new salsa or reggae music because he loved to dance.
"His face would light up when we were all together in some foreign country dancing the night away. Aside from judo and competing, I like to think his happiest times were surrounded by all of us, his teammates. Jack has left a mark on all of us. He would make fun of me and make my losses or the situation seem not so dim or important.
"He was a light in our lives. I believe most of us are still in shock and will mourn him and miss him greatly. It's hard to put into words this empty feeling in the pit of my stomach. All I can say is that no one was like Jack Hatton; kind, humble, strong, and resilient. As a judoka and most importantly as a friend, he will never be forgotten."
7. Japan-born Santos (-81kg) on a roll for Brazil after beating heavyweight star Moura
Former Pan American champion Eduardo Yudy Santos will perhaps be the most eager judoka in the hosts' vast team to get out there on the tatami.
Santos, who was born in Japan and moved to Brazil as a teenager, spectacularly defeated former heavyweight world medallist David Moura just a week ago in the CBJ Team Grand Prix final.
Click here to watch the ippon!
"I never imagined that I would fight him one day," said Santos who bagged bronze at the Tunis Grand Prix last year and is tasked with opening his Grand Slam medal account this weekend.
The humble 24-year-old added: "He is a much superior athlete to me but, judo is like that. I wanted so bad to win and I'm happy that I got the victory for our team."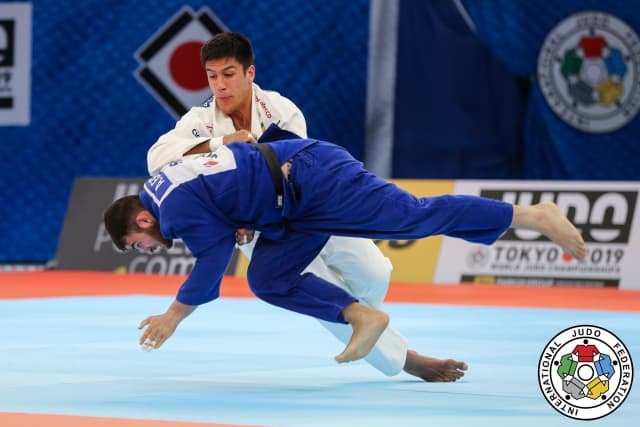 With home advantage and coming off the biggest contest win of his career, Santos is poised for the best challenge of his career on the Grand Slam stage and encourages judo fans the world around to follow all the action from Brasilia.
"Judo fans will be able to see one of the highest level competitions in the sport with many world judo stars and a very strong Brazilian team. I hope everyone enjoys the IJF's return to Brazil!"
Watch #JudoBrasilia from Sunday 6 - Tuesday 8 October here on the IJF website.