Despite Anriquelis Barrios not reaching the final in the lower weight division, her Venezuelan teammate Elvismar Rodriguez did succeed, to face Aoife Coughlan (AUS) for the gold medal. Rodriguez has been the leader of her team for quite a while. Looking at her prize list gives a good idea of it, since she already has nine grand prix medals to her name, nine grand slam medals and seven medals at the continental championships in Pan-America; quite something! But Rodriguez is still looking for the consecration at the world championships, Masters and of course Olympic Games. This new medal, whatever the colour will be a new step towards that goal.
Number 9 in the world, Elvismar Rodriguez's last problem for today bore the name Aoife Coughlan (AUS). With a silver medal at the Tokyo Grand Slam at the beginning of December, Aoife Coughlan, ranked 11th in the world, was actually a massive wall to climb for the Venezuelan champion and their very close ranking positions did not make things easier. The final was announced and was bound to be tough and rough for Rodriguez and Coughlan.
Rodriguez being less active than her opponent, she was penalised with a first shido for passivity, showing that Coughlan was not at all deterred by the occasion of her first ever participation in a grand prix final. With a second shido to her name, Rodriguez started to feel the pressure on her shoulders. It was Coughlan's turn to be penalised after she blocked Rodriguez's legs with her hand and arm, which is forbidden. Golden score! Within thirty seconds, a lot happened.
A waza-ari was given to Rodriguez for a counterattack, but was cancelled, while the Venezuelan was holding the Australian with an immobilisation, osae-komi, but Coughlan caught Rodriguez's leg, toketa; back to where we were. Danger was looming over the horizon for Rodriguez as a new penalty apiece would mean the third one for her and the end of the story but actually only one shido was given to Rodriguez, offering the medal on a golden plate to Aoife Coughlan. Congratulations for this first gold medal in a grand prix.
In the first bronze medal contest, Nataliia Chystiakova (UKR) and Ida Eriksson (SWE) faced each other. Coming from nowhere, Eriksson launched a rolling one-handed uchi-mata that made Chystiakova land on her back for ippon; bronze for Ida Eriksson.
Szabina Gercsak (HUN) and Heeju Han (KOR) disputed the second match for a bronze medal. Taller than her opponent, Gercsak was clearly looking for the uchi-mata, but the little ashi-waza attempts from Han seemed to upset Gercsak's plans, in a match that seemed quite balanced. As the contest went on, the Hungarian judoka was taking the control and Han was penalised twice. With fifteen seconds left, Gercsak eventually scored ippon on the edge of the competition area. Still this was counted as in and Gercsak added a seventh medal in a grand prix to her prize list, quite a performance.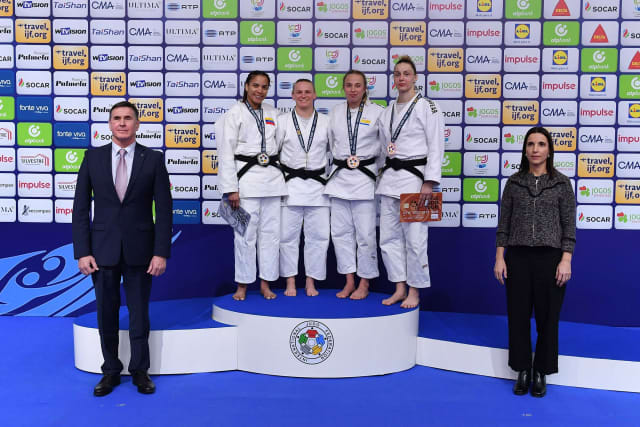 Bronze Medal Fights (-70 kg)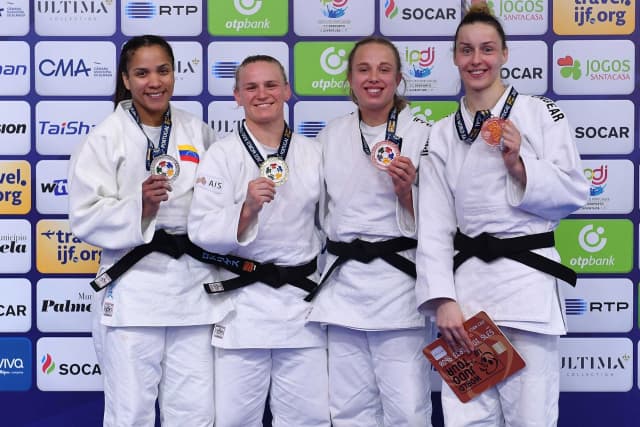 More images of the Grand Prix Portugal 2023 - CLICK HERE