The first and most noticeable thing to write is that the seeding for the top 3 in the category was respected perfectly, with Georgia's hero Shavdatuashvili sprinting from the top spot in round one to the semi-final. Ok, so it wasn't really a sprint, with two golden score contests, against Sulli (ITA) and Shamshayev (KAZ) but experience and will were the favoured tools and they did their job.
Number 2 seed, Brazil's Olympic medallist Daniel Cargnin, looked sharp on his way to the other semi-final, while in pool 4, the 3rd seed, Margelidon (CAN) endured almost 22 minutes spread over only 3 contests, defeating home athlete Axus in a marathon that resulted in the crowd's disappointment. 
The anomaly was therefore the 4th seed, Yuldoshev (UZB), who lost to Gaba (FRA), who subsequently lost to Kang (KOR), the unseeded 26 year old, who prior to Portugal last week had no results from the World Judo Tour. In Paris he chose to raise his ranking from 59 to new heights. We do note, however, that he was junior world champion in 2015 and so we cannot dismiss him as a total newbie.
Lasha and Cargnin continued their dominance all the way into the final, sending Margelidon and Kang to their respective bronze medal matches. The Canadian faced and lost to Shamshayev (KAZ) who had just beaten France's Gaba in the repechage. The Kazakh's o-uchi-gari scored waza-ari at the halfway point but that was enough to secure his bronze medal.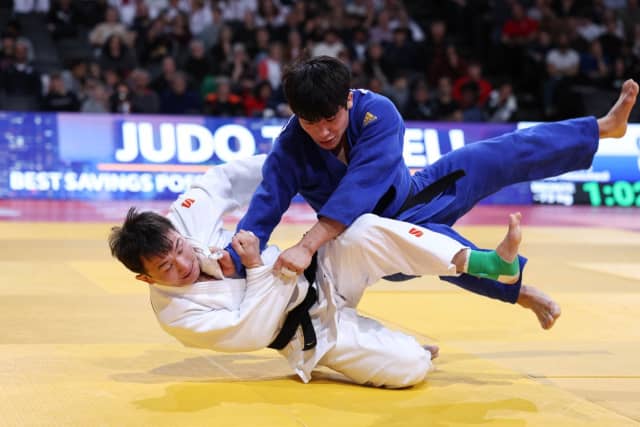 Kang (KOR) also lost his bronze medal match, thrown with a sumi-gaeshi for ippon at only 42 seconds into the contest. 
In the final, between the top and second seeds, the spectators were offered two Olympic medallists, two fantastic day one judoka, but the stronger of the two was the Georgian, clearly and spectacularly! He threw Cargnin just outside the first minute with a smooth left-sided koshi-guruma. Lasha have a big smile and a wave looking satisfied with his day's work. The world number one is still very much the world number one!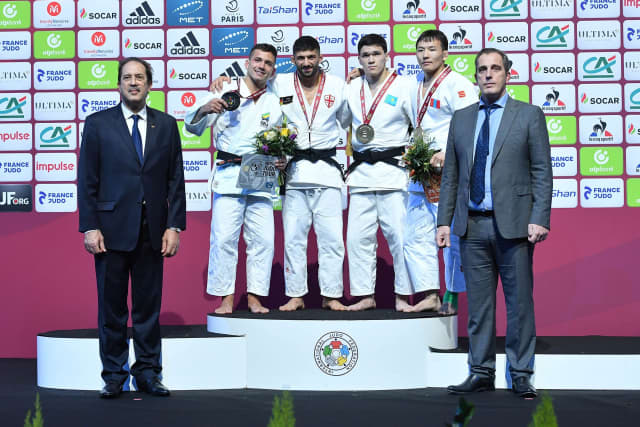 Final (-73 kg)
Bronze Medal Fights (-73 kg)