It was a true marathon if you wished to reach the final of the category as there were almost 60 athletes engaged. The best runners of the day were Zhansay Smagulov (KAZ) and Obidkhon Nomonov (UZB), who reached the final and competed for gold. With the early elimination of top seed, Sharkhram Akhadov (UZB), the draw table was quite open and offered chances to other athletes to shine.
Thus, Jose Antonio Aranda Olalla (ESP) had a really nice morning session, reaching the semi-final, while Adil Osmanov moved up to the quarter-final. In one pool, we followed with interest Jeroen Casse (BEL). If you don't know the name yet, it could mean that you are not following the World Judo Tour or that you didn't make the connection with another Casse, Matthias, Jeroen's brother, the 2020 world champion. Anyway, Jeroen produced some really clean judo today.
In pool C, Japan engaged their 2022 junior world champion. Still a little tender, he won two matches, before losing against future finalist Nomonov; not a bad result for Tanaka though. For sure, he will come back to the circuit again soon.
In the end, for the final, we saw Zhansay Smagulov (KAZ) and Obidkhon Nomonov (UZB) stepping on to the tatami. It took less than 15 seconds for Nomonov to score a first waza-ari after a dynamic start from the Uzbek athlete. The best defence being to attack, this is exactly what Nomonov did. He kept attacking, to score ippon just before the final gong and take the gold.
In the first bronze medal contest, it was Adil Osmanov (MDA) who faced Heoncheol Kang (KOR) for a spot on the podium. After a clear domination of Kang, the latter scored a first waza-ari, that was eventually cancelled after the video review. The time for golden score came and after thirty seconds of extra time, Kang scored a clear and indisputable waza-ari with a low rolling seoi-nage. This is the first medal in a grand prix for the Korean competitor.
There was another Osmanov in position to win bronze but this time Nurlam Osmanov of Azerbaijan, who met Jose Antonio Aranda Olalla (ESP). But it was written that Osmanovs were not meant to step on the podium today as Aranda Olalla scored a late waza-ari to take the bronze medal.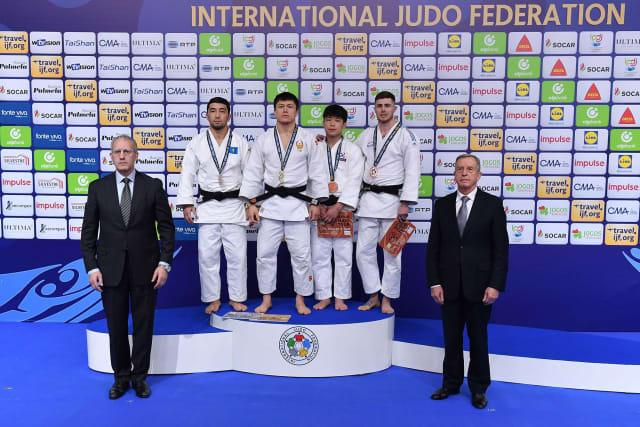 Bronze Medal Fights (-73 kg)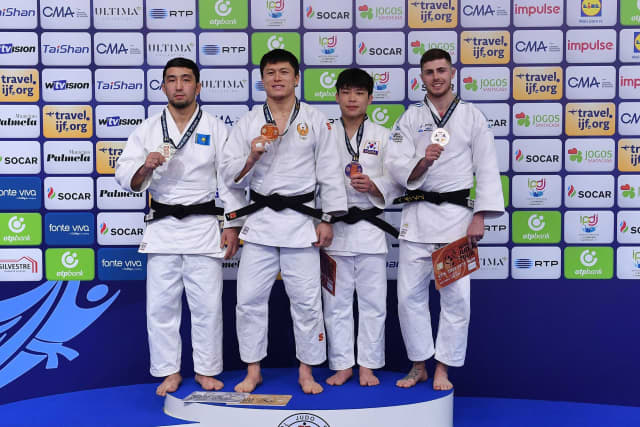 More images of the Grand Prix Portugal 2023 - CLICK HERE