If there was a judoka awaited by the public, who came in large numbers to attend the competition, it was Hidayat Heydarov. With his surfer haircut and spectacular judo, Heydarov is a darling of judo fans in Azerbaijan. Already the winner of 4 grand slams, two grand prix and the European championship titles in 2017 and 2022, he is one of those judoka that we like to follow. Capable of winning against all the fighters in the category, as well as losing against all, his judo is daring, with significant risk-taking, a mix of traditional and acrobatic techniques.
The spectators were not disappointed! Hidayat Heydarov eliminated Askar Narkulov (KAZ), Eric Ham (GBR) and Alexandru Raicu (ROU), before finding himself in the semi-final against Shakhram Ahadov (UZB). This was a tense match, neither capable of finding a real opportunity to throw. It would be a tactical win for sure. Supported by a loud audience, Heydarov eventually won as Ahadov was penalised a third time.
In the second half of the draw, it was Petru Pelivan (MDA) who made the biggest impression of the morning, as the Moldovan judoka qualified for the final to face the local hero.
Not impressed for a single second and stepping into the final with a massive smile on his face, Pelivan was the first to action with a dangerous o-uchi-gari but for no score. A few seconds later he was again dangerous on the same left-handed o-uchi-gari but that's exactly when Heydarov produced a technique out of nowhere. With a massive seoi-nage, he plunged under his opponent and as he was throwing he was already on his feet to celebrate the victory for the delight of the public.
The first bronze medal contest opposed Makhmadbek Makhmadbekov (AIN) and Daniel Lavrentev (AIN). Not a single penalty was given during normal time and the judoka entered the golden score period, cancelling each other out perfectly. Makhmadbekov was then quickly penalised twice and just as he was suffering under Lavrentev's pressure, the latter was penalised with a hansoku-make against the run of play, for a clear head dive. The bronze was Makhmadbekov's.
Salvador Cases Roca (ESP) and Shakhram Ahadov (UZB) competed for bronze too. Ahadov played it perfectly as he scored a waza-ari with a seoi-otoshi and then controlled and made sure not to go to the ground with Cases Roca, who was awaiting that desperately. The bronze medal was for Shakhram Ahadov.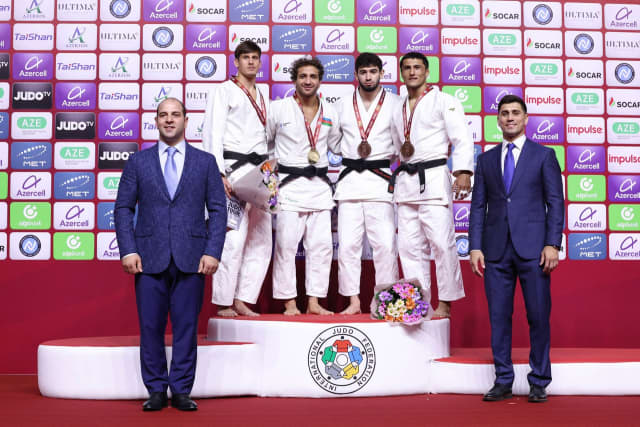 Bronze Medal Fights (-73 kg)