The number one seed, Emma Reid (GBR), knew that if she passed the first rounds, she would have to face Yelyzaveta Lytvynenko (UKR) in the semi-finals. European junior champion in 2022, then a bronze medallist at the World Championships in Tashkent last October, Lytvynenko is a rising star in the category. Tall, athletic and above all terribly efficient with her ample uchi-mata, she is starting to scare more than one in the category. Reid was no exception and was swept by Lytvynenko for a place in the final.
The turning point for Lytvynenko was a little earlier, in the quarter-final, against Majlinda Kelmendi's protege, Kuka. It took Lytvynenko almost twelve minutes to overcome her opponent, after a golden score that did not seem to end. Totally neutralising each other, the two competitors relied on penalties to decide between them.
For the title, the young Ukrainian found in front of her the Portuguese judoka Patricia Sampaio, determined to repeat the exploits of Timo the day before, who during her victory had triggered the cheers of the public.
Lytvynenko received a shido in the first part of the final, as Sampaio was clearly more active and was keeping her dream to win at home alive. The plan was in place: attacking, attacking and not letting her opponent breathe. A second shido did not take long to arrive. This is when Lytvynenko launched her first big attack with a massive sasae. The landing was not clear. Was it a waza-ari or not? Actually it was a penalty for Lytvynenko, as she had grabbed under the belt of Patricia Sampaio to execute her technique. Unfortunately that was a shido, a third one, that offered the gold medal to Patricia Sampaio; a second gold for Portugal.
The first match for a bronze medal was between Loriana Kuka (KOS) and Jeongyun Lee (KOR). The Korean judoka built up the pressure to force Kuka to be penalised twice. Constantly attacking, Lee's plan seemed to work, but she suddenly ran out of power and Kuka caught her on the floor with a pin for ippon. It was almost the perfect plan, almost. Eventually the bronze medal went to Kosovo and Kuka.
The second Korean in the category, Hyunji Yoon (KOR), found Emma Reid (GBR) on her route to the podium, determined to erase the disappointment of her previous defeat, which she did with a sound piece of work on the ground to pin Yoon for ippon with yoko-shiho-gatame.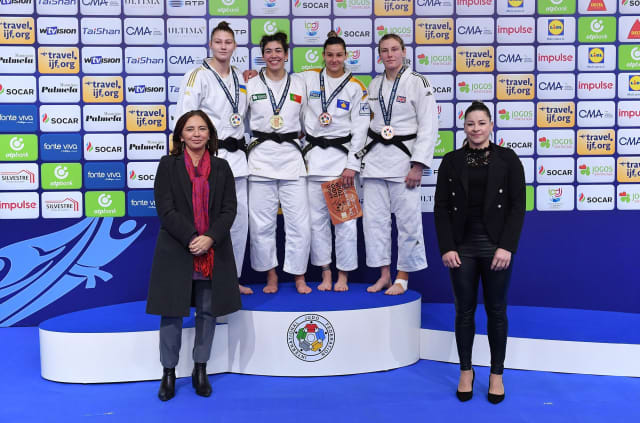 Final (-78 kg)
Bronze Medal Fights (-78 kg)