This does not happen often and therefore it deserves to be underlined, Matthias Casse (BEL) will not be on the -81kg podium and not even in the final block. Seeded number one, he won his first round against Ruslan Mussayev (KAZ), before facing Arnaud Aregba (FRA) who was completely within his reach. Lacking rhythm, Casse was nevertheless pushed into error and sent to the locker room prematurely.
This surprise defeat opened up the draw and increased the level of uncertainty in a category already so difficult to predict. Joao Fernando (POR) took the opportunity to reach the semi-final where he found Olympic medallist Shamil Borchashvili (AUT), visibly in great shape today. This was too much for Fernando, who was defeated by Shamil.
The brother of the aforementioned, Wachid Borchashvili (AUT), was the executioner of Attila Ungvari (HUN), who was known at a better party in Tashkent earlier this year, when he won the gold medal. It was ultimately Zelim Tckaev though, who ignited the crowd in the second part of the draw. The Azeri judoka indeed allowed the host country to dream of a new gold medal.
That dream became a reality as Zelim Tckaev totally dominated the final. Nobody can say that Shamil Borchashvili didn't try. The Olympic and world bronze medallist did try to throw but he just hit a brick wall. With less than a minute to go, the Austrian judoka launched an o-soto-gari that was purely blocked by Tckaev with o-soto-gaeshi for waza-ari. The gold medal was for him and for the host country, a second win for Azerbaijan for today and a new hero.
Author of a great competition, Antonio Esposito (ITA) met Nurbek Murtozoev (UZB) to win the first bronze medal. There was no real match as Nurbek Murtozoev quickly picked up three penalties for various reasons. The bronze medal was for Antonio Esposito.
Kenya Kohara (JPN) and Joao Fernando (POR) took to the tatami for the second bronze medal. With a clever ashi-waza, produced at the right time, the victory went to Kenya Kohara, who stays in the race for the Olympic qualification for Japan.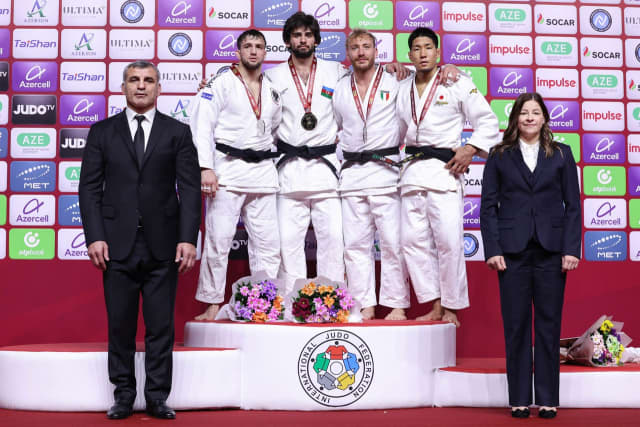 Bronze Medal Fights (-81 kg)