There a many ways a champion can be remembered. One of the most unique is to have a technique named after you.
Georgian great Shota Khabareli belongs in such a category.
The 1980 Olympic champion in Moscow was arguably the world's most famous practitioner of the obi tori gaeshi which is also known as yagura nage in sumo.
Khabareli, 60, who is in his second term as a Member of Parliament in his homeland, won world bronze in 1983 and claimed four European medals, spoke to the IJF on the final day of the 2019 Tbilisi Grand Prix and started by explaining how he took up the sport.
"This is Georgia, and the soul of Georgia is judo and wrestling, this is connected to our genes. I chose judo instead of wrestling because judo was always more popular here, you can see that today by the attendance we have at this Grand Prix.
"I always liked judo and my older brother practiced the sport and pushed me to pursue it. My main motivation was Shota Chochishvili, our 1972 Olympic champion. He lived near me in Kareli, a town in Shida Kartli, next to Gori. Chochishvili was the first Olympic judo champion from the Soviet Union and when I watched how people treated him, the attitude, the love they had for him, I had my inspiration to be successful."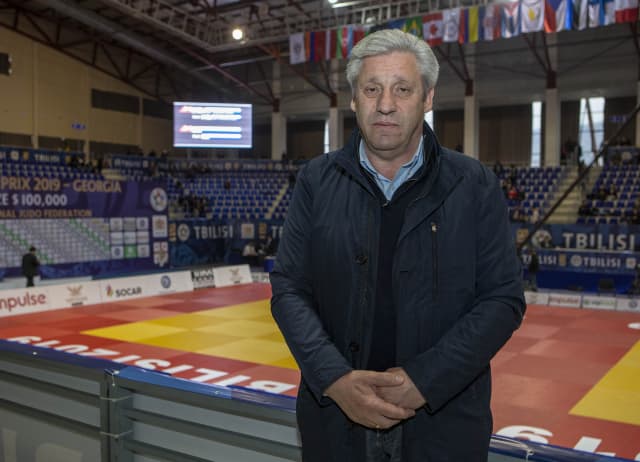 His name was loaned to his most successful technique and to this day, all around the world, this terminology is used in dojos and in competitions.
The roots of the technique and his special ability to perform it can be traced to Georgia's traditional form of wrestling, known as Chidaoba.
Chidaoba is a key part of the Georgia's national identity and history, and in 2018 was added to an UNESCO Intangible Cultural Heritage list.
"The main activity for a young Georgian competitor is Chidaoba, every judoka, every wrestler has at some point took part in this and has been influenced by it. The main throws of Georgian judoka come from this. Many sportsman can do perform these techniqes well in my country but I was fortunate that I knew Chidaoba inside out and was an expert at it.
"I developed my obi tori gaeshi because of this and I'm a very happy man now that in the while world this technique carries my name. In the future when I will not be here my name is still remaining in judo and beyond."
Khabareli even took part in the national championships in his homeland in 1981, one year after winning the Olympic Games in the Soviet Union.
"The feeling of winning the Olympics is almost impossible to describe, I can't explain it. At the time was there a strike in the Soviet Union at the Moscow 1980 Games, before everyone returned in Los Angeles in 1984. I was from the Soviet Union but I was Georgian and the foremost thing I thought at that second, when I won the Olympics, was how will people feel in Tbilisi, in my native land, in my Georgia. I felt this at the time on the tatami.
"I was the champion at -78kg, but in 1981 I entered and won our Chidaoba championships in the openweight category. This is the greatest honour for Georgian's, it's our national sport, how could I dare not to take part."
The Georgian legend provided some insight into the technique itself and why it worked.
"The main thing what makes my technique unique, is that using this technique you can get off balance any opponent, even the most technical and the most experienced judoka. The action is privileged, as you can see, the most successful Georgian judoka are doing it even now, this is what we do, it's our soul.
"I know Neil Adams still mentions my name when he describes this technique and I appreciate that. He's a real professor of judo, a technical expert, we had many great contests together and fortunately I was able to beat him several times but only thanks to this technique."
Khabareli naturally enjoys talking about his life and success in the sport but is keen to recognise the achievements judo has made in recent years.
"Judo has changed dramatically over the last 10 years, but still this technique remains, and as a Georgian speciality, you take the grip over the shoulder and go for it. "I like many things about what I've seen at the Grand Prix this weekend. There have been many changes from my era which judoka of my generation even could not imagine. I understand this is for the good of judo. Judo has become more dynamic and more exciting because of the changes. Judo is now one of most popular sports in the world and I would say amongst the best five sports in the world.
"The most important thing is that I would like to say all the changes from IJF President Mr. Marius L. Vizer and his team, the rules are better and now well established and the competition looks excellent. Judo is at the forefront now."