Since 1971, the year of the first edition of the 'Tournoi de Paris', now a Grand Slam event, the moment of the draw that took place today under the main tribune of Bercy, is still feverishly awaited by the delegations that made to trip to the French capital.
This tournament, which launches the Grand Slam season has become over the years a real institution and one of the most competitive tournaments on the IJF World Judo Tour. Winning in Paris, getting on the podium, and even being able to pass several rounds, is always a big test and a great moment in the career of an athlete.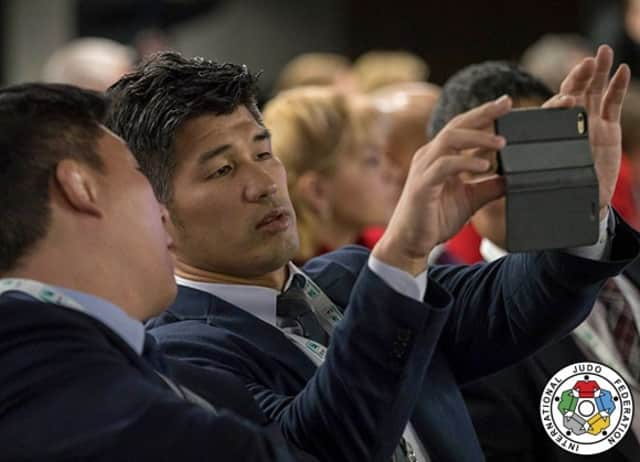 Above: Kosei Inoue (JPN) head coach of the Japanese team during the draw
For this 2018 edition of the Paris Grand Slam, there are 403 athletes from 71 countries who will be present during the next two days in the AccordHotels Arena (formerly Palais Omnisports de Paris Bercy) in front of a packed room of more than 15,000 spectators. The magic of the Paris Grand Slam lies in these few statistics as it is difficult to compete with such a fervour and such a crowd that has eyes only for all the champions.
While 14 weight categories will be in contention on Saturday and Sunday, no less than seven world number ones will be in action. Winning in Paris will earn 1000 points, which could upset the World Ranking List after the weekend, and two weeks prior to the second Grand Slam of the season to be held in Düsseldorf.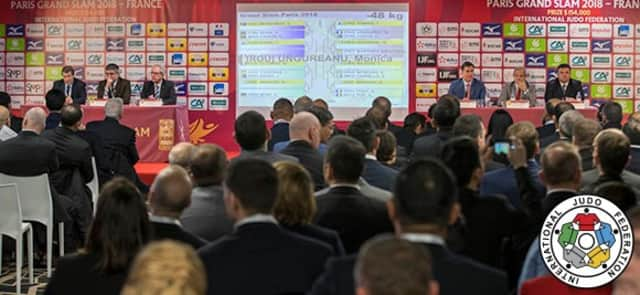 Official draw of the Paris Grand Slam 2018
The draw is also a great moment of gathering of judo supporters, as within the space of thirty minutes, coaches from around the world, officials and referees get together to discuss the state of world judo. And when a judoka meets another judoka ... they tell each other stories of judo. This was again the case here in Paris, where, before the tension linked to the expectation of the draw could be read on the faces, embraces and smiles that were on the menu of the day. After the welcoming speeches by Juan Carlos Barcos, IJF Head Referee Director, and Jean-René Girardeau on behalf of the French Federation, a tense silence gave way to the small music that accompanies the draw which can now be consulted at the following address: https://live.ijf.org/#!/gs_eng2018/
At the same time, dozens of technicians were at work in the competition hall that tomorrow morning, from 10am, will host the first matches. In the meantime, the heads of delegations will have informed their athletes about the vitally important draw. Some will want to know who will be their first opponents, others will simply want to know the time they should cross the breach to access the competition hall and plunge into the boiling arena. Taking place on four tatami, the preliminary phases will leave room for the final block, which will start at 5pm local time, on two tatami.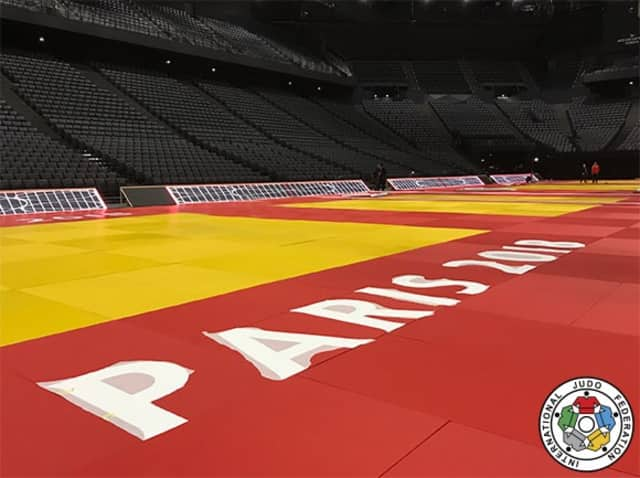 Above: The venue is getting ready to welcome 403 athletes from 71 countries and 15,000 spectators
We invite you to discover below the main athletes to follow during the weekend, knowing that in Paris, perhaps more than anywhere else, nothing is written in advance and if some, on paper, seem to be in good shape, everything can evolve as the course of the day unfolds.

PREVIEW WOMEN
-48kg
Former world champion MUNKHBAT Urantsetseg (MGL) has medalled in her last 10 events since finishing fifth at the Rio 2016 Olympics. The world number one is a six-time Paris Grand Slam medallist and won here in 2015. Reigning world champion TONAKI Funa (JPN) took bronze at the Tokyo Grand Slam before winning the World Judo Masters to conclude her 2017. European champion Daria BILODID (UKR) won the season-opening Tunis Grand Prix to maintain her record of only once leaving a senior event once without a medal. The 17-year-old sensation, who exited her first senior World Championnships in the third round against Otgontsetseg GALBADRAKH (KAZ), is already a two-time Grand Prix winner and makes her Grand Slam debut in Paris.
-52kg
World Judo Masters silver medallist Amandine BUCHARD (FRA) finished 2017 on a high note with an emotional bronze medal win in Tokyo before gracing the final in Russia at the Masters. The 22-year-old home judoka took bronze in Paris in 2014 and needs to be winning medals on domestic soil while former Abu Dhabi Grand Slam Astride GNETO (FRA) will have the same goal. The Hague Grand Prix winner Distria KRASNIQI (KOS) opened her season with silver at the Tunis Grand Prix and will be looking to improve on her bronze medal from a year ago in Paris. Junior world champion and Tokyo Grand Slam winner ABE Uta (JPN) was unbeaten internationally in 2017 and opens her 2018 season by making her Paris debut.
-57kg
World silver medallist YOSHIDA Tsukasa (JPN) is a six-time Grand Slam winner but has never won in Paris. YOSHIDA, who is the leading contender for -57kg selection in Japan at this stage, will avoid world champion DORJSUREN Sumiya (MLG) this time as the Mongolian has withdrawn due to a neck injury. Olympic bronze medallist Telma MONTEIRO (POR) won here in 2012 and 2015 and will be confident of sealing a hat-trick of wins in the French capital on day one. World Judo Masters bronze medallist Helene RECEVEAUX (FRA) also picked up bronze medals at the World Championships and European Championships last year in addition to a silver medal in Paris. This will be the eighth Paris Grand Slam for RECEVEAUX and her medal tally should be bolstered on Saturday.
-63kg
World champion Clarisse AGBEGNENOU (FRA) won bronze at the World Judo Masters in December and opens her 2018 campaign at home this weekend. Olympic silver medallist AGBEGNENOU, 25, has won the Paris Grand Slam three times and is the overwhelming favourite at home despite the inclusion of Olympic champion and world silver medallist Tina TRSTENJAK (SLO). Tokyo Grand Slam winner and World Judo Masters winner TASHIRO Miku (JPN) is out to spoil the domination of the division by the aforementioned champions and is only missing a gold colour medal from her Paris honours.
-70kg
World champion ARAI Chizuru (JPN) finished with silver at the Tokyo Grand Slam in December after slipping to defeat at the hands of her teammate ONO Yoko (JPN). ARAI is the defending Paris Grand Slam champion, a result which was crucial to her first world title victory, and the Japanese star will wear her red backpatch outside of Japan for the first time. World Judo Masters bronze medallist Marie Eve GAHIE (FRA) is yet to open her medal account in Paris and will be a leading contender while Olympic bronze medallist Sally CONWAY (GBR) and world silver medallist Maria PEREZ (PUR) will all be front-runners at the first Grand Slam of the year.
-78kg
World number one Guusje STEENHUIS (NED) is the top seed for the -78kg category on Sunday. The Dutch standout took control of the category with a bronze in the Masters to pocket a $50,000 bonus and begins her new season in Paris. Former world number one Natalie POWELL (GBR) won her first World Championships medal in 2017 and earned a impressive bronze medal a year ago in France. UMEKI Mami (JPN) is another fellow former world champion in the mix in Paris and missed the podium in her only appearance at the French Grand Slam in 2016. Double Olympic medallist Audrey TCHEUMEO (FRA) won the world title in Paris in 2011 and is one of the leading champions of her star-studded team.
+78kg
World number one KIM Minjeong (KOR) captured the World Judo Masters title in December to rule the rankings for the first time in her career. KIM clinched bronze in Paris last year and will be in contention this year while world bronze medallist Iryna KINDZERSKA (AZE) has flourished in the Azerbaijan regime having switched from representing Ukraine in 2017. World number nine KINDZERSKA took silver at the Abu Dhabi Grand Slam and competes for the first time this year in Paris. Junior world champion SONE Akira (JPN) is a two-time Grand Slam silver medallist at 17 years old and will compete at a Grand Slam on international soil for the first time on Sunday.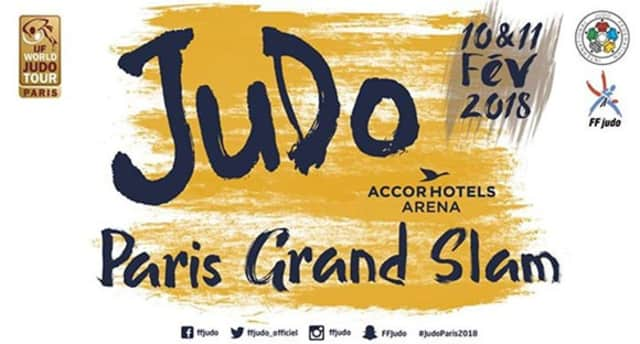 PREVIEW MEN
-60kg
Zagreb Grand Prix winner and 10-time Grand Slam medallist Amiran PAPINASHVILI (GEO) is the top seed for the men's lightest weight category on Saturday. World number six PAPINASHVILI clinched bronze here a year ago and will take some stepping at the first major of 2018. SHISHIME Toru (JPN) won here in 2016 and could lead the way for Japan while World Judo Masters bronze medallist Sharafuddin LUTFILLAEV (UZB) and former World Judo Masters silver medallist Vincent LIMARE (FRA) both possess the quality to come out on top at the Bercy.
-66kg
Abu Dhabi Grand Slam winner and world number two Tal FLICKER (ISR) will be bidding for his first ever medal at the Paris Grand Slam on Saturday. The former world number one finished seventh in Paris last year and will need to be at his best to improve on that result with a stacked roster present this weekend. The Hague Grand Prix winner YONDONPERENLEI Baskhuu (MGL), World Judo Masters bronze medallist Baruch SHMAILOV (ISR), Olympic silver medallist AN Baul (KOR) and world bronze medallist Vazha MARGVELASHVILI (GEO) are all capable of coming out with top spot.
-73kg
London 2012 Olympic champion and Rio 2016 Olympic bronze medallist Lasha SHAVDATUASHVILI (GEO) is the number one seed in the -73kg category. World Judo Masters silver medallist SHAVDATUASHVILI has never medalled in Paris but could change that this weekend as Georgia look set to be one of the most influential teams. World bronze medallist AN Changrim (KOR) took silver here last year having won in Paris in 2016 and the South Korean star will be brimmed for success at his first outing of 2018. World Judo Masters bronze medallist Tommy MACIAS (SWE) is up at sixth place in the world and could come into his own in this Olympic cycle.
-81kg
Paris Grand Slam reigning champion Frank DE WIT (NED) is back in 2018 ready to defend his crown. The 22-year-old, a surprise winner last year, went on to win the Abu Dhabi Grand Slam and claimed bronze medals at the Tokyo Grand Slam and World Judo Masters to conclude a stellar season. Zebeda REKHVIASHVILI (GEO) took silver in the Paris Grand Slam 2017 tournament while Tokyo Grand Slam winner OTGONBAATAR Uuganbaatar (MGL) and Pan American Championships silver medallist Emmanuel LUCENTI (ARG) can also trouble anyone in the category on their day.
-90kg
World Judo Masters winner Beka GVINIASHVILI (GEO) is a three-time Grand Slam medallist and is ready to steal the show in Paris. The 22-year-old is poised to mount his strongest challenge ever as he looks to medal for the first time in the famed Grand Slam. World Judo Masters bronze medallist NAGASAWA Kenta (JPN), Abu Dhabi Grand Slam winner Nikoloz SHERAZADISHVILI (ESP), former world champion GWAK Donghan (KOR) and European silver medallist Axel CLERGET (FRA) give an indication of the immense level of talent on display in one of judo's most competitive divisions.
-100kg
World number one Michael KORREL (NED) closed out 2017 with bronze at The Hague Grand Prix, and silver medals at the Tokyo Grand Slam and World Judo Masters. KORREL, 23, won bronze in Paris in 2015 and will be one of the favourites on Sunday. Openweight World Championships silver medallist Toma NIKIFOROV (BEL), current Paris Grand Slam champion IIDA Kentaro (JPN), World Judo Masters winner Varlam LIPARTELIANI (GEO) and Portuguese powerhouse Jorge FONSECA (POR) – who has a habit of producing the spectacular in Paris – will be out to shine on Sunday.
+100kg
World Judo Masters winner Guram TUSHISHVILI (GEO) finished fifth in Paris last year before his meteoric rise towards the top of the category. The 23-year-old, who is the number two in the world, won the Baku Grand Slam and European Championships last year and gave two courageous performances against double Olympic and 10-time world champion Teddy RINER (FRA) who will not compete this weekend. Olympic champion Lukas KRPALEK (CZE) has won two Grand Prix since stepping up to the heavyweight field and is improving with every competition as he gets more experience under his belt against the biggest and the best at +100kg. KRPALEK took silver at the Tokyo Grand Slam in December and could record the greatest win of his brief heavyweight foray on Sunday as he looks towards an inevitable showdown with the great RINER.
PROGRAMME
Saturday 10 February
Preliminary rounds - 10:00
Final Block - 17:00
Sunday 11 February
Preliminary rounds - 10:00
Final Block - 17:00