It's day one of the Commonwealth Games judo event in Birmingham, Great Britain and the judo has been dynamic and fun throughout.
-48kg
Likmabam (IND) dominated the gripping and stayed sharp throughout, really robust but very fast too. Whitebooi (RSA) has shown clear thinking and some strong transition today but in the final the South African stayed standing and launched an expertly timed o-uchi-gari at the beginning of golden score and took a waza-ari and a gold. She gave a great big smile and really showed how much it meant to her.
Bronzes were won by a very happy Amy Platten (ENG) and Malta's Esposito. For Platten it was a day of employing clean technique to reach the podium. For Esposito it was about overcoming expectation. She was absolutely an underdog and lacking in experience compared to others but she fought from her heart and was a worthy medal-winner.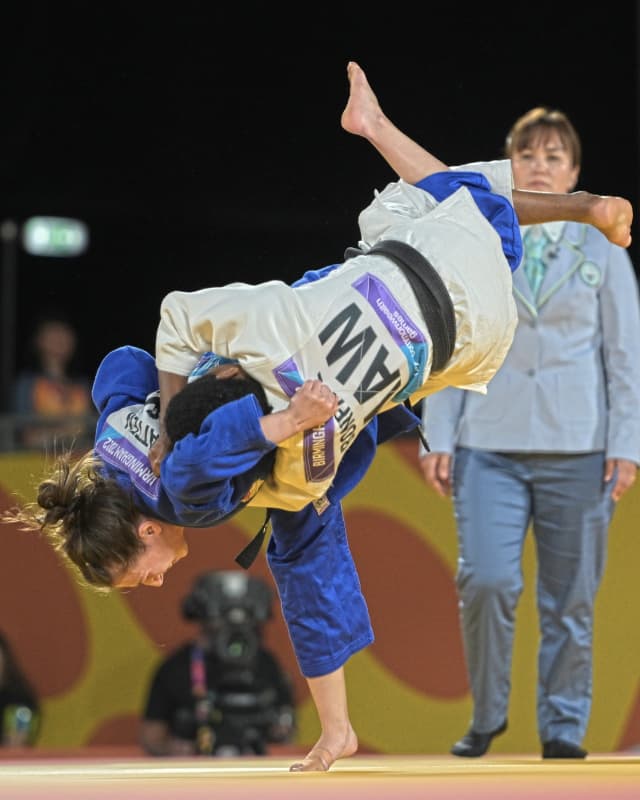 -60kg
Josh Katz (AUS) was disappointed with his day but still took the first bronze medal with a mature performance. He wanted to show more but completely neutralised the momentum-based judo of Zulu (ZAM) in that bronze medal contest and it showed real poise. Zulu had been surprising opponents all day with his dynamic and unpredictable style, such as the powerful left-sided koshi-guruma used against Rabbit (WAL) for a place in that bronze medal match.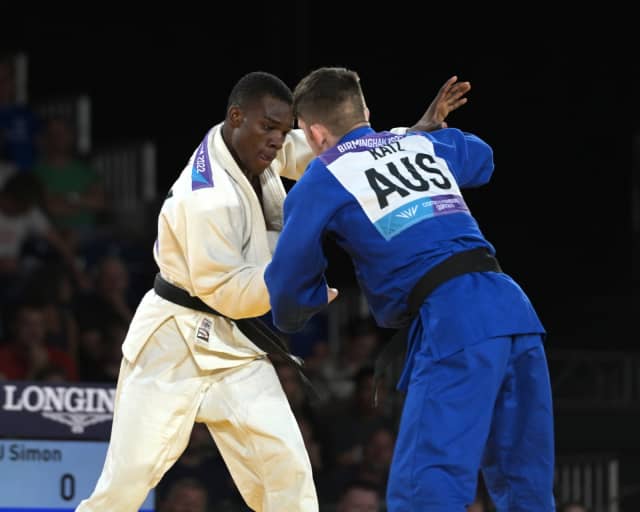 The other bronze was won easily by Yadav (IND), more experienced than the 17 year old Cypriot. Christodoulides had a great day to that point and is one to keep an eye on for the future.
The final between Hall and McKenzie, both from England, was eagerly awaited and opinion was pretty divided on which way it might go. McKenzie, however, was absolutely sure about who would win, throwing for two scores in the first three exchanges. It was a fast victory and one he relished.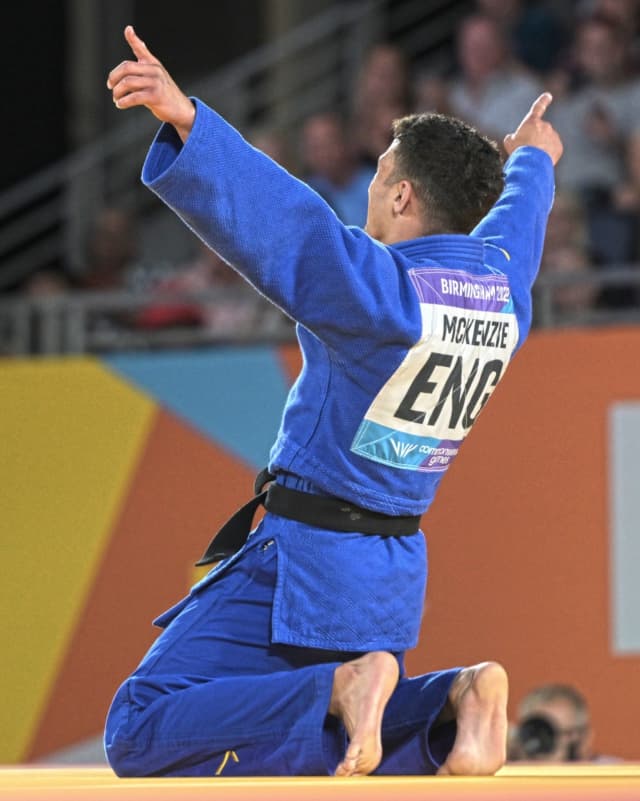 Ashley, "When I first came out for the final and heard Sam's name I was nervous but once I heard my name and the cheers I was ready. I hope everyone's proud of me and Sam and I look forward to more medals for England."
It was special to see this category have their medals presented by Japan's three-time world champion and now technical coach in Wales, Masahi Ebinuma.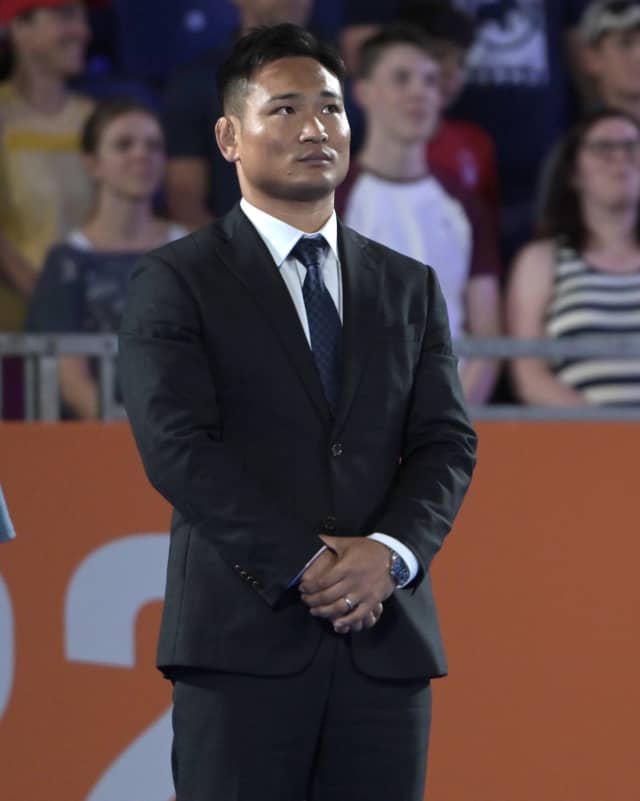 -52kg
Javadian (NIR) dominated throughout against Ferreira (MOZ), with particularly strong sangaku attacks via transition. The first bronze was rightfully hers. The second went to Griesel (RSA) from a confident sumi-gaeshi and a continuance that resulted in an ippon scored from juji-gatame.
The final between Kelly Deguchi (CAN) and Australia's Tinka Easton was a little more awkward than Canada expected. Canada have really brought their A-team and at -52kg they had their first chance to show their superiority. Deguchi hunted the ne-waza in every exchange although at two minutes to go Easton came close to winning on the ground with a very fast but unsuccessful turnover. Deguchi seemed satisfied to chop down instead of trying to throw for parts of the match but she kept the pace high and Easton accumulated a couple of penalties. Canada didn't envisage the change in the run of play though and right at the beginning of golden score the Australian found an uchi-mata-maki-komi and despite huge resistance, drove it to the floor for a waza-ari and the gold. Deguchi looked irritated with herself but Easton looked to be in disbelief.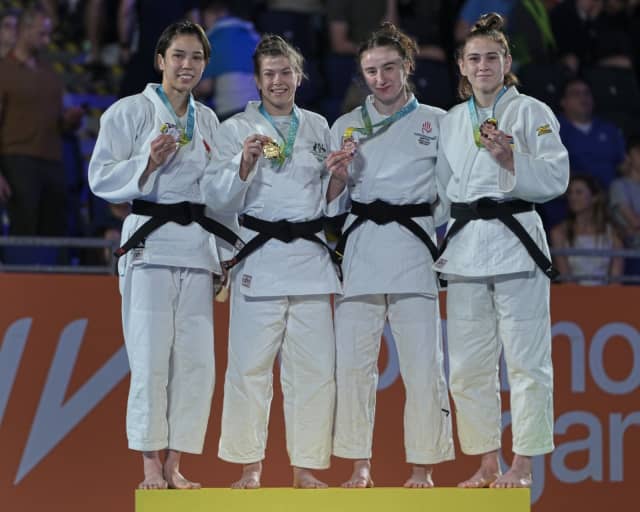 The IJF's Director General Vlad Marinescu was a member of the medal presentation party, having been very vocal at the draw and in the media about the importance of this event on the calendar. The IJF's support for the event has been long term and continuous, evidenced by the high ranking officials in attendance and also by the number of World Judo Tour competitors present.
-66kg
Nathan Katz AUS) and Saini (IND) faced off for the first bronze. Saini has come close to grand slam medals in the past and is no pushover, strong with attacks straight off the grip, just the way he fought to win the gold last week at the World Police and Fire Games in Rotterdam. For Katz this was about regaining his place on the tatami following injury and some major disappointments around the Tokyo Olympic Games. Saini really led from the off, being very aggressive, delivering two shido to Katz in the first two and a half minutes but with only 6 seconds to the bell, Nathan put in his first really strong attempt of the match and threw the Indian for Ippon using a brilliant spinning action.
The second bronze was fought for with similar urgency and drama but was very tactical in the gripping phases. Burns (NIR) looked to be building into the fight, getting closer and closer to scoring with the seoi until his opponent Short (SCO) was penalised. Short responded correctly but an incredibly powerful okuri-ashi-barai from Burns brought an undisputed ippon and the medal.
The final between the left-handed Balarjishvili (CYP) and right-handed Allan (SCO) was scrappy to begin with. The first score came at the halfway point with Allan looking dominant on the gripping but the Cypriot used a lapse in judgement from the Scot ons threw from a pressured position for waza-ari. Allan piled on the heat from there, almost strangling but not quite finishing it and then chasing him down. Balarjishvili held on, despite 2 shido, and won the gold. It was noted that Finlay Allan never looked tested in terms of fitness, an impressive level of conditioning; a great silver medal for him.
-57kg
Tariyal (IND) and Legentil (MRI) fought it out for the first bronze medal, in a scrappy meeting that looked like ending in penalties and not in favour of the Mauritian but with 12 seconds left on the clock Legentil twitched and caught a tidy little ko-uchi-gari that sealed the victory.
Scotland's Malin Wilson and England's Lele Nairne fought for the second bronze. The crowd were loud for Lele and that undoubtedly spurred her on. It was a high-paced contest with both fighters looking strong and determined. Wilson controlled a great exchange on the ground but after almost a minute it was stopped for a restart. Almost immediately it went back to ground and with super-strong attacks there from Wilson. Both women took chances and hunted for the big win but with no let-up in ne-waza. As it went into golden score the to and fro and continued and the explosive effort from both was exciting. At 4 minutes into golden score we could have expected it to be getting less attractive but the judo was anything but that, fiery from start to finish. Eventually a 3rd shido for Nairne finished the match but it seemed like a deflating final score line after more than 10 minutes of impressive, nail-biting exchanges. That was the hardest fought medal of the night.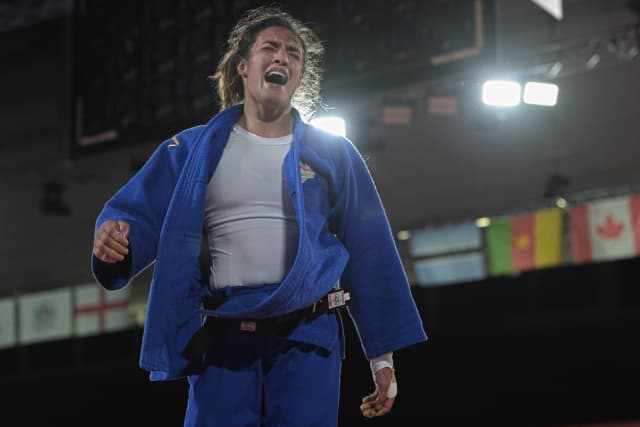 The final between 2019 world champion and Toprak from the home nation couldn't compete with the intensity of the previous match. Toprak didn't look intimidated by her opponent's CV even for a second, always pushing hard for the first grip. An incredibly fast osoto-otoshi from the Canadian had to be reviewed; it took everyone by surprise, but the score was waived off as the landing didn't meet the criteria for waza-ari. It seemed to annoy Deguchi and she opened up and made it impossible for Toprak to squeeze in her own attacks. It went into golden score and team England enjoyed their girl then taking a breath applying a new heavy grip and forcing two poor drops, the second of which almost produced a positive ne-waza situation for Toprak. A minute into extra time and at 2 shido apiece, Deguchi finally hooked on to an outside leg and managed to finish with a big ippon. Gold for Canada and a brilliant silver for England.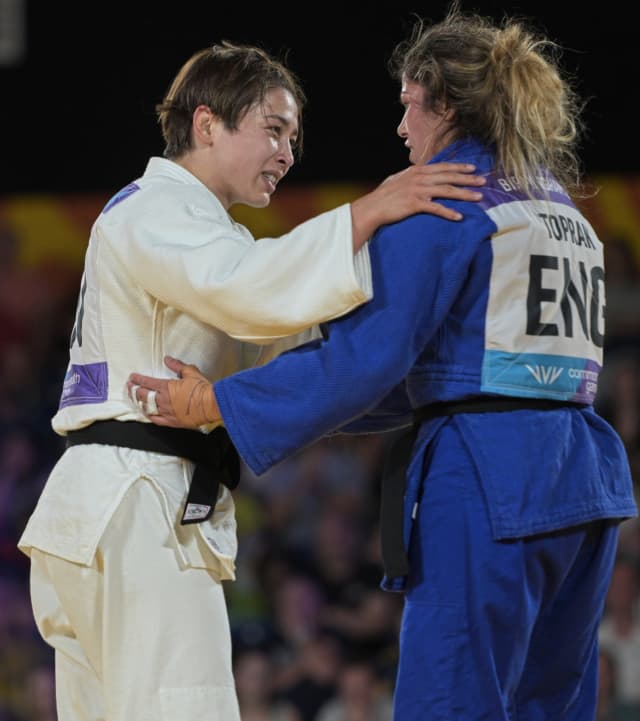 As the first day in Birmingham came to a close Australia's Katz and Katz plus Canada's Deguchi and Deguchi could have filled a podium all by themselves, with bronze, bronze, silver and gold respectively. We talk about the judo family a lot but here it's taken on a literal tone.
Day 2 promises to be no less spectacular and you can follow online through BBC Sport and the official Birmingham 2022 website.