It's been such a long time since we wrote about live judo and for our first 'day 1' since the world locked down in March, Nicolas Messner (IJF Media and Judo for Peace Director) and I (IJF Media Team) joined forces to discuss the action and the return to the World Judo Tour.
This day promised to be special but we had no way of knowing what would be presented, who would shine, who might stumble. All the months of missing our elite judo and not being able to enjoy the spectacle of a World Judo Tour event have left us with a broad anticipation that feels less refined than our expectations pre-Covid.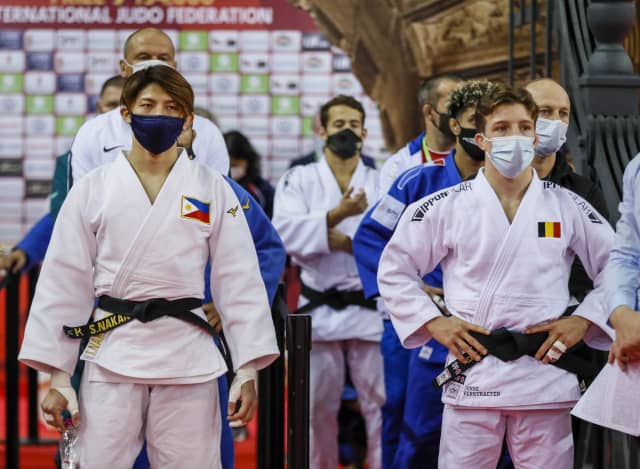 What would be the impact of the health protocol on competition? How would the referees manage after this pause? Would we find nerves and hesitation at the forefront of our viewing? These questions deserved to be asked.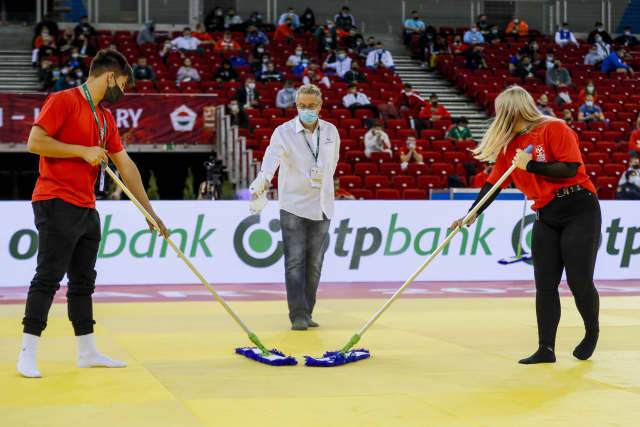 The least we can say is that everything went wonderfully, despite the pressure weighing on the organisers and the athletes. At the end of this first day of Grand Slam Hungary, we can therefore breathe a long sigh of relief and say what a pleasure it has been to see this beautiful high level judo again.
The answers to all the questions came fast and were clear. The nerves were as normal, the sharpness of the judo was never in doubt, not fragile, just there and strong and spectacular. The referees looked as if there had never been time away and the protocols seemed natural; after all we now live in a new normal.
If we limit ourselves to the visible part of the iceberg, that is to say what was happening on the three tatami of the arena today, everything was in line with a major judo competition: athletes ready to battle, focussed judo and engaged referees. Yes, there were a few signs that showed that the situation was not quite what we are used to, with brief stops for cleaning the tatami, the empty stands and the careful use of masks by everyone. We saw some judoka shake hands and some froze, not sure if they could bring themselves not to have that special contact. They will find their way, as we all will. At this grand slam we can see the adaptation before our eyes, a key component of a life in judo.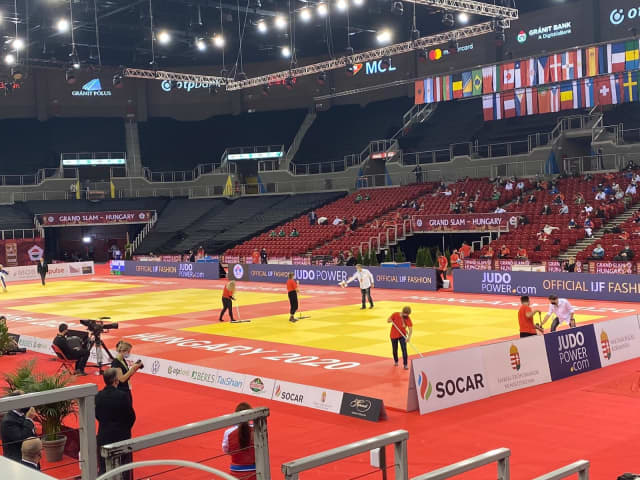 After several hours of judo, there was something else that struck the minds of regulars on the world circuit: the noise, or more exactly, an absence of noise as we are used to hearing it. The stands did not rustle with encouragement from the public; it was as if we were diving into the very heart of the peaceful clashes between athletes who had dreamed of nothing but this for months. You could hear the sliding of the feet on the tatami. By closing your eyes, you could even recognise a movement that launched an attack. It was possible to determine whether the competitors were standing or on the ground. We could feel their breathing, we could almost hear their heartbeat.
In the background, listening, we could hear the encouragement and advice of the coaches and team-mates. For anyone interested in this, there was a lot to learn. It was strange and at the same time enriching.
For sure, we love the public and we need it. It's an integral part of the sporting spectacle, but let's stay positive, because its absence allowed us to discover something else and that is also a valuable part of this experience. For the Hungarian athletes, it was probably not easy, because normally the support of the home crowd is crucial through the course of a day of competition, when you are on your doorstep. Maybe this dynamic will have an impact on home athletes at future events in all countries. Today the Hungarian people had their medal, from Karakas at -57kg and it is satisfying to understand how proud she will make the local organisers and her federation, after their extraordinary effort in staging this event.
Technically speaking, this first day also taught us a lot about the state of the troops. For months, it has seemed that the competitors have had to put their careers on hold. This is not entirely correct though, because today's evidence shows that the lack of competition did not dictate a stop in training. We saw men and women ready to resume competition. We saw a physicality that had been trained and pushed and honed with pinpoint precision. The contest between -57kg number 2 seed Nora Gjakova (KOS) and Helene Receveaux (FRA) brought power and movement and continued to do so through 9 hard minutes. There is nothing like golden score to expose any flaw in conditioning and these two fighters impressed, with the French judoka taking the win in the end. She managed to apply a tactical scheme, prepared with her coaches, without flinching and she wore down her opponent, who was penalised a third time. Her method carried her well all day and she was clearly elated to be in the final. A loss to the Canadian number 1 seed in the final, Jessica Klimkait, only, but an accomplished tactical and physical performance from start to finish. Both finalists deserved their place on the podium.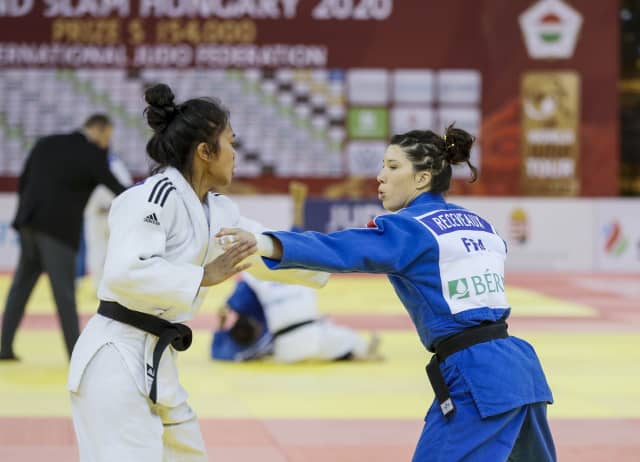 Kosovo's Distria Krasniqi (KOS), imposed her strength on the -48kg category to reach the final. Against Csernoviczki (HUN) she showed incredible pace, to crucify her opponent on a superb o-soto-gari. Rhythm, precision and preparation were on display and many athletes have shown this today. In the final the Kosovan was fighting the Olympic champion, Pareto (ARG), but did not give her a chance. After only 12 seconds she scored with a massive o-soto gari for waza-ari. She really dominated throughout.
It should also be noted that all this talk of power does not hide a lack of competition. There were some missed opportunities and occasional hesitations, but how could we blame those who have not been able to face each other for such an unthinkable number of months. This grand slam is a recovery and it is therefore quite logical that the technical-tactical schemes are not yet fully developed for some. It will come and what we have seen is encouraging. You could see a lack of upper body control over certain actions that resulted in false attacks, even though this was not the intention. Perhaps with such an emphasis on the physical work, since March, some competitors lack technical benchmarks to pass the barrier of the arms, especially if the latter have become more powerful.
It should also be noted that double world champion Bilodid (UKR) started her day well, but that she quickly found in her way athletes a little heavier and therefore more powerful than her, many seasoned in the -52kg weight for a decade or more. This illustrates perfectly the need for weight classes and also that experience must be respected. Four kilograms may seem marginal, but at this level they are not. The Ukrainian looked most unsatisfied with her bronze medal but her coach and mum understood and kissed her to show approval. Bilodid always exhibits a winning mentality and any loss, especially when the pedestal is so high, is tough.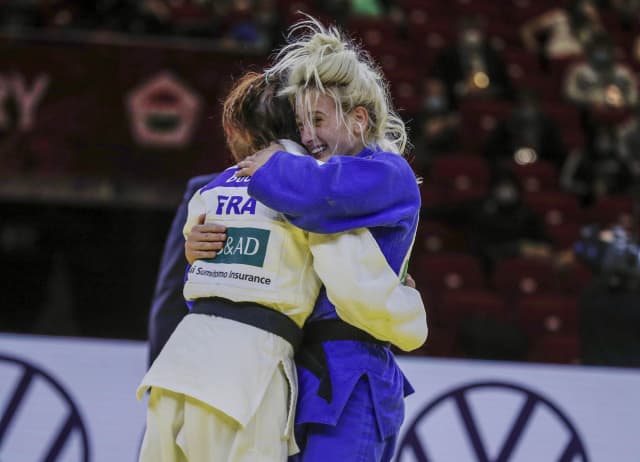 Stojadinov of Serbia was perhaps a surprise addition to the podium today, showing her joy, just as Mkheidze (FRA) did at -60kg. This grand slam has given us a real mixture of some consistent, regular medalists and some first-timers and no matter how much we enjoy the robust almost-guarantees, maybe we enjoy even more the rise of the next champions, when they bounce off the tatami and rejoice internally and with their happy teams.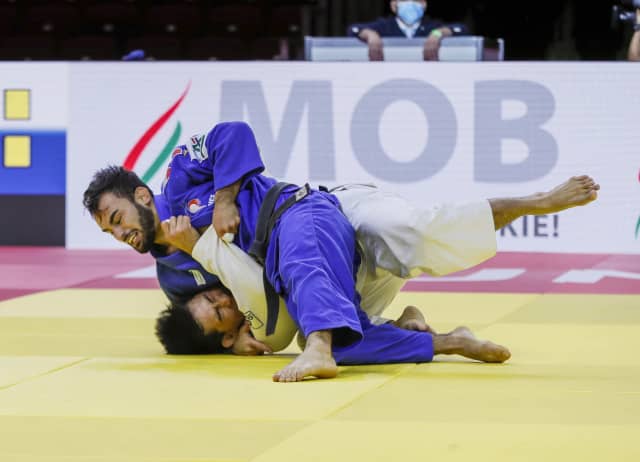 There must be some relief and happiness in the Russian camp this evening as they walk away with all four medals from the men's finals. They've set the bar for all other countries to reach and they've set their own target for the remainder of the weekend.
Day one is complete and there is still excitement knowing there are two more days. In Hungary the heart of judo beats and it beats hard.