Day three of the Upper Austria Grand Prix 2023 concluded with the final five categories in play: -90kg, -78kg, -100kg, +78kg and +100kg. This represented 96 men and 42 women, thus 138 athletes in total.
If five gold medals were therefore distributed to Hungary, Brazil, Germany, Czechia and Japan, it was also hundreds of smiles that lit up the faces of the participants and the organisers after this first edition of the event, which we can say was a success. All those smiles illustrate the hard work of the 250 volunteers, the organisers and the IJF, as well as the performances of the medallists.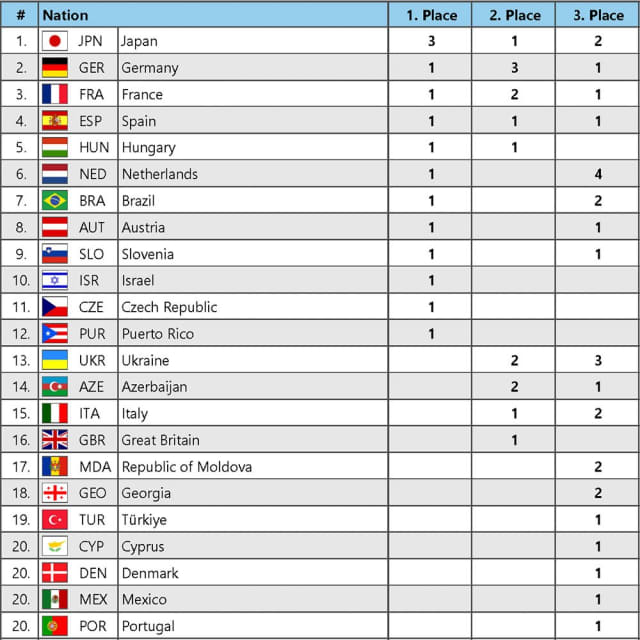 For the others, those who will depart from Linz without a medal, it was a good test all the same, before we move on to the next stage of the World Judo Tour. This will be in Dushanbe, Tajikistan, for what is, as in Austria, announced to be the first event of the name: the Dushanbe Grand Prix 2023.
Before we enjoy the Tajik hospitality, let's celebrate one more time the winners of the Upper Austria Grand Prix 2023. Thus today we had again a variety of winners. The final block offered us some outstanding techniques, like Leonardo Goncalves (BRA) throwing Louis Mai (GER) with a beautiful uchi-mata in the final of the -100kg, as well as moments of friendship and fair play with the final of the -90kg group. The women offered an equally beautiful show, Anna-Maria Wagner giving no chance to Madelaine Malonga to shine in Austria and Takahashi applying the not-so-secret Japanese weapon, ne-waza, in the final of the women's +78kg category.
The last gold medal of the day went to a legend of the sport. The adjectives to describe Lukas Krpalek are lacking: incredible, unbelievable, amazing... What this athlete has been doing for years is so difficult to describe. We can just thank him for everything.
In the end, Japan tops the medal rankings, followed by Germany who had a third fantastic day and France. In total, 23 countries were on the podium and 34 have at least one athlete in the top 7.
Thank you Linz and see you soon in Dushanbe, Tajikistan!