The World Judo Tour has its habits. Each year, the world's best athletes travel around the world to compete and win prestigious titles and valuable points for Olympic qualification, the second year of which will begin soon. Among these habits, there are cities that are regularly visited: Paris, Tokyo, Tel Aviv, to name a few.
Yet this year, in less than two weeks, the circuit has left its comfort zone to discover new destinations, which will no doubt soon be among the classics of international judo. A week ago, we were on the banks of the Danube river, in the beautiful city of Linz in Austria, whose peaceful and family atmosphere marked the spirits.
Since today, the international judo caravan has settled in the heart of Tajikistan, in the capital of Dushanbe and already we can speak of a real enthusiasm for judo and for the exploits of judoka.
From 10:30 the Kasri Tennis Arena was filled with cheers from the public, who had come in large numbers to support the local athletes and the international champions. There is passion in the air in this part of Central Asia. The arrival of the grand prix in Tajikistan will leave traces in people's minds, that's already a guarantee.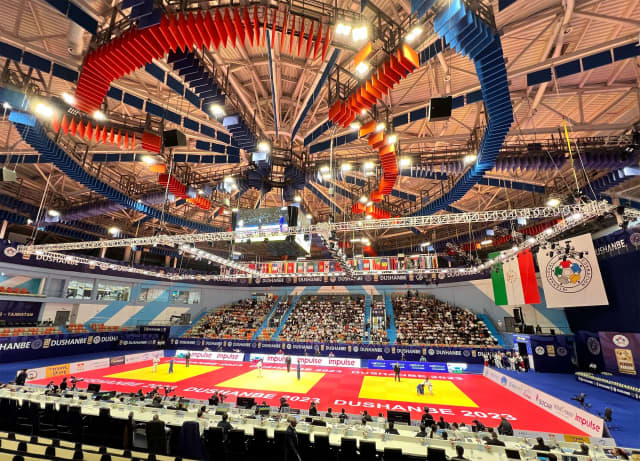 The interest of a grand prix such as that of Dushanbe is therefore multiple. Beyond the purely sporting aspect, which we will be talking about extensively in the days to come, there is that of discovering a city and a country, as well as its judo community. Again, it can be said bluntly that judo is popular in Tajikistan and has a bright future.
For all the participants, athletes and officials included, being present at Dushanbe also means shining the spotlight on an unknown society, hearing the sounds of a new language, tasting the flavours of a particular atmosphere. Finally, it means participating in the building of bridges between human beings and their respective cultures.
With a census population of 1.2 million in January 2022, Dushanbe is the country's largest city, on a site which has been known for millennia. It quickly became a crossroads where a large bazaar opened on Mondays, hence the name Dushanbe which means Monday, literally the second day (Du) following Saturday (Shanbe) in Persian.
Dushanbe is located in the heart of a valley, at the confluence of two rivers, the Varzob and the Kofarnihon. All around the mountain ranges spread their often snow-capped peaks. Music, theatre, cinema or sport are part of the culture of Tajikistan, you can feel it on every street corner and when the culture of judo meets that of Tajikistan, you get a cocktail of the best variety.