We are now a few weeks beyond the Olympic and Paralympic Games and for some days there was calm in the judo world as the relief sunk in and the satisfaction of having completed that huge job, surrounded all of us. The Olympic Games was a success and the athletes had their day. For this, the sports world is grateful.
In Tokyo, despite the restrictions and the global context, we were able to conduct a Games and with that came the opportunity to gain a different insight into the lives of the athletes. For most interviews, we present our judoka with an introduction. Maybe this time, that isn't necessary. World champion, 21 year old Uta Abe and her 23 year old brother, double world champion Hifumi Abe, have set the judo world on fire and achieved the unimaginable, by becoming Olympic champions, both of them, on the same day.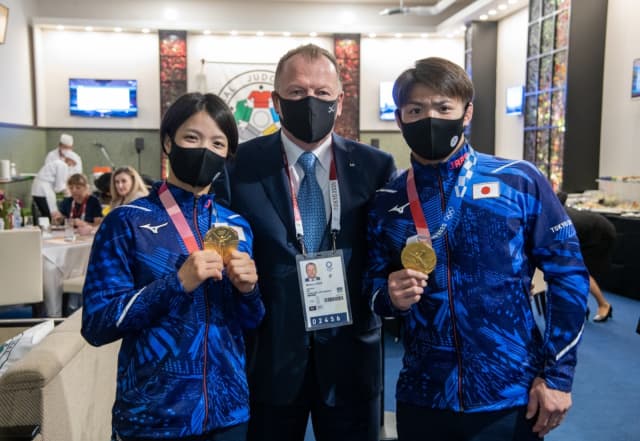 25th July 2021 saw the Abe siblings achieve their goal, while igniting a special kind of pride for the Japanese hosts. Their wins have become the over-riding, stand-out choice for most people asked to select their most memorable achievement of the Games. It's in everyone's list. Of course Clarisse, Krpalek, Riner feature and many, many others. The excitement of the team event, the atmosphere in the Budokan, the unexpected medals for Cargnin and Mkheidze and others also appear but the sibling victory is in every list and is already an indelibly etched piece of judo history. For those who were there it will become a story they are proud to tell over and over again. It will be told with enthusiasm, regardless of the nationality of the storyteller. It was remarkable. It will remain remarkable forever.
Uta's qualification for this Olympics was never in doubt, with a string of important wins trailing behind her and only one single, solitary loss in the past two years. Hifumi's path was not so smooth and only a matter of months ago he was compelled to contest his potential place in the team in a high-pressured head to head at the Kodokan and after an unprecedented twenty minute match was declared the winner, over Joshiro Maruyama.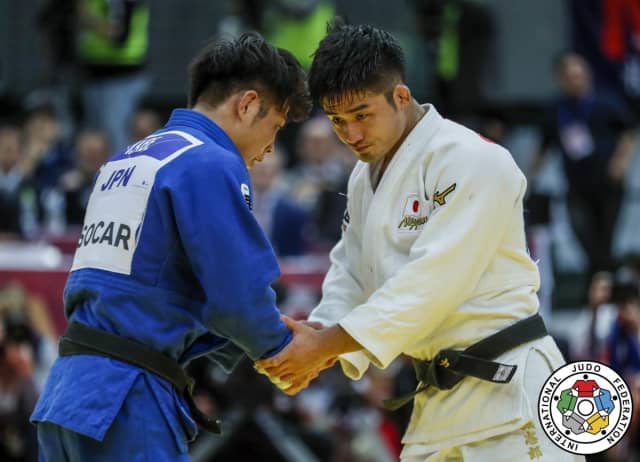 With their Olympic gold medals now safely in place in their family album, their draw for the media and for fans around the world has been nothing short of extraordinary.
Uta explained to us that in the days immediately after competing they barely slept, with interviews and press conferences; a whirlwind of time-sensitive coverage. The siblings did, however, make some special time available to speak with the IJF.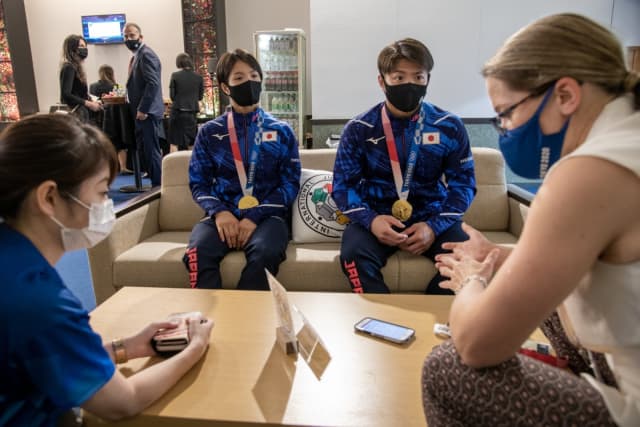 We asked Hifumi about his unique route to the Games, as well as all the pressure that entailed. "It wasn't an easy way to get here but all the feelings and struggles were summarised by this gold medal, all of it is inside the medal."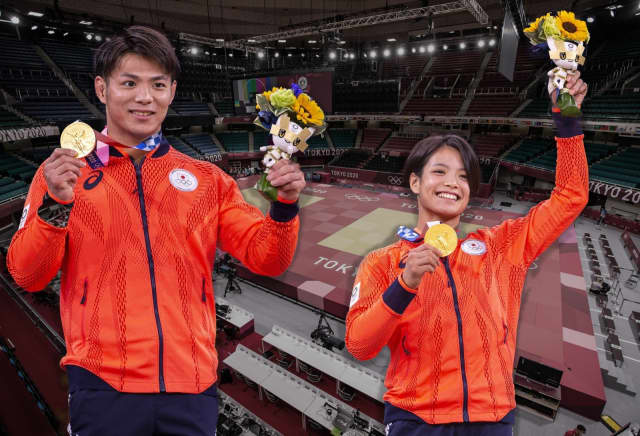 When you saw your sister win her final, did that add pressure or inspire you?
"Really it inspired me, no extra pressure at all. I felt ignited by it and was ready to do my best to win mine." And then he did!
Without spectators the Budokan was expected to be quiet and possibly even a little sad but Olympic judo filled the entire arena with spirit and with the sounds of teammates cheering. We could hear the swish on the mats as ashi-waza prepared and we could hear every landing. The emptiness brought an acute connection with the judo and although people were missed, without a doubt, adaptation and ingenuity reared their heads again and with technology there was still inclusion.
It's hard to imagine how heart-wrenching it has been for parents and families to not be beside their athletes but as with all challenges, we have found a way. This way our champions have had the wonderful task of delivering their news to loved ones.
What were your first words to your parents?
Hifumi, "Thank you!"
Uta, "I did it! I won!"
So, what's next? You are world champions and Olympic champions. How is it posisble to do something more?
Uta, "To win gold at the Paris Olympics and be double Olympic champions, together." This is clearly the throwing of the gauntlet and now it will be up to the rest of the field to hunt it down and solve the challenge.
Hifumi continued, "Really my answer is the same but I can also see a future beyond Paris with 3 or even 4 Olympic gold medals. I would like us to have the record!" Here we see the mindset of a champion. These are not empty words or cloudy dreams. The first gold medal is in Hifumi's treasure chest and so to think about another is realistic. He understands the work ahead.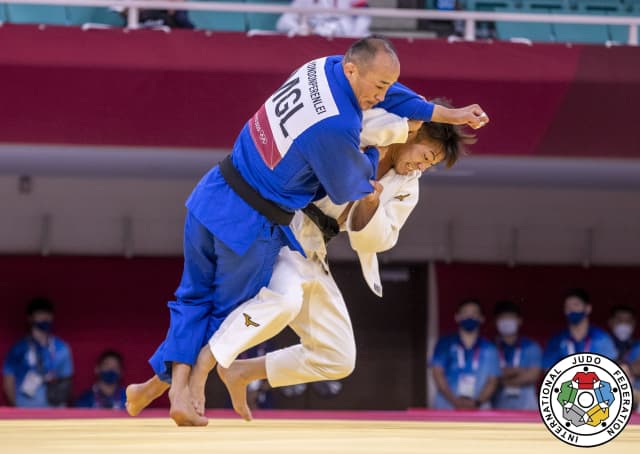 To be open about the possibility of one day superseding the record of the great Tadahiro Nomura, to overtake his 3 Olympic gold medals from Atlanta, Sydney and Athens, is something most could never dare to think about, but Hifumi is ready and we note that his target is not solitary but includes his sister. They want this to be a joint venture and to achieve something unthinkable. 3 Olympic golds has never been achieved by a woman in judo and so the challenge is huge for them as individuals and as a pair.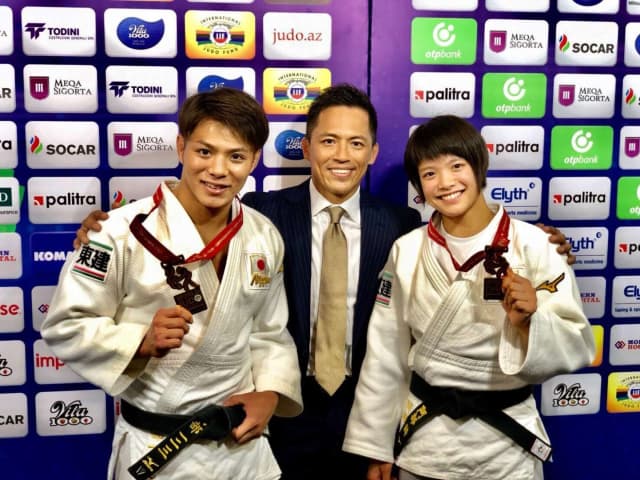 So, we take it Nomura-san is a part of your motivation but maybe he is also a hero?
Hifumi, "Nomura-san's records are the ultimate goal but I want to go further. He is a role model and also the target. I look up to him outside judo too. As far as life and judo, to look to Nomura-sensei is enough! I also respect Inoue-sensei for all the support at this Olympics. It has really been so positive.
Uta's inspiration comes not only from inside the judo community but also from other sports. She is inspired by Yoshida Saori, 3 times Olympic champion in freestyle wrestling and truly a trailblazer in women's sport. "She was winning so many times and for so long, making Olympic records. I'm inspired by how she kept on fighting for so long."
With so much talk about the uniqueness of winning together, we could think about your childhood as something quite intense. Were you treated differently as children, as a boy and a girl?
Hifumi, "They treated us the same, no difference. We can be summarised as a family by knowing that the whole family has been dedicated to us both reaching Olympic gold. Our parents always believed in the ability of both of us. It changed a little when Uta went to university and distance became a new factor, but it was solved like every other challenge.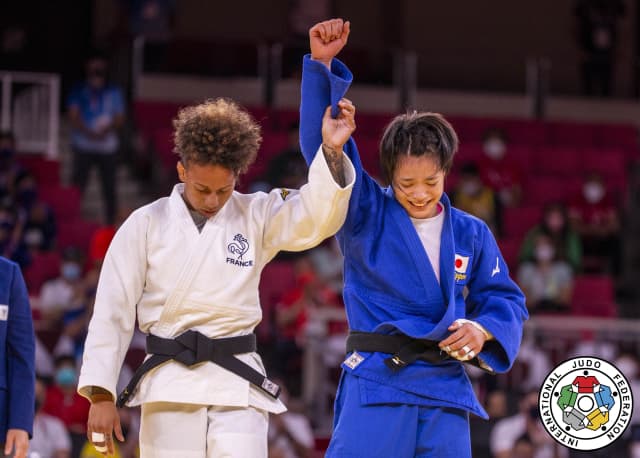 With sleep calling and further interviews to be done, we moved in to some quick-fire questions and maybe even some fun ones.
Advice for siblings in judo?
Uta, "Never allow yourselves to feel conflict. You bring each other to the higher level. Taking that mindset to keep supporting each other makes anything possible."
What is your favourite home cooked meal?
Uta, "Miso soup"
Hifumi, "Ratatouille"
What is the most annoying thing about each other?
Hifumi, "Usually we fight on the same day so while Im waiting for the final, she wins first. I'm irritated because I'm always trying to focus but everyone, including me, is so happy for her. Hey calm down! I still have a job to do! It's annoying that she always wins first.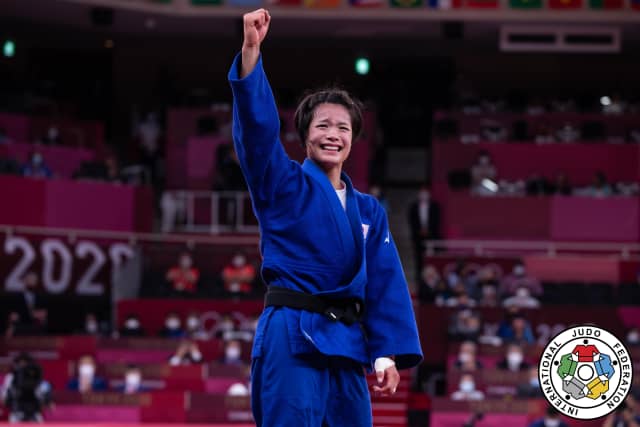 Uta, "He is teasing me, always. When we were in elementary school and throughout childhood and even still now!
What do you wish for each other?
Hifumi, "I'm always hoping for her happiness but the best thing is to not be injured and always find the best judo performances throughout her life."
Uta, "I wish the same for him but also wish for us to keep our strong relationship as well."
What is the best thing about judo?
Uta, "To always have fun with judo. It's important to enjoy judo. At the elite level sometimes it can be very hard and maybe it can feel like it's not fun any more, but if you can always find the fun elements, to be happy on the tatami and enjoy it always, you can stay there for all your life.
So it is clear; this extraordinary achievement has been captured by two down-to-Earth, young judoka, siblings who annoy each other like in any other family. They are every brother and sister team and they show the judo community just how special our environment is, allowing us to stay close to our heroes.
Uta and Hifumi Abe lead the hunt on the trail to Paris and they will be hard to catch. They have already set a precedent that will be close to impossible to meet but maybe they can double down and create a record in Paris that will become as magical as any fairytale. The special pull of the Olympic Games continues and the Abe's promise to star in the 2024 edition as much as they did in Tokyo.