The French women's team have been terrifying the opposition for a number of years, taking handfuls of medals at World Judo Tour events, world championships and continental championships and doing so under a blanket of tangible love.
We should clarify that. Love. It is a love for judo and for winning and for the high that comes with understanding your own proficiency, while revelling in that of your teammates. It's a love of the confidence of collective superiority and of the feeling of that heavy prize being placed around your neck month after month.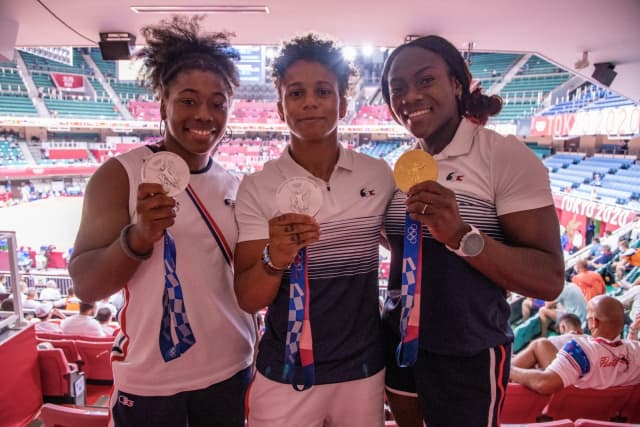 The shape of this love morphs into the silhouettes of the team, as the members revolve so the shape changes but the intensity and honesty of it remains constant.
The women have chosen a leader, in part by results but mostly because she is trusted, she is vocal and she is not afraid to live each day with integrity, for the team, always for the team. They laugh when they call her Chef but they mean it, respectfully.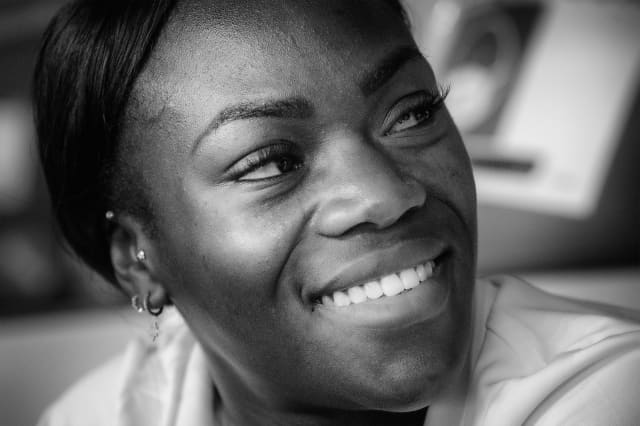 Clarisse Agbegnenou - Tokyo 2020 Olympic champion
"Now I feel it's been a bit difficult. I was tired and hid myself away a bit, needing to breathe again. The coaches may not always like that but I come back stronger for the team. It's like I recharged and I felt so much better to give them my energy again, once ready."
This is to say that each member of the French women's team treats the others with an almost indescribable tolerance and respect. Clarisse needed some time and her teammates gave it to her freely, without complaint. The Chef trained as expected and did so with all her normal focus and positivity but between scheduled hours, in the lead up to both the World Championships and the Olympic Games, she went quiet, living a little off the grid.
We can only imagine the pressure. She had 4 world titles and an Olympic silver. Her goal: 5 world titles and to be Olympic champion. The world knew she would do it but actually being on the tatami to execute the plan, that was in the hands of only Clarisse. Media attention, the knowledge that every country is studying her, the personal pressure. Try to think about all the variables. You can't, it's impossible but Clarisse corrected and aligned each and every one of them and part of that required time alone.
Amandine Buchard - Tokyo 2020 Olympic silver medallist
"We are one. We think about what each one needs and we release them. We were happy for her to come back to us. We didn't feel she was away, she was just doing what she needs. We are together in competition and always with positive energy. She gives us power. The strength of our team is that we all want to be stronger then the next but are always respectful of each other. It's a positive competition. Larbi says 'results attract results' and it's sometimes really correct. Like we could always see how sad it was if one of the Japanese team didn't get a result somewhere, when everyone else did but now our team is like that. If one does it then the next wants to. It's a very powerful feeling. Everyone wants to make the team proud."
Joining any team as a newcomer can be tough, finding your place and contributing to the team spirit. Cysique arrived a little later than Clarisse and Buchard.
Sarah-Leonie Cysique - Tokyo 2020 Olympic silver medallist
"When I arrived in the group I didn't feel that I was left aside. I was immediately welcomed by everyone. The girls were proud of my first performances even if the results weren't always there and that helped me to feel comfortable. I think it is the correct way."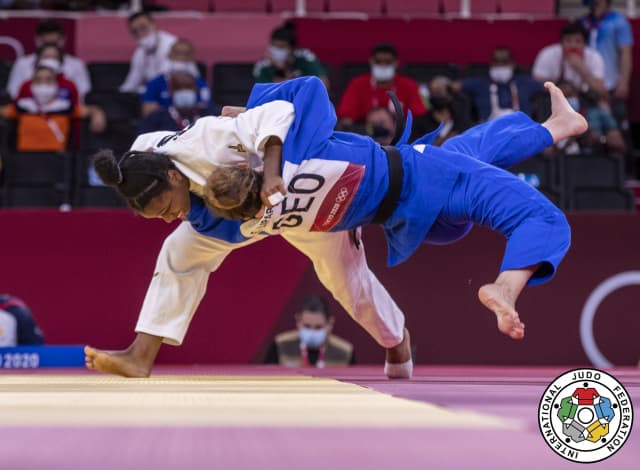 Amandine
"From the beginning I really felt Sarah-Leonie had such power. I thought she would become really strong. I really love beautiful judo and she had everything. We were happy to welcome her in the team. I helped her in the beginning and now we help each other."
Clarisse
"Of course there have been some arguments but they are small and there is a family spirit to be ok with each other. This year was really hard. The -48kg situation was really hard for our team, for example and there was some conflict which brought a little short term divide. It's only ever short though and as we arrived at the Olympics we were all inspired to rejoin and work together, as always."
Sarah-Leonie
"We all grow together from our different stages. We didn't start from the same position and we don't all have the same aims at the same time, but we really grow together."
Amandine
"We take great care to ensure each team member feels right. Even Melanie Clement who was so close to selection at -48kg, she calls us and makes sure we all feel good, regardless of the situation. Our selected and non-selected athletes are still in the team and we try to solve everything together. It means we destroy the negatives much faster. We face every problem and never avoid them. We can't have the same opinion all the time but we can all always listen; we listen and we talk."
Clarisse
"We are the core, the trunk of the tree. When we have a decision to make, we can discuss it with the coaches and even push to get what we think is right.
Player/coach relationships change and new cycles offer new opportunities. I'm pleased to have completed this cycle and now I'm ready for a new period. I know that my girls all support me in that."
Amandine
"You know, maybe without my team I would not be here. When they carry your problems and your worries and you always feel them walking beside you, you can breathe. You can feel sad but know that it will be alright. It is really special."
So, if Clarisse is ready for some new challenges and is at least taking some time to digest her great victories and also her opportunities, who can be the new Chef? One is very fast to answer.
Amandine
"Me, it will be me, I think. I am ready. I want to do this. I had all these years with Clarisse doing so much for us and I want to provide that for these girls. I have results and I have their trust. I can do it."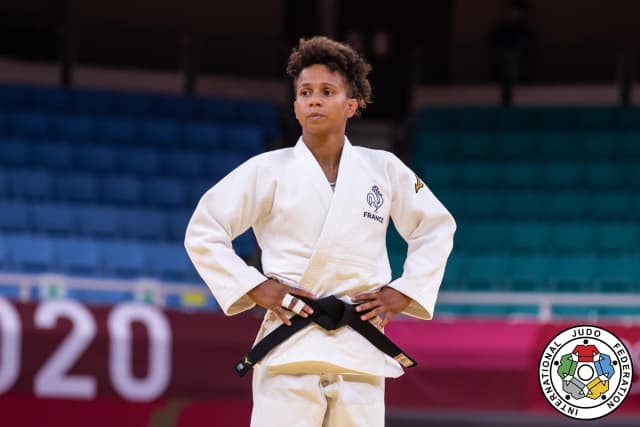 Sometimes at events the French girls take up a lot of space, creating a buzz, dancing a little and they are always laughing. Actually they laugh and have fun in every minute that doesn't require serious concentration. At those moments they have a powerful, even intimidating serenity that is the top layer of their shared confidence. Every one of them fights with the spirit of the others tucked into their belt.
With many tight groups of friends there is a tendency to finish one another's sentences and to all think and speak alike but with the French women's team it is not that way. Their strength is their accepted, celebrated individuality and their commitment to both shared and separate growth. They don't finish each other's sentences because they would rather hear what each other has to say. They have patience. They have time and they give it to each other readily. This is the holy grail of team-building.