DÜSSELDORF, Germany
Just moments before, Angelica Delgado — an American! — had won a bronze medal in the women's under 52-kilo class, and convincingly at that, a no-doubt ippon, and now she was standing in the tunnel here at the ISS Dome, with her coach and the USA Judo high-performance director, and there were tears in her eyes, and these were tears of happiness and relief — and expectation, too.
"It feels really good to get a medal in a qualifying year," the Tokyo Olympics just months away, the 29-year-old Delgado said.
She added, "To make a statement like this in a qualifying year means I know I can get a medal at the Olympics."
She wiped away a tear. "I'm just really happy."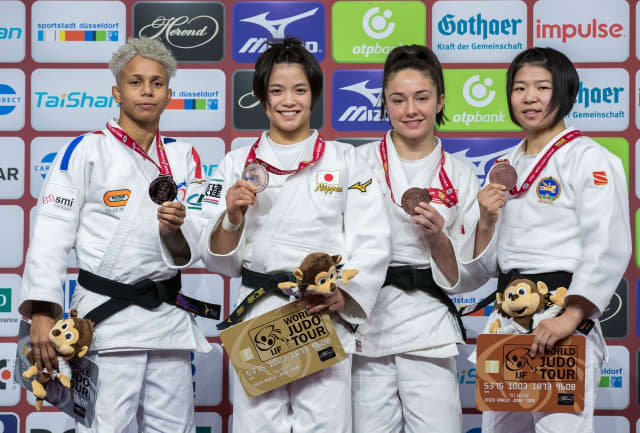 Delgado's medal showed that, after the success of the Kayla Harrison and Travis Stevens years, and before that, Ronda Rousey, there may yet be hope for the American judo scene — a welcome development indeed for the sport in the United States and beyond as the Tokyo Games draw near.
Everyone understands that Los Angeles and 2028 provide an eight-year window for the sport to make headway in the United States — and that judo, with its emphasis on values, has something to say. But to grow systemically across the American landscape the sport also needs the spark of American success — particularly at the Olympics, starting with Tokyo.
For those outside the United States, it is a matter of considerable puzzlement that judo — which populates the medal count regularly with athletes from nations such as Georgia, Mongolia, Brazil, indeed all over the world — is not more of a mainstay on the table.
Inside the United States, it is no puzzle at all. Judo must compete with, among other sports, football (the American kind), basketball and baseball. The American system funnels not through clubs but through universities; all these sports offer scholarships to universities, meaning a promising athlete can go to college (the American word) for free.
Then there is wrestling — for which there are also scholarships to the major universities.
There are no such scholarships in judo.
In other nations, Olympic sports — meaning judo in particular — are federally funded. Not in the United States. Olympic sport is underwritten by corporate sponsorships and whatever other dollars can be obtained, and judo must compete with other sports — track and field, swimming, skiing, in all 50 sports — for a piece of the funding pie.
"I'm not Michael Phelps," Delgado said with a smile. "I can't win eight medals. I can only win one."
In practice, this has meant that judo has grown on an ad hoc basis — typically driven by, say, a particularly passionate coach, such as Jimmy Pedro in Boston, who developed both Rousey and Harrison.
Now, in Coral Springs, Florida, near Miami, there is another center.
For 14 years, Delgado has put in the work.
She shuddered Friday as she recalled the years, so many years, of travel to tournaments around the world where she would, as she said, be "one-and-done" — that is, lose in the first round.
In 2012, she didn't make the U.S. Olympic team.
In 2016, she made the team but only as a wild card. She then proceeded to lose in the first round.
That September, though, she took third at the Zagreb Grand Prix, and in October second at the Abu Dhabi Grand Slam. The next June, at the Cancun Grand Prix, third. Back at the Zagreb Grand Prix in 2018, third. Last July, at the Montreal Grand Prix, second.
Now, here, third.
All the more — third here in a tough field, Japan's Abe Uta defeating France's Amandine Buchard in the finals, Mongolia's Khorloodoi Bishrelt taking the other bronze, and at a venue where Delgado had, as she acknowledged, lost in prior years without a chance at a medal.
"I'm a persistent person," she said, laughing, and adding, "They're going to have to kill me to put me away."
Delgado's coach, Jhonny Prado, said after she had decisively defeated Gili Cohen of Israel for bronze — Cohen is a tough out, coached by one of the best in the business, Shany Hershko — that he was "really proud and happy."
Eddie Liddie, himself a 1984 Los Angeles Games bronze medalist, now USA Judo's high-performance director, said of Delgado, "She's a rock.
"We always believed she could do this. She has been the rock of our team for the last four years.
"Now we can zero in for Tokyo — on getting that medal."